An Engineering Manager Behind a Heart-monitoring Site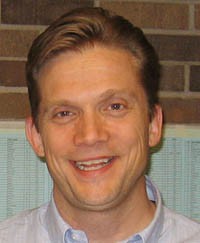 Jeff originally considered a career in electrical engineering but followed his interests into computer science. Today, he's an Engineering Manager at Medtronic and works to help oversee testing on CareLink, a heart monitoring site.

Meet Jeff Hagen, an Engineering Manager at Medtronic for the last nine years.
Jeff Hagen leads a team of software verification test engineers who deploy specific web-based applications that medical personnel use to provide patient care. Jeff and his team work on a computer-based diagnostic tool called CareLink. The Medtronic CareLink® Network is a web-based application and remote monitoring service that gives clinicians, doctors, and nurses online access to data transmitted from a patient's implanted heart device. The reports and data available from CareLink can be comparable to an in-office visit, and medical practitioners using CareLink rely on the data from CareLink to be accurate and available when needed—24/7.
Jeff and his small team of testers and software engineers work to make sure that's the case!

From Electrical to Virtual Circuits
Jeff started out with plans to follow in his father's footsteps as an electrical engineer. Once he realized that he enjoyed computers more than circuits, he changed his major to computer science, a field of study that capitalizes on two of his primary interests: math and computers. "Computer science is an engineering discipline that blends the mathematics and logic of engineering with the technology of computers," explains Jeff. "It's the best of both worlds." Today, with more than twenty years of experience in the field of software engineering, Jeff knows the career path he followed was the right one for him. "I do not look back on my decision to go into computers and leave electrical circuits behind. Computers and I have always understood each other."

Keeping Up to Date
Jeff knows that a big challenge he and his team face is keeping pace with the rapid growth in technology. Ongoing research and developments means that technology changes frequently, as do the languages, equipment, and approaches that make various technologies "work." Staying ahead of the curve and keeping up to date with changes and advancements in one's field is always important, but when your work involves the well-being of patients, there may be a correlation between staying "current" and ensuring the best patient care possible.
According to Jeff, he and his team monitor and evaluate their systems throughout the year, but they have to be cautious before adopting upgrades and new approaches. With a product like CareLink, Jeff and his team can't assume that newer is always better. "We are under much scrutiny to ensure our patients' safety, and as a result, we are not often the first to try out a new technology," he explains. Before adopting new approaches or making changes, Jeff has to be certain that patient safety won't be compromised.
In some areas of software testing, a "bug" is a small error that creates a problem in the application. A "bug" in a game or a word processing program, for example, might be an inconvenience or cause a user frustration—or maybe data loss. But in software engineering related to patient health care, there can't be any bugs. There is no room margin for error when a patient's heart is at stake, which is why teams like Jeff's are so important.
As a former programmer, Jeff says his understanding of computer science is an advantage in working with software verification and testing. "Having a computer science degree teaches your brain to be a better problem solver and think of issues in terms of cause and effect," says Jeff. "Finding and fixing software bugs is a very important part of what we do. If we make a mistake the patient could be impacted!"

Flexible Thinking
Day to day, Jeff needs to keep the "big picture" of his team's core application in mind even as they troubleshoot and test specific issues. Being able to employ stages of the engineering method is a critical component of his job. "As an engineer, I would say that being fluent in the practical real-world engineering method is of vital importance," says Jeff. It boils down to "being able to define and analyze a problem, specify the requirements, choose the best solution available, and implement [that solution] quickly and with strong quality."

Helping People
While careers in computer science and software engineering can mean long hours at a computer—and little time "in the field," Jeff never forgets that the product he oversees and helps maintain is one that is used to treat patients. It's a connection that makes working on CareLink and for Medtronic especially rewarding for Jeff. Jeff works in a cubicle among a hundred cubicles on the eighth floor of a modern office complex in Minnesota. He works long hours with his software developers and test engineers both in the U.S. and in Europe. He's far from the "hospital scene," but every few months, Jeff gets the chance to meet patients whose lives have been transformed by products and services offered by Medtronic. "This is the BEST part of working at Medtronic," says Jeff. "Realizing that what you do actually saves and prolongs life!"
When asked if he ever thinks about what it would be like to work on a very different kind of technology—like video games or a popular online destination like a sporting site—Jeff admits that those kinds of projects might be fun, but he questions, "If you work on your "hobby", does it remain fun as your hobby, or does it become just a job?"
For Jeff, knowing that he's helping better people's live by doing something he loves makes his career the right one for him. "It would be very difficult to get a better feeling than that from any job," says Jeff.
Categories:
You Might Also Enjoy These Related Posts:
Explore Our Science Videos
Why Do Apples and Bananas Turn Brown? - STEM activity
Making Shadow Puppets – STEM Activity