Capitol Science: Science Education a White House Priority; Science Buddies Part of the Solution
Science and STEM education are routine catch phases at the White House in policy, Presidential speeches, and science-centered events for K-12 students. Science Buddies recently participated in a special session with White House officials to discuss the future of STEM education and the importance of hands-on science exploration. As a trusted source for K-12 science education information and resources, Science Buddies, along with other popular science media publications, may play an important role in furthering White House STEM education initiatives.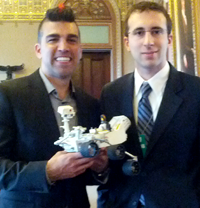 Pictured above: Ben Finio (right), Staff Scientist at Science Buddies, with Bobak Ferdowsi, NASA flight director.

Part of the STEM Solution
Science Buddies was honored to be a part of a recent, private STEM debriefing session at the White House. With more than 10 million students in North America students participating in science fairs each year, and a rising number of students taking part in science-related after-school enrichment or engaging in science exploration at home with their families, Science Buddies plays an important role in supporting hands-on science education.
"Being in the room right alongside the Discovery Channel, National Geographic, Popular Science, and Scientific American really highlighted the White House's confidence in Science Buddies' ability to help them accomplish their goals of improving STEM education nationwide," said Finio, who represented Science Buddies at the briefing.

Student Science at the White House
Following the President's fourth State of the Union address, the White House sponsored the first State of Science, Technology, Engineering, and Math (SoSTEM) event. Approximately 100 middle and high school students from the Washington D.C. area were invited to the White House to ask questions of a panel of STEM innovators and leaders.
SoSTEM continues the White House's public support of STEM. The White House held official White House Science Fairs in 2010 and 2012, providing opportunities for student scientists to show their science investigations to the President and staff. More than 100 students from over 45 states participated in last year's White House Science Fair.
Science and the State of the Union
In last week's State of the Union address, President Obama again put the importance of science, technology, engineering, and math (STEM) education in the national limelight. Many issues of policy and platform occupied the President's agenda, but STEM definitely had a seat, both in the speech and in the audience. Three of the guests invited to sit with the First Lady have deep STEM connections. The First Lady's science cadre included Jack Andraka (winner of the 2012 Intel International Science and Engineering Fair and Science Buddies advocate), Peter Hudson (co-founder and CEO of iTriage, an app that helps people locate nearby healthcare providers), and Bobak Ferdowsi (popularly known as "NASA's Mohawk guy" and flight director for the Curiosity rover landing on Mars).

Influencing Science Education
Following the State of the Union address and the first State of STEM event for students in the Washington D.C. area, the White House invited a small group of science and media organizations to a briefing organized by the Office of Digital Strategy (ODS). Science Buddies joined representatives from Discovery Communications, Scientific American, Popular Science, National Geographic, and Grist.org in a private briefing and Q&A session that included issues related to STEM, sustainable energy, climate change, and technology innovation.
The organizations gathered represent considerable reach in distributing science content, both online and offline. Though the only K-12 non-profit in attendance, Science Buddies serves a yearly population of students, teachers, and parents of more than 15 million, a powerful statistic when it comes to advocating for hands-on STEM exploration and helping students make connections between what they may be learning at school, what they may be hearing in the news, and what they can put to the test in the classroom, in their kitchens, or in the garage. In fact, Science Buddies had more page views on its website in January 2013 than Scientific American and Popular Science combined and almost half as many as National Geographic, according to Quantcast.

Middle or High School?
In this year's State of the Union speech, the President specifically underscored the important role high schools play in preparing students for careers and called for a redesign of high school education with a greater emphasis on STEM education. For Ben Finio, Science Buddies staff scientist attending the briefing on behalf of Science Buddies, the President's statements raised an important question. Is high school too late?
"There is a lot of research that shows that kids, especially females and underrepresented minorities, tend to lose interest in STEM around middle school," pointed out Finio in a conversation with Kumar Garg, Senior Advisor in the Office of Science & Technology Policy. "If you lose those students, it doesn't really matter what you do in high school. They are already gone." Garg agreed noting that research data shows that a decline in STEM interest for some demographics begins as early as 4th grade.
For policy makers and STEM educators, this data highlights a critical and alarming trend for STEM. According to Garg, the President's comments were high-school specific, but the White House is looking at STEM education more broadly and views high school as part of an overall STEM education pipeline.
With its broad range of K-12 science materials, Science Buddies tries to deflect this process of decline in student interest by engaging students at an early age with projects that intersect with a wide range of areas of student interest and related to more than 30 areas of scientific inquiry.

Making Room for Making
Science Buddies views a focus on hands-on science inquiry and active exploration of STEM questions as key to improving and furthering STEM education. Comments from the White House support the value of increased hands-on STEM education, but making room for hands-on science and engineering within existing curriculum and the emphasis on standards and testing remains a challenge for teachers. "It is one thing to say we need to bring more STEM into high school, but the logistics of doing it seem much more complicated," said Finio during his discussion with Garg. Garg concurred, noting that "if science is about doing science, not just learning a set of facts," the challenge is to figure out how to better utilize the institutions that are available to enable kids and schools to do important hands-on work and to give students access to real-world experience.
A one-size-fits-all solution is not the answer. Finding the solution, however, will take the combined efforts of the White House, corporations and foundations that can help fund and sponsor increased STEM efforts, and integration with organizations like Science Buddies and science publications that are influential in supporting science education and connecting with teachers and the students who are the scientists of tomorrow.
For Finio, the briefing was both reassuring and informative. Being a part of the invited group of science organizations was also a reminder to Finio of the importance of the work he is doing as a scientist at Science Buddies. "Taking part in the White House briefing really spotlighted the magnitude of Science Buddies' potential to assist in improving STEM education and helping meet national goals," says Finio.
Categories:
You Might Also Enjoy These Related Posts:
Explore Our Science Videos
Extract Iron from Cereal– Science Project