6 Steps to Success with the Fluor Engineering Challenge
The K-12 Fluor Engineering Challenge is a great way to explore engineering design in the classroom. Our 6-step blueprint for success will help keep your students on track with their Volleyball Machines!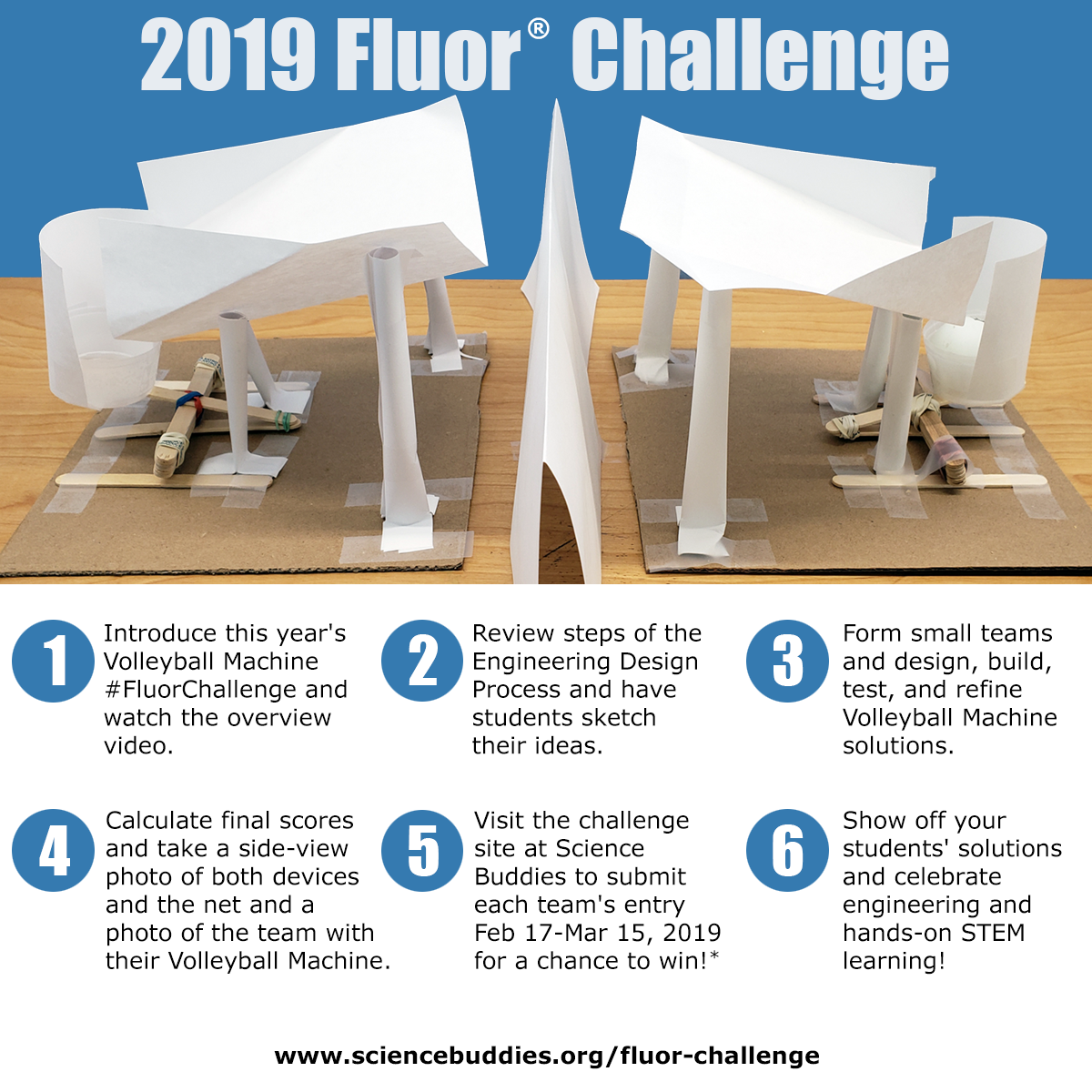 A banner for the 2019 Fluor Engineering Challenge outlines six steps for the challenge. Step 1: Introduce the Volleyball Machine challenge and watch the overview video. Step 2: Review steps of the engineering design process and have students sketch their ideas. Step 3: Form small teams and design, build, test and refine solutions. Step 4: Calculate final scores and take photos of both sides and a top-down view of the solution. Step 5: Visit the challenge site at ScienceBuddies.org to submit a team entry between February 17 - March 15, 2019. Step 6: Show off your team's solutions and celebrate hands-on STEM learning.
Do the 2019 Fluor Engineering Challenge with Your K-12 Students!
The 2019 Fluor Engineering Challenge is underway! The challenge this year is to build a Volleyball Machine. Students around the world are challenged to use simple materials and follow challenge guidelines to build a set of devices that can volley a ping pong ball back and forth across a paper net.
Follow the six steps below to do the Fluor Challenge in the classroom and get kids engaged with hands-on engineering and the engineering design process:
Introduce the Volleyball Machine Challenge and watch the video overview.
Review steps of the Engineering Design Process and have students sketch their initial ideas.
Form small teams (1-4 students) and design, build, and test solutions. Refine and re-test solutions to keep improving the design (and trying for the highest number of volleys in the allotted time period).
Use the scoring sheet (paper or Excel) to calculate final scores. Take a side-view photo of the complete solution and another photo of the team with the Volleyball Machine.
Use the online form to upload submissions by midnight Pacific Time (GMT-8) on March 15, 2019.
Show off your students' solutions in social media or on school bulletin boards to celebrate what student engineers can do!
How well will your students score, and how much fun will they have building, designing, and testing their Volleyball Machine solutions? We can't wait to find out!
Enter for a Chance to Win!
Prizes for the Fluor Challenge are generously provided by Fluor Corporation. This year, in honor of the 5th anniversary of the Fluor Challenge, Fluor has doubled the available prizes. $20,000 (USD) will be awarded to twenty (20) randomly drawn winners in qualified locations for their school or eligible program. Student Volleyball Machine solutions can be submitted February 17-March 15, 2019.
*For complete details, rules, and eligibility requirements for winning, see the Take the Science Buddies Engineering Challenge! page.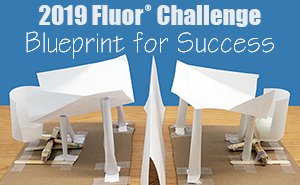 Categories:
You Might Also Enjoy These Related Posts:
Explore Our Science Videos
Draw with a Pantograph - STEM Activity
The First Cartoon: Make Your Own Thaumatrope!
Make a Model to Explore the Distance from the Planets to the Sun