Google's Science Journal App Transforms a Cell Phone into a Powerful Tool for Science Class
With Google's Science Journal app, a student's phone acts as a Swiss Army knife for scientific research, exploration, and data analysis. To help students and teachers learn about the app, Science Buddies has integrated the Science Journal app into student science projects that involve sensor-based data. Students can now do sophisticated sensor-based projects using their phones and without additional specialty equipment. To further support teachers using the Science Journal app in the classroom, Science Buddies is also developing a series of standards-aligned lessons plans that use the Science Journal app. Instead of telling students to put their phones away, science teachers may soon be asking students to pull their phones out to do in-class STEM activities.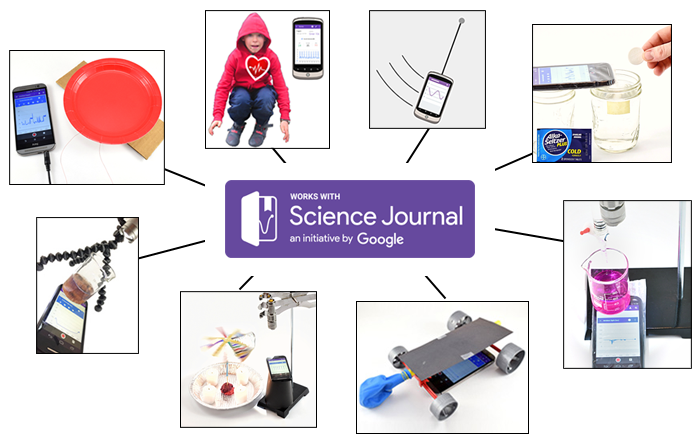 Note: The Google Science Journal app is no longer available. Projects and Lesson Plans at Science Buddies that used the app have been revised to use other sensor apps for mobile devices that have similar functionality. The information below may still be valuable as a starting point for working with sensor-based apps, but please refer to your app for specific information about accessing and using sensor tools.
For today's students, technology is ubiquitous. With the push for paperless and digital classrooms, more and more students use cell phones for school research and to track and complete assignments using Google Classroom and Google Drive. The
Science Journal app
from Google's Making & Science team expands the functionality of a student's phone by leveraging a phone's built-in sensors for scientific inquiry. With the free Science Journal app, students have an entire science toolbox of testing equipment at their fingertips for hands-on science, technology, engineering, and math (STEM) exploration. Students can use their phones and the app to collect real-world data for science projects without additional specialty equipment and can measure light, sound, acceleration, and more. The app can also connect to external sensors.
Science Buddies Adds the Science Journal App to Projects
Science Buddies believes that the convenience and flexibility of the Science Journal app will enable more students to experiment with sensor-based data projects. By removing the need for specialty devices and equipment, students and classes can use the app to explore real-world data through hands-on experiments and activities.
To support student use of the Science Journal app, Science Buddies has updated a set of student project ideas to make specific use of the app. Projects in sports science, chemistry, aerodynamics, and physics now offer Science Journal app integration. In some cases, projects have been updated to exclusively use the Science Journal app for data collection. In other cases, students are provided with procedures using the Science Journal app or an alternative assessment and collection method. Science Buddies has launched an initial set of projects compatible with the Science Journal app. Twenty projects will be available by the end of the year for students using the Science Journal app.
When browsing at Science Buddies, projects that offer Science Journal app integration are noted by a "cell phone" icon that indicates the project's experimental procedure has specific directions for using the Science Journal app.

When searching for a project, students can identify projects that use the Science Journal app by the "cell phone" icon.
When students find projects on the Science Buddies site that have the "cell phone" icon, they know that the project can use the Science Journal app for data gathering and analysis. Science Journal app integration is also clearly noted on a project's summary page, as shown below. Students interested in doing additional science activities with the Science Journal app can quickly access the full list of compatible projects at Science Buddies by clicking the cell phone icon.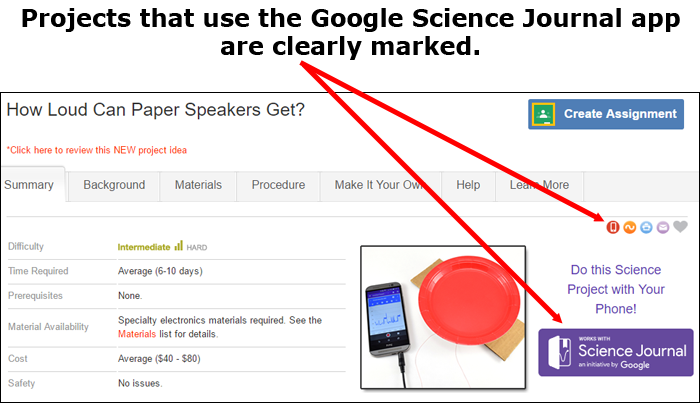 Projects that use the Google Science Journal app are clearly marked.
Projects with Science Journal App Integration
The following projects at Science Buddies currently offer Science Journal app integration:
Additional Science Buddies projects are being updated with Science Journal app integration and will be available later this year.
Science Buddies' projects that use the Science Journal app are also listed in the activities section of the Science Journal app site. In this area, students and teachers can find activities to do with the Science Journal app from Science Buddies, the Exploratorium, the Tech Museum, and Maker Camp.
Lesson Plans for Teachers Using the Science Journal App
Science Buddies is excited about the Science Journal app and the ways in which it will empower students to take precise, sensor-based scientific measurements, record and visualize data, and perform data analysis. Science Buddies believes the app will also aid teachers in leading standards-aligned activities with their students. Next Generation Science Standards (NGSS) emphasize hands-on learning and inquiry-based experimentation in the classroom with a focus on data collection and analysis. The Science Journal app will make it easier for teachers to do in-class activities that involve data collection. Teachers will also be able to teach data graphing and lead students in data analysis activities using the app. To support educators who wish to use the Science Journal app in their classrooms, Science Buddies will be launching a series of new NGSS-aligned lesson plans for STEM activities that use the app.
With a mission of supporting science education for all students, enabling students to conduct projects without separate equipment like lux meters, sound monitoring devices, or accelerometers may give students an even broader range of possible projects for hands-on exploration.
Svenja Lohner, Staff Scientist at Science Buddies, has worked closely with Google's Making & Science team to integrate the Science Journal app with Science Buddies project ideas. For Lohner, the Science Journal app's emphasis on phone-based data gathering and analysis posits scientific experimentation where students are—on their phones. "We have noticed over the last couple of years that more and more students switch to mobile devices for browsing our project database," says Lohner. "We are thrilled that with the Science Journal app, students can now also use their phones as an integral part of their scientific experiments. The versatility of the app makes it a perfect tool for scientific explorations, individually or in the classroom."
According to Sandra Slutz, Director of Science for Science Buddies, integration of Science Buddies projects with the Science Journal app will also encourage students to think about technology in new ways, even as it enables new kinds of scientific inquiry. "The Science Journal app helps with two issues we see students struggle with," says Slutz. "The first is that students don't fully comprehend the technology that they carry around and use every day. To most students a phone is useful, but it's a black box. Being able to use the sensors that are already on the phone with the Science Journal app will expand student thinking about what the technology in a phone or other device is. By doing STEM activities that use the Science Journal app, we anticipate that students will become more curious and more engaged with the engineering and science behind their electronics. Secondly, year after year, we see students finish their science experiments and then struggle to make graphs and interpret them. Having an app that takes data and graphs it in real time allows students to get a lot more experience with data graphing and a better intuitive sense of what the data means."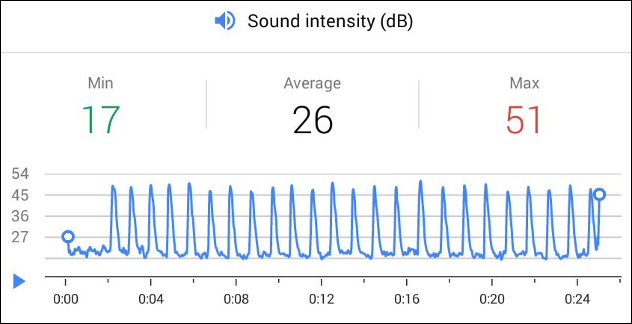 An example sound intensity graph shows evenly spaced spikes with no major fluctuations. The minimum value of the graph is 17 dB, the average value is 26 dB and the maximum value is 51 dB.
Above: A sample data graph using the Science Journal app with a Science Buddies project.
Lohner is excited about the app and its potential for student science. "I think the Science Journal app is a great fit for Science Buddies' projects because it makes complex data measurable with an everyday device such as a phone instead of using specialized electronic components. I love that the app can be used for a wide range of experiments as it has so many sensors to choose from," adds Lohner. "It is very intuitive to use, makes data recording and visualization very easy, and most of all, using the app makes science fun!"
Download the App to Get Started!
The Google Science Journal app is no longer available. Download links have been removed.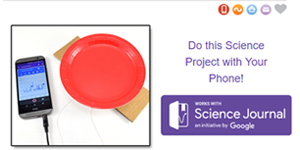 You Might Also Enjoy These Related Posts:
Explore Our Science Videos
Investigate Alien Genetics
How to Make Popping Boba: The Science of Spherification
Follow the Flow: 2017 Engineering Challenge