Google's Global Virtual Science Fair

The first Google Science Fair is happening this year!
Designed to be an all-inclusive competition, Google Science Fair 2011 open to students ages 13-18, worldwide. Students are eligible to participate either as individuals or in teams of up to three.
Submissions will be accepted until April 4, 2011. In May, 60 semi-finalists will be announced, and their projects will be posted online for public viewing. The public will have the opportunity to vote for the "People's Choice" award.

Great Prizes Up for Grabs!
At the end of the competition, Google will name 3 finalist winners, one in each age bracket (13-14, 15-16, 17-18). One of these winners will then be named the Grand Prize winner. The grand prize winner will be awarded a National Geographic Expeditions' 10-day trip to the Galapagos Islands, a $50,000 scholarship from Google, and additional prizes, including a "once in a lifetime experience" prize from CERN, LEGO, Google, or Scientific American. Finalists also receive a scholarship, a "once in a lifetime experience" opportunity, and a range of other prizes from Google and the fair partners. There is also a $10,000 scholarship for the "People's Choice" winner. For more details, a full list of prizes, and complete contest rules and guidelines, visit the Google Science Fair website.
Great Goldberg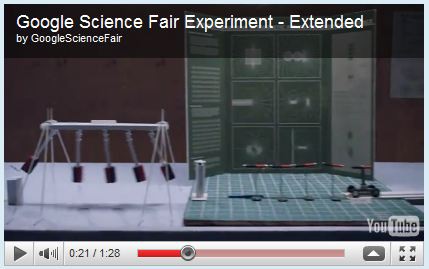 By the way, we at Science Buddies like the Rube Goldberg-styled apparatus the Google team created to highlight the Science Fair on the home page. It's a great example of Goldberg-style engineering—and a lot of fun! The Google team kicked off their launch of the 2011 Science Fair with a live Goldberg-styled display. You can watch it for yourself in the opening seconds of the
kickoff video at YouTube
!

[For more information about Rube Goldberg and the engineering of simple machines, check this past blog entry: http://www.sciencebuddies.org/blog/2009/10/everyday-tasks-simple-machines-and-engineering-projects-1.php]
Categories:
You Might Also Enjoy These Related Posts:
Explore Our Science Videos
How Much Weight Can Boats Float?
Test Your Foods for Starch
How to Build a Unicorn Art Bot