Helping Teachers Approach Next Generation Science Standards
As administrators and school boards around the country consider the Next Generation Science Standards (NGSS), Science Buddies is helping teachers begin ramping up, now, for some of the ways in which traditional classroom science projects and assignments may change.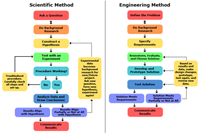 Side-by-side Comparison
Science Buddies teacher resources and blog posts help teachers prepare to incorporate the engineering design process more widely in their classes.
Rhode Island, Kansas, Maryland, Vermont, and California are among the small handful of states that have already adopted the Next Generation Science Standards (NGSS), a set of standards for teaching science that were finalized last April. As states continue to evaluate the standards, and as adopting states begin to put together roadmaps for implementation, teachers around the U.S. will find themselves hearing more about the engineering design process.
The following Science Buddies posts are designed to help teachers think about the new cohabitation of scientific method and engineering design processes both conceptually and through concrete, side-by-side, comparison of the methods and what it means to have a student complete a project following one approach versus the other:
How will you approach the incorporation of engineering design in your classroom? Do you already teach the engineering method? Email us at blog@sciencebuddies.org and let us know.
Categories:
You Might Also Enjoy These Related Posts:
Explore Our Science Videos
Cotton Ball Launcher - Fun STEM Activity
Slippery Slopes - STEM activity