ISEF Competitors Chosen for Science Buddies' 2012 Summer Science Fellows Program
Top science students join the Science Buddies team in year two of the Summer Science Fellows program. Bringing science expertise, enthusiasm, and fresh perspective, these recent graduates will assist Science Buddies in various tasks, including testing K-12 projects and resources.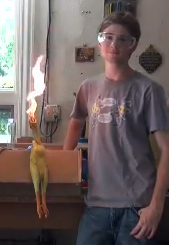 This year's Summer Fellows bring diverse areas of interest and expertise—and plenty of enthusiasm for science. As part of their summer work with Science Buddies, the group will create a series of project-based and techniques videos. Pictured above, Blake Marggraff with last year's flaming rubber chicken. Blake was co-winner of the 2011 Intel ISEF and one of Science Buddies' 2011 Summer Science Fellows.

After meeting with students at the Intel International Science and Engineering Fair (ISEF) last month, Science Buddies recently selected and announced its group of 2012 Summer Science Fellows. Launched last year, the
Science Buddies Summer Science Fellows
program offers recent high school graduates a meaningful, paid summer internship doing science-related work during the transitional summer break before they begin their undergraduate studies. These Fellows each demonstrated their science acumen by presenting science projects at the Intel ISEF, a mark of achievement that Science Buddies' Founder Kenneth Hess views as a strong indicator of academic commitment and excellence, good time management skills, and a dedication to the scientific process.
The following students will be working with Science Buddies as 2012 Science Fellows:
Ashley Bianco is a graduate of River Springs Charter School and will attend Emory University in the fall. Her Intel ISEF Plant Sciences project was "Novel Genes and Mutations in Arabidopsis Thaliana." Ashley was also a semifinalist in this year's Intel Science and Talent Search (ISTS) and has been named the 2012 David Schwartz Summer Science Fellow, an honorary title established this year in memory of the Bio-Rad Laboratories co-founder.
Sophie Kim is a graduate of Palos Verdes Peninsula High School and will attend Stanford in the fall. Her Intel ISEF Computer Science project was "Mathematical Modeling of Cancer Cell Proliferation After Radiotherapy."
Rose Leopold is a graduate of Pacific Collegiate School and will attend Northeastern in the fall. Her Intel ISEF Earth & Planetary Science project was "Morphological Disparity During the Ammonoid Recovery after the Permian Mass Extinction."
Manita Singh is a graduate of Canyon Crest and will attend MIT in the fall. Her Intel ISEF Materials & Bioengineering Project was "Effects of Polycaprolactone and UV Treated Poly (Methyl Methacrylate) Electrospun Fibers on Osteogenic Differentiation of Dental Pulp Stem Cells."
Damon Kawamoto, a 2011 Intel ISEF competitor, is returning for a second summer as a Science Buddies Fellow. She attends Brown University. Her Intel ISEF project was "Population Modeling of the Sacramento Salmon: Combining Compositional Data with Traditional Abundance Estimates."
Danielle Nguyen, a 2011 Intel ISEF competitor, is also returning for a second summer as a Science Fellow. She attends McGill University. Her Intel ISEF Behavioral & Social Sciences project was "Sonification: A Novel Approach to Data Representation, Differentiation of Multiple Streams of Data."


Science Fellows to Participate in Hands-On Science Projects
As Fellows, these young scientists and innovators will assist Science Buddies in a variety of roles, including testing Project Ideas and Science Buddies kits. Real-world testing by young people for young people complements the vetting of resources and materials by Science Buddies' in-house scientists. The Fellows will also work on the production of student-centered videos both supporting specific Project Ideas and demonstrating individual and high-interest science techniques for Science Buddies' YouTube channel.
Science Buddies looks forward to a productive and fun-filled summer with these new Science Fellows. The 2011 Summer Fellows paved the way last summer and set a high bar for the contributions Fellows can make during a few short summer months. Science Buddies feels confident this year's Fellows will demonstrate a similarly high caliber of work—with or without the flaming rubber chicken that debuted in videos created by last year's Fellows!
Categories:
You Might Also Enjoy These Related Posts:
Explore Our Science Videos
Turn Milk into Plastic! Lesson Plan Introduction
Build a Solar-Powered Car for the Junior Solar Sprint