Making the Case for Early STEM Education
Scott Rhodes, Vice Provost of Enrollment at Florida Polytechnic University, highlights the importance of early STEM education and opportunities that foster STEM career path awareness.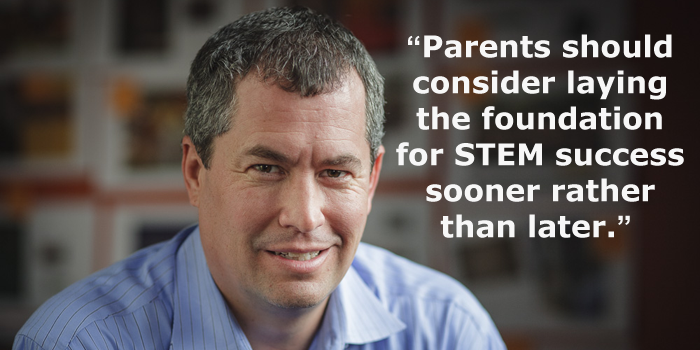 Every day, science, technology, engineering and math (STEM) fuels major breakthroughs. From environmentally friendly sources of fuel to the discovery of exoplanets, these fields play an integral role in the world's greatest breakthroughs.
Now more than ever, our younger generations have endless opportunity to shape the future. But discovering the unknown is full of challenges, and students need a proper foundation to reap the rewards of these opportunities. Here are three reasons why parents should consider laying the foundation for STEM success sooner rather than later.
Adapting with STEM
It can be overwhelming for parents to keep up with the latest trends, but investing in early STEM education is one of those trends that pays off. Preparing your child to adapt and learn in the evolving landscape will not only help them in their studies, but will also teach them how to be flexible in their future professional careers. With increased use of software and in-classroom technology, children are refining skills they'll need later on to excel in emerging STEM careers. Technology offers invaluable practice with in-demand skills like programming, data analysis, and flexibility.
Foster Creativity AND Problem-Solving Skills
Myth: STEM lacks creativity. The truth is, solving problems and creating innovations from scratch takes a great deal of brainpower and vision. Advancements like eco-friendly homes, artificial intelligence, modern plumbing, and smartphone technology were all simple ideas that were fully realized through trial and error.
In fact, some of the top engineering colleges in Florida even use innovative strategies and valuable industry connections to foster creativity, increase collaboration, and encourage students to create.
Florida Polytechnic University, the only STEM-focused public university in Florida, houses eight high-tech labs that provide industry-leading equipment for hands-on practice in subjects like supercomputing and cyber security. By providing valuable free resources, universities and interest groups are becoming gateways to STEM and helping K-12 students get in on the action and test the limits of their imagination. With a simple Internet search, parents can find a handful of free activities, resources, and events that will inspire children to seize new opportunities to create and build.
Prepare Students For Future Careers
According to the Center on Education Policy, studies have shown that the early years of a student's education are the most formative and vital in shaping a child's interest in STEM coursework and careers. Early STEM education gives students the chance to build a genuine interest in wanting to learn more about the world around them, while giving them the skills they need to be successful for new careers.
Whether your child wants to go to college to become an entrepreneur, learn how to build robots, or study one of the many types of engineering majors, a wide range of industries and careers will be integrating STEM in the future. According to the National Science Foundation, 80 percent of available jobs in the next several years will require some math and science skills. Your child won't need to have a computer science degree to be successful, but it will be imperative that students have advanced understanding of STEM concepts and methods to succeed.
As parents, we want to give our children a secure future while fostering their innate curiosity. Early STEM education gives parents the chance to nurture this eagerness while instilling valuable hard skills that can boost a child's academic and professional success. With the numerous possibilities and resources available to you, it's never too late to inspire your child and encourage an early STEM education.
---
Scott Rhodes, Vice Provost of Enrollment, Florida Polytechnic University
With an 18-year background in higher education, Scott Rhodes leads enrollment and recruitment strategies for
Florida Polytechnic University
. His responsibilities encompass undergraduate admissions, graduate enrollment and enrollment marketing, financial aid, student records and registration and enrollment market research.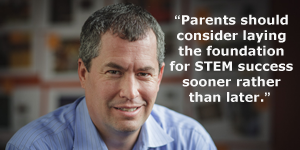 Explore Our Science Videos
Explore Enzyme Activity with Toothpicks
Robotics Engineering Project: Use the Force! Push and Pull LEGO® Mindstorms® Robots