Returning Student Mentor Shines in Science Help Forums
Lexington, Kentucky student does an "outstanding" job helping respond to student science questions in Science Buddies' free Ask an Expert forums. The volunteer program gives top students a chance to contribute to science education by helping as part of a team of volunteer Experts. This year's winner balanced helping others with her own Intel International Science and Engineering Fair-caliber science project.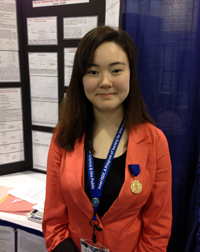 Valerie Sarge of Lexington, KY, received this year's Craig Sander Outstanding Mentor award for her help in the Ask an Expert forums. A top science student, Valerie is pictured above at the 2013 Intel International Science and Engineering Fair (Intel ISEF) where she presented her research on a family of potential materials for organic solar cells.


Ask an Expert: A Community of Volunteers Helping with K-12 Science Questions
Ask an Expert is a free online forum that enables students and families to get assistance with science projects. Our team of volunteer "Experts" is comprised of adults from science and engineering fields and top high school students. These Experts work together to help troubleshoot experimental procedures, guide students who are having difficulty finding or narrowing a topic, and assist with questions about data and results. At any step of the scientific method or engineering design process, students can post a question at Ask an Expert and receive quality help from our team of adult professionals and student mentors.
We will begin scheduling and recruiting volunteers for the 2013-2014 season of Ask an Expert in August. If you are interested in being a part of our volunteer team, please contact volunteer@sciencebuddies.org. You can view additional information about Ask an Expert and Science Buddies' other volunteer opportunities at sciencebuddies.org/volunteer.

Each year, a team of professional and student volunteers help answer student and parent science questions in the Science Buddies Ask an Expert forums. The free bulletin board helps students (and parents) get guidance at any point in their science projects, whether they need assistance selecting or refining a topic, run into a problem during the experiment and need expert troubleshooting, or need help understanding what they observe or the data they have gathered. As a team, the volunteer Experts make a big difference in science projects for students around the world. The top science students who answer student questions each week in the forums are an important part of this team!
Science Buddies annually selects and awards the Craig Sander Outstanding Mentor Award, a cash scholarship that recognizes a student mentor for top-notch participation in the Ask an Expert volunteer program. This year, the award was presented to Valerie Sarge, an incoming senior at Paul Laurence Dunbar High School in Lexington, KY.

Helping Students Succeed with (and Enjoy) Their Science Projects
In her second year helping in the Ask an Expert forums, Valerie, whose favorite book is If On a Winter's Night a Traveler by Italo Calvino and whose favorite scientist is Lise Meitner (part of the team that discovered nuclear fission), helped field questions in both the Physical Sciences and Math and Computer Science forums and emerged as a standout student mentor.
"Being a student Expert requires a combination of expertise, commitment, enthusiasm for science, and ability to make difficult or new concepts accessible to students in written form," explains Amy Cowen, Online Community Manager and Volunteer Coordinator at Science Buddies.
"In reviewing this year's student mentors for the award, Valerie's responses repeatedly stood out. She did an excellent job handling a diverse range of topics in the forums. Her replies to students were helpful, articulate, and supportive," notes Cowen. "In an online forum, especially one where students may be stumped or frustrated with their experiments--and may not have in-person support available at home or school--having Experts who provide assistance and troubleshooting while keeping in mind that there is a person at the other end is really important."
"At Science Buddies, we want to help students have positive science learning experiences. A friendly and knowledgeable Expert in the forums can make a big difference," adds Cowen. "Throughout the year, Valerie crafted replies to student questions that demonstrate both science acumen and excellent written communication skills. She's got a great style and wonderful tone for an Expert, especially impressive to see in a student mentor."
Valerie pinpoints the challenge of helping without helping too much as part of the challenge of successfully working in the forums. Experts don't simply "give" students answers. The goal of hands-on science is for students to learn through doing, and it is important for students to do their own research, legwork, experimental trials, and data analysis. "The most rewarding aspect, and also the most challenging, was guiding students to finding the answers to their questions, and not simply giving them answers," says Valerie.
Experts see all kinds of questions from students, and, as Valerie knows, there is an art to guiding and troubleshooting with a student in a way that helps and encourages the student and yet leaves room for the student to learn in the process—room for an aha moment. "It was incredibly fulfilling to see students understand concepts, but also difficult to make sure that the students understood them," says Valerie.

An Interest in Community—And Science Literacy
With community service playing an important role when high school students apply to colleges, students like Valerie often volunteer in many capacities in their communities. In addition to volunteering with science buddies, Valerie tutors in several subjects and helps in a local research lab. "I enjoy community service and take every chance that I can to help out," says Valerie.
The Science Buddies volunteer program offers a convenient, online opportunity that ties in with her interest in science. "I love science, and I think that helping others will help further scientific advancement," says Valerie. "Science Buddies helps the scientists of the future grow to understand and love science."
When asked if she would recommend the program to other top science students, Valerie replies: "I would. It is an experience that is not only highly fulfilling, but also has helped me learn more about science through answering questions. Explaining concepts to someone is the best way of understanding them better."

A Top Science Student
Last month, as a junior, Valerie presented her research from this year at the Intel International Science and Engineer Fair (Intel ISEF). "My ISEF project involved the production of a new material that can be used to produce a family of potential materials for organic solar cells, which are more cost- and time-efficient than silicon solar cells," she explains. "This research could lead to the ability to produce cheap, versatile, and efficient solar cells."
At Intel ISEF, Valerie won a 2nd place Grand Award in Materials and Transportation. She also won a special award from the European Organization for Nuclear Research, an all-expense paid trip to visit CERN in Geneva, Switzerland, and the Mawhiba award from a Saudi Arabian scientific society.
Juggling the rigors of advanced research with the realities of high school, being a teenager, and extracurricular activities, including volunteering, sounds like a challenge. But Valerie, like many other top science students, takes the balancing act in stride. "The research lab simply became part of my daily routine," notes Valerie. "I found ways to make time to finish everything, from doing homework in the gaps between classes to cutting down on time spent in other extracurricular activities."
Valerie says she has been lucky to have had ongoing support for hands-on science as a student in Kentucky. "I have been fortunate enough to have many chances to participate in science fairs and [do] hands-on science," says Valerie. "There are many people who helped me get to where I am. My family, teachers, and research mentors have always encouraged me to pursue my interests in science."
Though she has an interest in mathematics as well, Valerie highlights chemistry and computer science as her areas of primary focus. "Both are intriguing in their challenges and are applicable to many real-world problems. Even more importantly, both are very enjoyable."
With a year of high school left, Valerie plans to continue her research, moving to the next step with the compound she has engineered and aiming for a repeat trip to Intel ISEF.

Congratulations to this year's Craig Sander Outstanding Mentor Award recipient!
Categories:
You Might Also Enjoy These Related Posts:
Explore Our Science Videos
Video: Paper Airplane Launcher
Solve A Mirror Maze Reflection Challenge!