Running for Science—Not from It
A swarm of "scientists" ran the streets of Chicago in celebration of science and science education, thanks to Astellas Pharma US, Inc.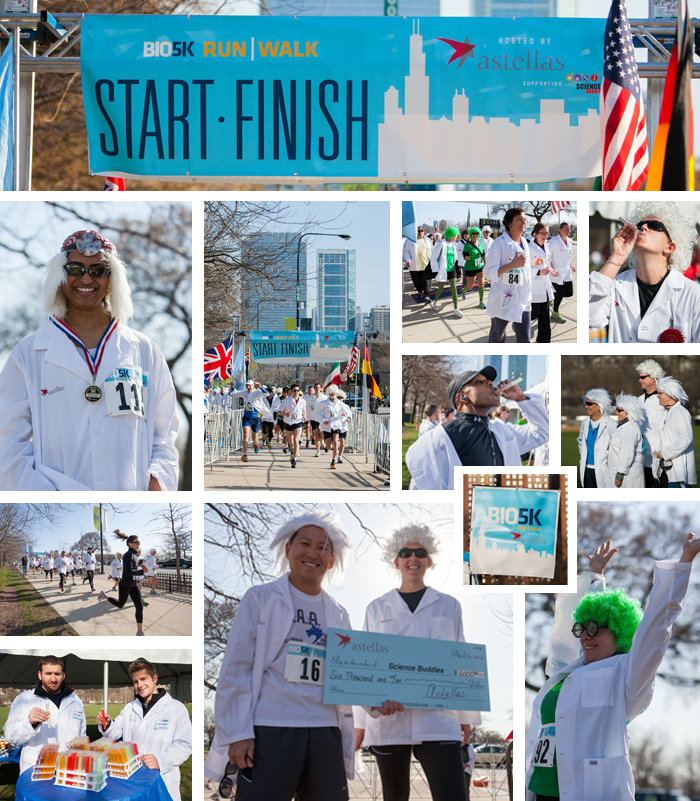 Bystanders in the Chicago area a few weeks ago may have caught an unusual site—a swarm of scientists out of their labs and spilling through Grant Park in downtown Chicago. If you spotted a bunch of swift-footed scientists in lab coats running through the streets, you might have thought something was up, something of epic scientific proportion. You would have been right. Local awareness of science, technology, engineering, and math (STEM) education was on the rise that day in the windy city thanks to the 2013 Bio 5K Run/Walk and Astellas.
The run, sponsored by Astellas, was part of the 2013 International BIO Conference. In support of their commitment to increasing community interest in science literacy and science education, Astellas, whose headquarters for the Americas are located in Illinois, asked Bio 5K participants to take a visible stand for science by dressing up as scientists for the run.
Astellas handed out lab coats and, in honor of the zany spirit of the event, awarded prizes for the craziest science-themed costumes. Lab coats may have hampered race speeds a bit, but in a manner reminiscent of San Francisco's costume-laden annual Bay to Breakers 12K, this year's Bio 5K combined the spirit of a run with celebration—celebration of science and science education.
Playing along, hundreds of participants—scientists and non-scientists—donned lab coats, wigs, glasses, and other goofy scientist accouterment, along with their race bibs, and ran or walked the course in the name of science education. For a mid-race boost, runners sipped replenishing energy drinks from test tubes. From the looks of it, everyone involved had a great time, and the Bio 5K's focus on science was a win!

Helping Science Buddies Support Science Education
Astellas brought the science-themed race to a close by donating proceeds from the run's registration to Science Buddies. Science Buddies thanks Astellas for supporting the non-profit's mission of increasing science literacy.
Thanks to donations from companies and individuals, Science Buddies provides free scientist-authored science, technology, engineering, and math Project Ideas, resources, and support for more than fifteen millions students, teachers, and parents each year.
Categories:
You Might Also Enjoy These Related Posts:
Explore Our Science Videos
DIY Glitter Surprise Package with a Simple Circuit