Science Buddies 2013 Annual Update
Dear Friends and Supporters of Science Buddies,
I founded Science Buddies in 2001 with the primary objective of leveling the playing field, enabling every student to succeed with a hands-on science project. With science literacy for all young people as a goal, we take a highly personalized approach, making sure we have engaging content in a wide range of science, technology, engineering, and math disciplines, supporting students at all stages of their projects, and reaching out to as many students and teachers as possible. The free tools and resources we offer reflect the latest research on how to best engage students in science, and are completely unique. No other organization—commercial or nonprofit—provides what Science Buddies does.
Over the past year, we served over 15.4 million unique students, teachers, and parents with our Project Ideas, classroom materials, career guides, and Ask An Expert Forum. The fact that this number is equivalent to 25% of the K-12 population demonstrates the extraordinary breadth of our impact, as well as the critical need for our resources.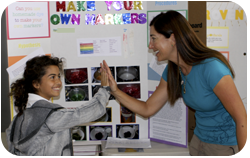 Impact of Your Contribution
---
$25
pays for 192 student and teacher visitors to our website.
$50
purchases supplies to test a new Project Idea.
$100
runs our Web servers for one day (which is visited by as many as 110,000 people a day).
$200
lets us serve 1,500 student, teacher, and parent visitors.
$500
helps us provide regional outreach to 100 teachers in districts that need it most.
$5,000
authors an engaging, one-hour science activity that will be used by thousands of students in the classroom or in after-school programs.

As we reflect back on 2013, we are proud to tell you that our lean and mean staff of under 20 people (including my full-time pro-bono role) has worked harder than ever to provide unparalleled educational content and new services, all while striving to find new ways to bring in revenue that allows us to provide everything we do at absolutely no cost to our users. With more than 83% of every dollar going directly to our programs, rather than to overhead, we put young people and their parents and teachers first, providing an excellent bang for the buck to our donors.
I'm pleased to share with you the following highlights of our 2013 accomplishments:
Enhanced User Experience We used the latest technology to improve the way users interact with our website. A new advanced search function lets students search the website more easily, while a new filter on our Project Ideas allows them to quickly find a project that meets their ability, available time, and budget (a feature that is particularly critical to low-income students).
Improved Understanding of Our Audience
Our new teacher registration requirement is helping us refine our understanding of teacher needs.
Developed Engaging New Content for Students, Teachers, and Parents

Robotics for Students: Our newly launched Robotics Interest Area enabled K-12 students to explore robotics engineering and design without expensive equipment and/or programming expertise. Our users have responded positively to this new material, with 300,000 downloads of Robotics Project Ideas and other related resources over the past year.

Activities for Parents: We also continued to serve parents through our content partnership with Scientific American's Bring Science Home initiative. This weekly series provides an exciting array of activities that encourage families to explore hands-on science together using common household materials.

Posters for Teachers: Through a sponsorship with Elmer's, we provided a beautiful, full-color classroom poster with a visual overview of the six steps of the scientific method to 7,000 U.S. educators.

Participated in White House Discussions about Science Education Following this year's State of the Union address, Science Buddies was invited to take part in a special session at the White House with officials from the Office of Digital Strategy to discuss the future of science education and how to inspire the workforce of the future. As the only K-12 nonprofit in attendance among a group of powerful science and media organizations, we helped advocate for the importance of hands-on science exploration as a critical tool for inspiring more U.S. students to pursue science education and careers.
Leveraged Iron Man 3 to Fuel Student Inquiry
With this year's release of the latest installment in the popular Iron Man movie series, we curated a special series of Hands-On Projects for Iron Man Fans to spark science and engineering excitement by connecting the movie (and comic) to the real-world principles of physics, engineering, technology, robotics, chemistry, and biotechnology. We partnered with Verizon FiOS to drive more than 600,000 viewers to an exclusive trailer before the film came out as a way to highlight the movie as a great starting point for learning that builds on students' intrinsic interests, and earned $0.01 for each viewer in the process.
Strengthened Our Project Kit Offering
Based on last season's results, we improved our offerings of Project Kits. Our investment in this earned revenue stream is truly beginning to pay off, with profits from kits helping to support our other activities.
Confirmed Powerful Student Learning
Science Buddies regularly surveys key audiences for feedback. This year's results affirmed that our materials are truly making a difference: 66% of students who completed the I Did This Project! survey on our site felt that they learned more or much more than in a typical science class, 91% of teachers agreed or strongly agreed that students using Science Buddies learned something new about science, and 71% of the students surveyed at ISEF (International Science and Engineering Fair) rated our materials as very good or excellent.
We hope you, too, are excited by these accomplishments and the direct impact they are making on the lives of millions of students.

Help Science Buddies inspire the next generation of scientists and engineers!
I hope you will strongly consider making a contribution to Science Buddies so that all our young people can become literate in science and engineering. Your gift will help us make inquiry-based science exciting, fun, and accessible for over 15 million students next year, whether you designate your donation to general program support or to a specific program or project. Below is a list of our upcoming activities for 2014 and details about how you can make a contribution to Science Buddies.
Thank you for your valued friendship and support for Science Buddies.
Best regards,
Ken Hess
Founder & President
---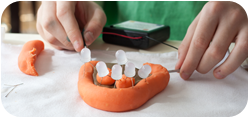 How to Make a Contribution to Science Buddies
---
Gifts of any amount are deeply appreciated. Your contribution will help Science Buddies serve over 15 million students, teachers, and parents in the coming year. Thank You!
Gifts Made by Personal Check
Make your check payable to "Science Buddies" and send it to: Science Buddies, PO Box 5038, Carmel, CA 93921.
Gifts Made by Credit Card / Gifts Made Online
The simplest way to contribute by credit card is to visit Science Buddies' website and click on the How to Donate link, which appears at the bottom of each page under Get Involved. You will be transferred to our secure site where you can donate online using your PayPal account or a credit card (PayPal account not required).
Gifts of Stock
Please contact Jayme Burke at Science Buddies (see below) for details on how to make a stock transfer.
Recognition
All gifts of $1,000 or more will be acknowledged on Science Buddies' website; please indicate how you wish your name (or names) to appear. If you prefer to remain anonymous, please let us know.

Financial Information and 2014 Activities
In addition to our core programs, key activities planned for 2014 include:

jayme@sciencebuddies.org; 650.440.0721.

Categories:

You Might Also Enjoy These Related Posts:
Explore Our Science Videos
How to Build a Unicorn Art Bot
How Antibiotic Resistant Bacteria Take Over – STEM activity
What Do Enzymes in Pineapple Juice Do to Milk?