Science Buddies and Astellas Announce Chemistry Contest Winners
By Kim Mullin
The winners of the Rosalind Franklin Chemistry Contest, sponsored by Science Buddies and the Astellas USA Foundation, have been determined!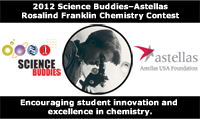 Students Receive Honors
Students in grades 6-12 submitted chemistry, food science, or biotechnology projects of their own design or completed one from the Science Buddies library of Project Ideas. Judges were looking for projects exhibiting imagination, scientific thought, thoroughness, skill, and clarity.
The winning entries are as follows:
Female in Grades 6-8: Abigail G. Erickson, Grade 8, Virgil I Grissom Middle School Project: "The Effect of Water Temperature and pH on Seashell Decalcification"

Male in Grades 6-8: Matthew Early, Grade 6, Abraham Lincoln Elementary School Project: "Catalyst Eases Hydrogen's Break From Water"

Female in Grades 9-12: Suchita Nety, Grade 11, The Harker School Project: "Investigation of Synthetic Bioadhesive Hydrogels for Internal Medical Use"

Male in Grades 9-12: Joseph Le Grade, Grade 11 and Alberto Diaz, Grade 12, Oak Grove High School Project: "Super Hydrophobicity"

Judges "Thrilled" with High Caliber of Student Projects
The contest submissions were judged by a team of Science Buddies staff members and volunteers, including Donna Hardy of Bio-Rad Laboratories; Andrew Bonham, Assistant Professor at Metropolitan State University of Denver; Kierstyn Schwartz, a graduate student at the University of Chicago; and David Bateman, Professor of Chemistry at Henderson State University.
Commenting on the entries, Sandra Slutz, Science Buddies' lead scientist, said, "I am thrilled at the high caliber of the chemistry projects we received. Across the board, it is clear that the students worked hard, spent time researching the topics, and really stuck with their projects even when they encountered experimental problems and had to troubleshoot or even start over."
Bonham, who reviewed submissions in the Grades 9-12 category, agreed, saying, "I was truly impressed by the quality of the submissions to this contest—both in terms of content and presentation. If I hadn't been told beforehand that these were submissions from high school students, I honestly would have assumed this was undergraduate research by junior or senior level students." Donna Hardy, a volunteer Expert in Science Buddies' Ask an Expert forums, who has assisted students with a wide range of science projects over the past few years, including many working on ISEF-level research, also expressed her high opinion of the entries and the caliber of chemistry displayed.

Contest Inspires and Encourages Future Scientists
When the contest was announced in early February, Collette Taylor, president of the Astellas USA Foundation, pointed out that, "The future of scientific innovation in health and medicine resides in our youth," and was certain that she would not be disappointed by the contest entries. Slutz feels that the entries met Taylor's expectations, saying, "The 9-12 category projects were particularly impressive. There were a number of students working on innovative, original, university-level research ranging from creating and analyzing new medical glues (like Dermabond) to working on the synthesis of new nanoparticles for eventual use in miniaturized electrical circuitry."
Science Buddies and Astellas are proud to have sponsored such a successful competition. Said judge Schwartz, "These projects had an impressive level of creativity and scientific thought. The students should be very proud of what they have accomplished."
Congratulations to the winners and to all who entered!
Categories:
You Might Also Enjoy These Related Posts:
Explore Our Science Videos
Video: Paper Airplane Launcher
Solve A Mirror Maze Reflection Challenge!