State of the Union Speech Celebrates Science Fair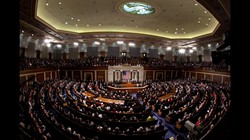 Are you tuning in to the Super Bowl? Are you participating in your school's science fair? Both are exciting. One can change the future.

Students in the middle of experiments and trials and data analysis for their science projects may or may not have been listening earlier this week when President Obama delivered the State of the Union address. But there were four students on hand and sitting with the First Lady when President Obama said, "We need to teach our kids that it's not just the winner of the Super Bowl who deserves to be celebrated, but the winner of the science fair."
On the First Lady's guest list for the evening were four outstanding students, including:



a high school junior who won first place at the 2010 Intel International Science and Engineering Fair with her work on a photosensitizer for photodynamic therapy (PDT), a cancer drug
a high school junior who leads a team that participated in the global Progressive Automotive X PRIZE competition, an investigation into better fuel efficiency
a college freshman who was part of a high school team that designed a motorized chair for physical therapy patients, which led them to win a grant from Lemelson-MIT Program's InventTeams initiative


a high school freshman whose team won the National Science Bowl for its solar car design


Those students heard firsthand the President praise science education and scientific achievement. But the President was talking to the country as a whole—to students and parents and educators and everyone else—when he drew a parallel between science fair and Super Bowl winners.
At Science Buddies, we agree that the value of scientific inquiry, of the spirit to test and understand and explore, needs to be celebrated.
Right now, many schools in the U.S. are in the middle of "science fair season." There will be many winners, and yet there will be many, many more "participants"—students who, as part of a class or just because they wanted to, took part in a local or school science fair. We think it's important to celebrate and support all of those students—each and every student who conducted an experiment, who studied the scientific method, who asked a question about how something works or what makes something happen, who sat down to formulate a hypothesis, and who then put their research to the test with an experiment. Whether the hypothesis was proven or not, participating matters and is worth celebrating.
---
Students: Remind your parents that science projects are important! It's important for your parents to get involved and to make science a part of your family's "quality" time. We've even got project suggestions for your family to do together!

Explore Our Science Videos
Flying Helicopters on Mars - Paper Models