Your View Counts! Watch Iron Man 3 to Support Science Literacy
Today only! Your view of exclusive Iron Man 3 video footage helps support Science Buddies. Verizon FiOS will donate $0.01 to Science Buddies for every view of the video footage on Monday, April 29 only. verizon.com/ironman3.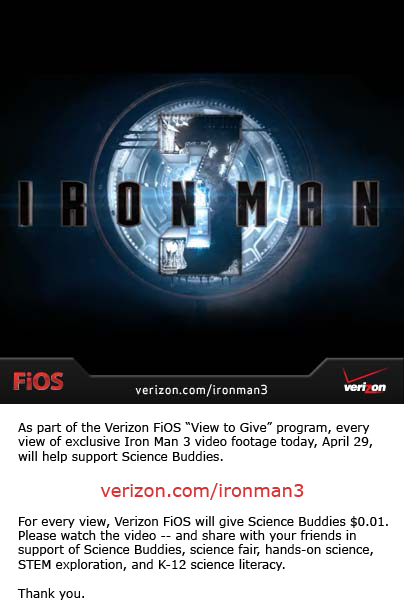 Please follow Science Buddies at Facebook to catch our Iron Man posts and updates throughout the day today.

Kickstart Student Science with Iron Man
Thank you to Verizon FiOS for selecting Science Buddies as a recipient of their View to Give program.
Categories:
You Might Also Enjoy These Related Posts:
Explore Our Science Videos
Test Different Pinwheel Designs
Marble Machine: 2016 Engineering Challenge
Hydroponics in a 2-Liter Soda Bottle – STEM activity.