Venus Transit: Last Chance of the Century
By Kim Mullin
Did you know that our moon is not the only heavenly body to pass between Earth and the Sun? The orbits of both Mercury and Venus infrequently take them on such a path, and on June 5th, you will have your last opportunity of the century to see Venus make this "transit." The next transit of Venus will not occur until 2117!
We call this phenomenon a "transit" because from Earth we can see the planet moving across the face of the Sun. Unlike a solar eclipse, when the moon blocks a large portion of the Sun from our view, a transit appears as a small black dot crossing in front of the Sun because Mercury and Venus are much further away from the Earth than the moon.

Transit Visible from All of North America
The transit of Venus will be visible from all of North America, but as with last month's solar eclipse, you must not view it directly with your eyes. Ask an adult to help you plan a safe way to witness the transit. Sky and Telescope's article about how to safely view a solar eclipse or transit can get you started.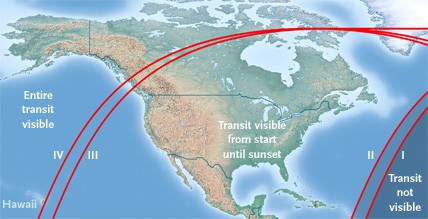 Transit of Venus Instrumental to Early Understanding of Our Solar System
18th century astronomers understood that the planets orbited the Sun, but they didn't know how big the solar system was. Then, astronomer Edmond Halley realized that the timing of a transit of Venus could help astronomers answer this question. NASA's "James Cook and the Transit of Venus" article can give you all of the details, but what's important to know is that without the transit of Venus in 1769, we might not have understood the size of our solar system until much later in history.

Just in Case...
If you can't see the century's last transit of Venus, then mark May 9, 2016 on your calendar—that's when Mercury will make its next transit.

See Also

Explore Our Science Videos
Build A Gumdrop Geodesic Dome!
Solve A Mirror Maze Reflection Challenge!
Introduction to Paper Chromatography | Theory and Practice