Sometimes you may need to transport your display board to a fair across the state or even across the country. There are several options available.
Portfolio Shipping Cases
If you have followed our advice and built a modular board, we recommend a portfolio case, like the one shown in the picture. This means of transport has many advantages, not the least of which is that you can carry your display with you, letting you make changes up to the last minute. It is also convenient to work with once you get to your final destination.
This case is available from Light Impressions (http://www.lightimpressionsdirect.com) in a variety of sizes ranging in price from $100 – $200. We have used the 24" by 30" model. While this size requires trimming the standard foam core display boards to a height of 30", modular board construction still permits monster-size displays, and this size case is easy for a student to carry. We have shipped the TransPort case coast-to-coast by overnight carriers, and it has been checked as airline baggage. In all cases, the display board has arrived in perfect condition.
One caution: The plastic material of this rugged case is not the best surface on which to apply a shipping label—the label might not stay attached. We recommend folding a backup label into something like a luggage tag in case the primary label comes "unstuck."
Light Impressions also carries heavy corrugated cardboard portfolio cases at a lower price.
Mirror Boxes
If you have a gigantic display, too big for a portfolio shipping case, ask your local moving company about "mirror boxes." These boxes are typically only 4" to 6" high, but come in enormous widths and lengths for shipping large, framed pictures or mirrors.
Be sure your airline or overnight shipper can accept a box of the size you think you need.
Tubes
One advantage of poster-style printouts is that they can simply be rolled up and transported in a tube. You can clip them to a board when you arrive at your destination. (Check ahead to make sure that you can readily obtain the type of board that you need.)
Crates
You can always crate your display!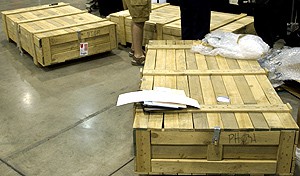 Explore Our Science Videos
Design and Launch Bottle Rockets
Do Veritasium's Helicopter Rope Experiment at Home
Ball Launcher: 2018 Engineering Challenge