Scratch User Guide: Adding Images & Sprites to a Scratch Program
Scratch Tutorial Note
This user guide was written for Scratch version 1.4, which is available for download here. Additional tutorials are available on the download page.
The newest version of Scratch (2.0) is based on Adobe Flash Player, which will be retired in 2020 due to security flaws. Due to these security risks, Science Buddies has chosen not to update our projects to Scratch 2.0. While the projects will work in Scratch 2.0, the locations and apperances of some buttons and features in Scratch 2.0 may differ from what is described in this tutorial.
If you want to use Scratch 2.0, you can download an offline version here. If you must use the browser-based version (for example, you are using a school computer where you cannot install software), you can access it here. Note that you may need to enable Adoble Flash Player in your browser to get Scratch to work.
One fun feature of Scratch is that you can easily add any images and text that you want to your program. Do you want to draw a new Scratch cartoon character directly on the computer? Or add real photos of you and your friends to a Scratch dance animation you're making? Or maybe create a rainbow-colored set of instructions for your Scratch game? You can do all of these things and much more with just a few clicks of the mouse.
Just above the sprites display area are three icons; they are circled in red below in Figure 1. The icons allow you to create your own sprite, import an existing Scratch sprite or an existing picture from your computer into the Scratch environment as a sprite, or get a surprise, pre-made Scratch sprite. Table 1 shows exactly which icon needs to be clicked for each of these tasks.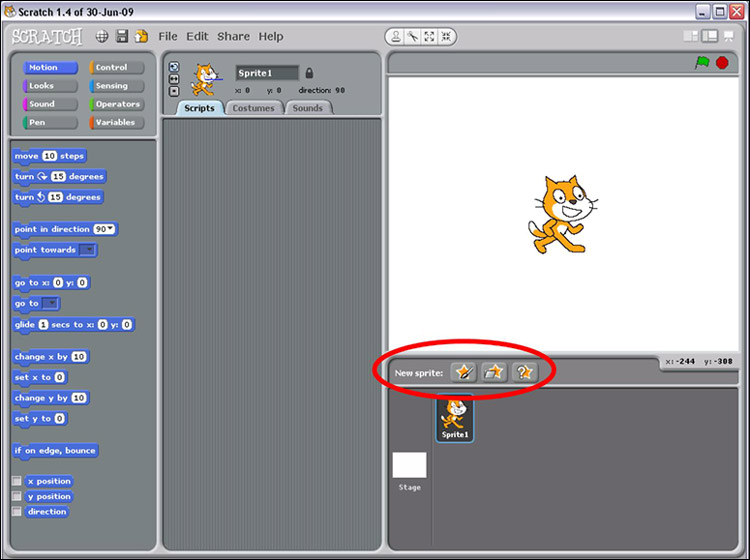 Figure 1.
The sprite icons, shown here circled in red, are used to create new sprites, import either a pre-made Scratch sprite or an existing picture from your computer into the Scratch program, or get a surprise, pre-made Scratch sprite.
| Task | Icon to Click | Comments |
| --- | --- | --- |
| Draw your own sprites (pictures or text) using the Scratch editor. | | Clicking the paint new sprite icon opens up the Scratch drawing editor where you can draw anything you want. You can also make text sprites. |
| Choose a sprite from your computer's hard drive to import into your Scratch project. | | Clicking on the choose a new sprite from file icon will allow you to pick any image on your computer's hard drive (including the pre-made sprites that come packaged with Scratch) to import as a Scratch sprite. |
| Get a pre-made surprise sprite. | | Clicking on the get a surprise sprite icon will make one of the pre-made sprites that comes packaged with Scratch appear in your project. You can choose to keep it or delete it. |
Table 1. The three ways of adding sprites to a Scratch program.
When adding new sprites to a Scratch project, it is always a good idea to give them descriptive names. This allows you to easily figure out which sprite you're referring to in the scripts. See Figure 2, below, for directions on where to enter sprite names.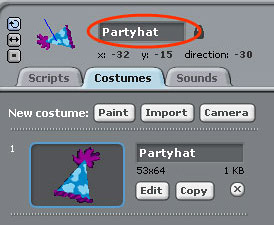 Figure 2.
Sprites can be renamed using the text box circled in red, above.
Existing sprites can be modified by clicking on the Costumes tab.
Explore Our Science Videos
| | | |
| --- | --- | --- |
| Vibration & Sound: Make Sprinkles Dance | Gel Electrophoresis and Forensic Science: Biotechnology Science Fair Project | Two-Stage Balloon Rocket Introduction |