Scratch User Guide: Adding Images & Sprites to a Scratch Program
Scratch Tutorial Note
This user guide was written for Scratch version 1.4, which is available at the Scratch 1.4 download page. Additional tutorials are available on the download page. Information about the most recent version of Scratch is available at the MIT Scratch website.
One fun feature of Scratch is that you can easily add any images and text that you want to your program. Do you want to draw a new Scratch cartoon character directly on the computer? Or add real photos of you and your friends to a Scratch dance animation you're making? Or maybe create a rainbow-colored set of instructions for your Scratch game? You can do all of these things and much more with just a few clicks of the mouse.
Just above the sprites display area are three icons; they are circled in red below in Figure 1. The icons allow you to create your own sprite, import an existing Scratch sprite or an existing picture from your computer into the Scratch environment as a sprite, or get a surprise, pre-made Scratch sprite. Table 1 shows exactly which icon needs to be clicked for each of these tasks.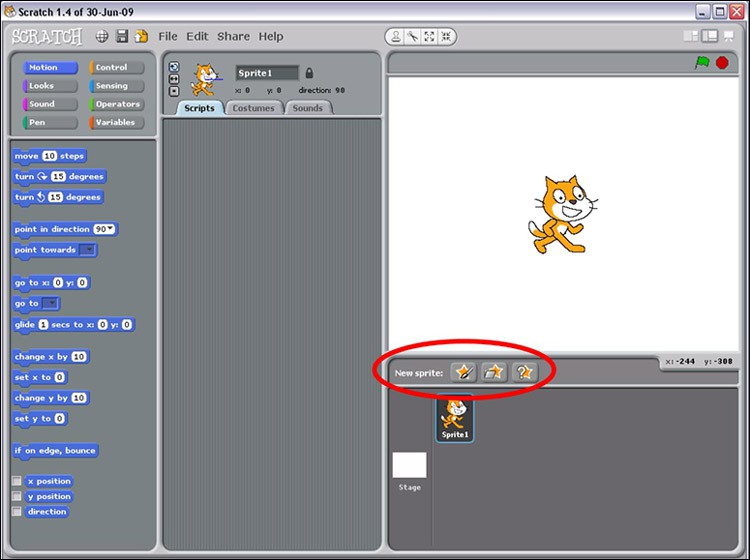 A screenshot of the program Scratch shows three new sprite buttons under the viewer window on the right side of the program. New sprites can be drawn by the user, uploaded from a file or randomly generated by Scratch.
Figure 1.
The sprite icons, shown here circled in red, are used to create new sprites, import either a pre-made Scratch sprite or an existing picture from your computer into the Scratch program, or get a surprise, pre-made Scratch sprite.
| Task | Icon to Click | Comments |
| --- | --- | --- |
| Draw your own sprites (pictures or text) using the Scratch editor. | | Clicking the paint new sprite icon opens up the Scratch drawing editor where you can draw anything you want. You can also make text sprites. |
| Choose a sprite from your computer's hard drive to import into your Scratch project. | | Clicking on the choose a new sprite from file icon will allow you to pick any image on your computer's hard drive (including the pre-made sprites that come packaged with Scratch) to import as a Scratch sprite. |
| Get a pre-made surprise sprite. | | Clicking on the get a surprise sprite icon will make one of the pre-made sprites that comes packaged with Scratch appear in your project. You can choose to keep it or delete it. |
Table 1. The three ways of adding sprites to a Scratch program.
When adding new sprites to a Scratch project, it is always a good idea to give them descriptive names. This allows you to easily figure out which sprite you're referring to in the scripts. See Figure 2, below, for directions on where to enter sprite names.
A cropped screenshot of the sprite settings window in the program Scratch shows a textbox to rename sprites. The sprite textbox to rename a sprite is above the scripts, costumes and sounds tabs when a sprite is selected.
Figure 2.
Sprites can be renamed using the text box circled in red, above.
Existing sprites can be modified by clicking on the Costumes tab.
Explore Our Science Videos
Make a Lemon Volcano - Fun Science Experiment
Draw with a Pantograph - STEM Activity
Paper Marbling – STEM Activity