Easy (No Cook) Homemade Play Dough Recipe
Play dough can be used for many science, engineering, and math explorations including our Play-Doh Math project. Here is an easy recipe for making play dough at home.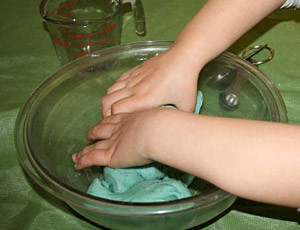 Ingredients
2 cups flour
½ cup salt
¾ cup hot or boiling water
1 Tablespoon vegetable oil or baby oil
2 Tablespoons cream of tartar
Food coloring (optional)
Instructions
Mix the flour, salt, and cream of tartar in a bowl.
Add the oil, food coloring, and water.
Fold the ingredients together with a spatula or mixing spoon to form a dough.
At first, the dough may seem watery. Wait for a few minutes and it will firm up as the flour absorbs the moisture.
In the unlikely case that the dough is still too loose after 15 minutes, mix in another ¼ cup of flour.
Explore Our Science Videos
Vibration & Sound: Make Sprinkles Dance
Lift Ice with Yarn STEM activity
Why Won't it Mix? Discover the Brazil Nut Effect