Block That Noise!
3 reviews
Summary
Grade Range
6th-8th
Group Size
2-4 students
Active Time
2 hours
Total Time
2 hours
Area of Science
Key Concepts
Sound, waves, insulation, engineering design
Credits
Ben Finio, PhD, Science Buddies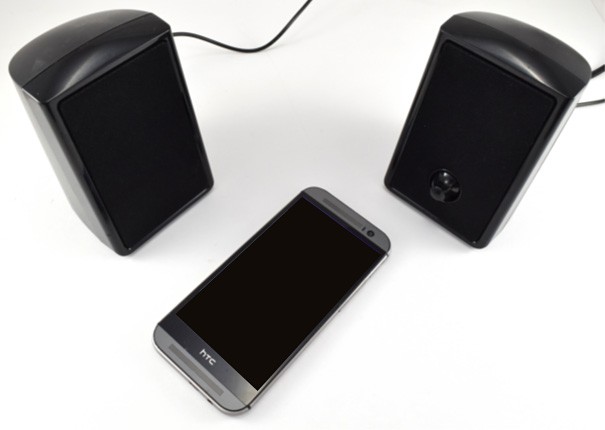 Overview
Do your students ever wish they could block out an annoying noise or music they don't like? In this fun lesson plan, they will design sound-insulating containers and measure how well they work using a mobile phone and a sensor app.
Learning Objectives
Explain that sound waves can be reflected, absorbed, or transmitted through different materials.
Understand that some materials are better sound insulators than others.
Apply the engineering design process to designing and building a sound-insulating device.
Compare the test data from two competing solutions and determine which solution was better.
NGSS Alignment
This lesson helps students prepare for these
Next Generation Science Standards
Performance Expectations:
MS-PS4-2

. Develop and use a model to describe that waves are reflected, absorbed, or transmitted through various materials.

MS-ETS1-2

. Evaluate competing design solutions using a systematic process to determine how well they meet the criteria and constraints of the problem.
This lesson focuses on these aspects of NGSS Three Dimensional Learning:
Science & Engineering Practices

Developing and Using Models.

Develop and use a model to describe phenomena (MS-PS4-2).

Engaging in Argument from Evidence.

Evaluate competing design solutions based on jointly developed and agreed-upon criteria.

Disciplinary Core Ideas

PS4.A

: Wave Properties.

A sound wave needs a medium through which it is transmitted (MS-PS4-2).

ETS1.B

: Developing Possible Solutions.

There are systematic processes for evaluating solutions with respect to how well they meet the criteria and constraints of a problem.

Crosscutting Concepts

Structure and Function.

Structures can be designed to serve particular functions by taking into account properties of different materials, and how materials can be shaped and used.
Materials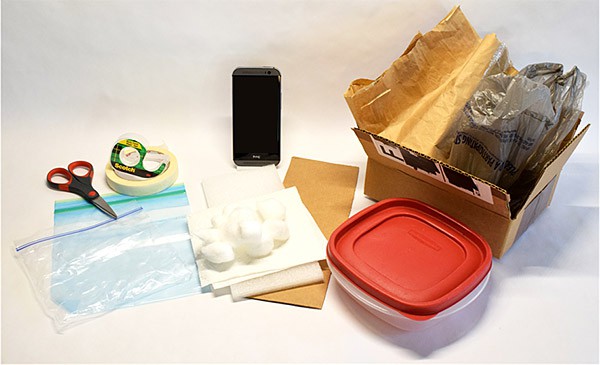 Photo of common materials that can be used to create a sound insulating container: scissors, tape, zip top bags, cotton balls, paper towels, foam boards, sheets of cardboard, a plastic container, plastic bags, paper bags and a cardboard box.
Smartphone with a sensor app such as phyphox, available for free on Google Play for Android devices (version 4.0 or newer) or from the App Store for iOS devices (iOS 9.0 or newer).
A second phone, tablet, or computer with speakers
Corrugated cardboard
Masking tape
Assortment of common classroom and craft materials for students to build their sound-insulating containers. Use what you have available. Here are some suggestions:

Items to use as containers (cardboard boxes, plastic bags, plastic food storage containers, etc.)
Insulating materials (cotton balls, crumpled scrap paper, foam, shredded newspaper, etc.)
Assembly materials (scissors, tape, paper clips, etc.)
Background Information for Teachers
This section contains a quick review for teachers of the science and concepts covered in this lesson.
Sound waves are vibrations that travel through the air and are detected by the human ear. These waves can be reflected, absorbed, or transmitted through various materials (Figure 1).
Figure 1.
Reflected, absorbed, and transmitted sound waves.
For example, you hear an echo when sound waves are reflected off the walls in a large space. Sound waves can be absorbed by soft materials like carpet or ear protectors. They can also be transmitted through solid materials, which is why you can hear someone yelling through the wall in another room. Materials that absorb sound waves are called sound insulators.
The loudness, or intensity, of sound is measured in decibels (dB). Figure 2 shows the decibel ratings of some common sounds. Decibels are a logarithmic scale, not a linear scale. That means that for every increase of 10 dB, the intensity doubles. For example, a chainsaw (100 dB) is much more than twice as loud as moderate rainfall (50 dB). Sound levels above 80 dB can cause hearing damage over long periods of time, and sound levels above 120 dB can cause immediate damage.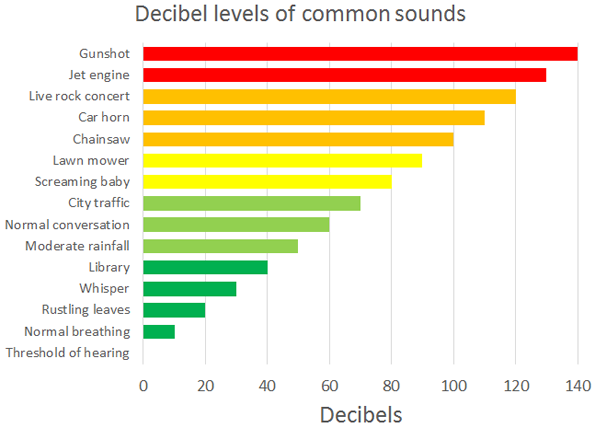 A bar graph highlights decibel levels of common sounds from the loudest at the top to the softest at the bottom. A gunshot is the loudest common sound with a value of 140 decibels, a normal conversation has a value in the middle of the graph of 60 decibels, and the sound of breathing is the quietest with a value of 10 decibels.
Figure 2.
Decibel levels of some common sounds.
In this lesson, your students will build sound-insulating containers big enough to put a phone inside. To test how well the containers dampen noise, the phone will measure sound levels using a sensor app that is able to record data from your phone's microphone and displays it in a graph. Figure 3 shows two graphs recorded with a phone placed in front of computer speakers playing white noise. With no insulation, the average sound level was 40 dB (left), but with the phone placed in a bag of cotton balls, the average sound level dropped to 10 dB (right). Remember that a decrease of 10 dB means the sound is half as loud.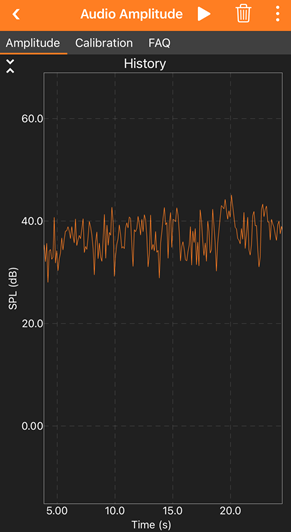 Example graph of sound intensity over time shows a line that is constantly fluctuating due to a noisy environment. The average sound measured is about is 40 decibels.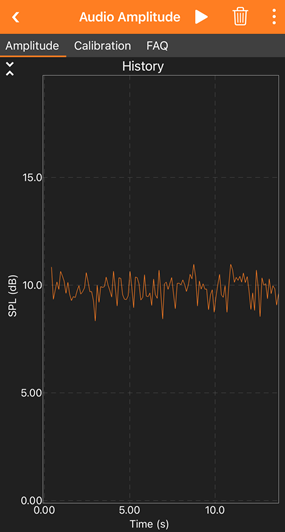 An example graph shows sound intensity over time in a very quiet setting. The measured noise does not fluctuate above or below 1 decibel, but there are small and constant changes that indicate it is not completely quiet. The average sound measured is about 10 decibels.
Figure 3.
Comparison of noise levels before and after insulating the phone from sound.
In this project, your students will follow the engineering design process. The engineering design process is an iterative process where students design, build, and test their containers. It is important for students to understand that there is no single "right answer" to an engineering project. There are multiple possible solutions to the problem, and it is OK if their containers do not work very well on the first try. Part of the process is redesigning, rebuilding, and retesting your container based on what you learn from your initial tests.
Please log in or create a free account to view the full lesson or to leave a review
Log In / Join
Explore Our Science Videos
Draw with a Pantograph - STEM Activity
The First Cartoon: Make Your Own Thaumatrope!
Make a Model to Explore the Distance from the Planets to the Sun