Science Buddies Blog: August 2010 Archives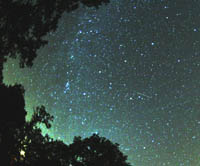 I read about the Perseid meteor shower in the newspaper the morning of August 12—the day the annual meteor shower was predicted to peak. The Science Mom in me flagged the event, but even so, I thought to myself, "I'm not sure I want the kids to miss their bedtime again."
Over the summer, it is so easy to not enforce bedtimes, and I have lately fallen into the sliding bedtime trap, the kids growing crankier by the day as they get less and less sleep. (Possible science experiment: is it my imagination or is it true that most kids wake up at pretty much the same time regardless of when they went to bed?)
I didn't think about the meteor shower again until dark had fallen. Just as I was trying to muster up the will to enforce bedtime, I heard my husband suggest to the kids, "Hey, let's go outside and look for shooting stars."
The cat out of the bag, the kids started begging me to stop working (filling out mountains of school registration forms) and come outside. I said the familiar "be there in a minute." Many minutes later, my daughter came running in the house, full of excitement. "Mommy, Mommy, you have to come out NOW. We just saw a meteor!" How can you say no to that?

Putting the school forms aside, I grabbed some blankets (welcome reinforcements) and headed out to the best spot on our property for a good view of the Eastern sky without tree interference: our driveway. The four of us laid together in our driveway, staring up into the moonless, clear night sky. It was a very peaceful family moment.
As we lay there gazing at the stars, my husband explained what he knew about the meter shower. He didn't mention that it is called the Perseid meteor shower or that it comes every August as Earth passes through the tail of the Swift-Tuttle comet. I didn't offer that information either. Instead, we quietly gazed up at the sky, waiting and waiting. Dad explained what a meteor is. I pointed out the Milky Way. My son asked, "Why do they call it milky?" My daughter answered, "Look at it. See how the sky looks milky there? That's why."

I thought to myself, "Wow, this is worth the ignored bedtime." There we were together as a family, gazing up at the stars. No tickets, no travel, no planning. Just a couple of sleeping bags, a clear night, and the possibility of something spectacular.

When my son announced that he was tired and wanted to go to bed, I escorted him in, leaving my husband and daughter to wait for more meteors. I hadn't seen any, but I was too tired to go back out after my son was in bed. In the morning, the report was excellent: dad and daughter bonded while sharing the sight of half a dozen decent meteors!
~ Courtney, "Science Mom"
Categories:
---
Thanks to a grant from the Motorola Foundation's Innovation Generation program, Science Buddies will be developing online resources related to summer science camps. Many camps throughout the country focus on the sciences and offer opportunities for students to explore science in fun and innovative ways.
"We are excited about the opportunity to add the 'Summer Science' resource to our website and to encourage students to engage in hands-on science projects ...even when school is out," said Ken Hess, Science Buddies CEO.
Read the full press release.
Categories:
---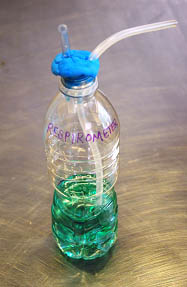 [Editor's Note: Madeline Sides, 2010 Intel ISEF participant, has been testing project ideas this summer from the Science Buddies library of 1000+ science projects.]
It sometimes seems like movies and books tell us that, in life, one has to choose between being the jock or the brain, the football star or the mathematician. Hopefully, most of us grow up knowing that doesn't have to be the case and that academics and sports are not mutually exclusive. In high school, I participated in science competitions and earned varsity letters in two sports because I didn't want to be involved in just one or the other!


One of the science projects I tested recently as part of my summer internship with Science Buddies was The Effect of Exercise: Changes in Carbon Dioxide (CO2) Output (Difficulty: 6-8).

In bringing together chemistry and exercise physiology, this project highlights the relationship between science and sports and exercise. As an athlete and as a developing scientist, I really enjoyed this human biology project!

As part of this project, you construct a homemade respirometer, a device that measures the amount of CO2 a human produces when breathing. This respirometer utilizes a "colorimetric pH test" to measure CO2 production. Thanks to a pH indicator solution that changes color as CO2 is blown into the solution (and lowers its pH), a test subject can actually observe his or her own CO2 production.

After a quick trip to the pet store for the pH indicator solution, some clear plastic tubing, and a small aquarium pump, I got to work assembling my respirometer using a recycled water bottle. In less than 30 minutes, my setup was complete.

I practiced blowing into the respirometer and measuring the amount of time it took the indicator solution to change from blue/green (meaning neutral, about pH 7) to light yellow (indicating a lower pH and more acidic water) because of the CO2 in my breath. After taking some "control" readings of my CO2 output before exercise, I was ready to see how the readings would change with an increase in activity. The project calls for either "moderate" activity for 10 minutes or "brisk" activity for 2-3 minutes. I decided to exercise "briskly" by running and jumping around on my driveway, which probably gave my neighbors a good laugh.

After a few sessions of jumping around, breathing into my respirometer, monitoring the color change from blue to yellow, and comparing my exercise results to my resting control, I was able to draw some conclusions about how exercise affects CO2 output in humans.

I had fun, got a bit of a workout, and got the chance to turn chemistry into an athletic event—right there in the driveway!

~ Maddy

More Maddy
Madeline Sides has been testing project ideas this summer from the
Science Buddies library of 1000+ science projects
. If you missed her previous post, check out her experience
measuring the amount of energy in common foods
.
---
---
Categories:
---