Enter the 3M Young Scientist Challenge for a chance to win $25,000 & exclusive 3M mentorship
Is your student America's next Top Young Scientist? Encourage your students to showcase their passion for science and innovation and enter this video competition for a chance to win—but don't wait, the deadline is May 7th!
The 3M Young Scientist Challenge is looking for America's 2019 Top Young Scientist — could it be one of your students?
Encourage your students in grades 5-8 to enter the 3M Young Scientist Challenge for a chance to win $25,000 and an exclusive 3M Mentorship opportunity!
To enter, students are challenged to think creatively and innovatively to brainstorm a unique solution that uses science to improve lives for the future in one of six areas: health, safety, connectivity, environment, energy consumption, or community. On the 3M Young Scientist Challenge website, students can learn more about these topic areas and the kinds of questions they might address with their entry.
How to Enter
With an innovative solution in mind, students need to make a 1-2 minute video that clearly explains the idea and their inspiration for the idea, the science behind the solution, and how the solution would make a positive difference. No prototyping or testing is required to enter! The quality of the video itself is not part of the judging, so students can enter even with a cell phone video. A set of 10 Video Challenge Tips helps students plan their videos and encourages them to think as both scientists and storytellers.
As they think about their response to the "How can you improve lives for the future?" question, students can get inspired by viewing winning video entries and learning more about solutions from previous winners and finalists. For example:
2018 finalist Cameron Sharma used AI and machine learning to identify personalized flu vaccines.
2018 finalist Theodore Jiang created a smartphone case that harvests energy from finger taps on the screen to charge the phone's battery.
2016 winner Maanasa Mendu created a device that harvests energy from the wind and sun to create an eco-friendly and cost-efficient source of electricity.
2018 finalist Anna Du created an underwater robot that detects microplastics in the ocean.
Additional materials for teachers, students, and parents, and full information about the 3M Young Scientist Challenge is available on the website. The 2019 3M Young Scientist Challenge closes May 7, 2019.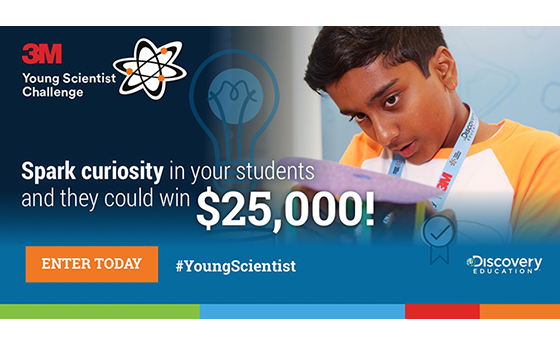 Categories:
You Might Also Enjoy These Related Posts:
Explore Our Science Videos
Make a Model to Explore the Distance from the Planets to the Sun
Popsicle Stick Paddle Boat
Squishy Circuits Classroom Activity Part 1