Celebrating Student Science
The 2012 Intel International Science and Engineering Fair (ISEF) kicks off today! According to the Society for Science & the Public, more than 1,500 high school students from all over the world will be on hand in Pittsburgh this week to show off their projects and compete for more than three million dollars in awards.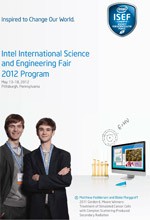 Blake and Matthew, winners of the 2011 Intel ISEF, are featured on the cover of this year's Intel ISEF program.

To follow along with this week's Intel ISEF proceedings, tune in to the following sites, galleries, and social media streams:
Students who qualify to attend the Intel ISEF represent the pinnacle of this year's student research and innovation. The path to the Intel ISEF is often a long road of research, experimentation, and a chain of fairs beginning with a local or school fair. For those who compete in advanced competitions like the Intel ISEF, the Intel Science and Talent Search, or the Broadcom MASTERS, public recognition tends to follow. These students' stories make the local papers and news reports, and when the winners are announced at the Intel ISEF later this week, names, schools, research topics, and prize amounts will buzz through social media streams as we all celebrate the top of the top in K-12 science.


More than Makes the Board
The stories behind the projects on display are often wonderful and engaging dramas that represent the highs and lows of the scientific process. The project display boards lining the exhibition center in Pittsburgh, PA this week showcase each project along a defined set of points that follow the scientific method. From across the room, you might be able to read the project's title. At closer range, you can peruse the hypothesis, conclusion, and summary data charts, but there is often much more to the story than can be contained in the standard 36" x 48" trifold board—more science and more human interest.


The Student Behind the Science Project
The sophisticated projects on display at a fair like the Intel ISEF are not always ones immediately accessible to the general audience. These are not your average school science fair projects, but the students behind them, the students answering questions from judges and passersby, the students passionate about their area of research, their findings, and the possible future applications of their work are still students. When given a bit more attention and depth, students' stories, like those chronicled in Science Fair Season: Twelve Kids, a Robot Named Scorch... and What It Takes to Win
, by Judy Dutton or the WhizKids documentary, offer readers and viewers an inside look at what it is like to be a top student science student, where these students find inspiration for their ideas and projects, and what it feels like to compete on a global level. These stories are often inspiring, eye-opening, and, at times, heartwrenching.


Stories Big and Small
Many of these stories represent the epitome of scientific achievement among K-12 students, but stories of scientific accomplishment unfold every day at schools and science fairs around the country. We hope you spotted write-ups of local fair winners in your area over the last few months. We hope that your student's science fair was well-attended, well-supported by the local community, and that the students who participated got the chance for their hard work to shine, regardless of whether or not a ribbon was awarded. We hope that your student learned something from her project or explored a new area of science. Maybe the process sparked interest in asking another question, researching another angle, or simply participating again next year with another science investigation.
To every student that conducted a science project this year, to every student that put the scientific method in action, to every student that learned something, hands-on, about a scientific principle, we say congratulations!
Make a note!
Science Fair Season: Twelve Kids, a Robot Named Scorch... and What It Takes to Win,
by Judy Dutton, tells the story of a number of top science fair participants. This is a great summer read for parents, teachers, and students!


We'll be watching as this year's Intel ISEF unfolds over the next few days. It's an exciting event, and Science Buddies staff will be meeting with many students who are presenting. There will be astounding projects on display, and we know the stories behind those projects may be equally inspiring and exciting. But we are excited by all of your stories and successes, and we are proud to be an integral and trusted resource for students looking for science project ideas and for science project information and for teachers, organizations, and parents who are dedicated to encouraging and supporting science, technology, education, and math education (STEM). Every science project can make a difference in a student's approach to science.


A Local Fair
The Contra Costa County Science & Engineering Fair (CCCSEF) is developing a track record for showcasing and recognizing projects that go on to succeed at higher-level competitions. In 2011, the winners of CCCSEF, Blake Marggraff and Matthew Feddersen, went on to sweep top honors at the Intel International Science and Engineering Fair. Blake and Matthew then joined Science Buddies in the summer of 2011 as part of our first group of Summer Fellows. You can learn more about their research and winning project in this write-up that documents how their weekend experiments evolved into the construction of a homemade X-ray machine—and the grand prize at the 2011 Intel ISEF.
This year, the students moving on to the 2012 Intel ISEF by virtue of top placement at CCCSEF are Christina Ren (10th grade, Monte Vista High School), Eric Sauer (11th grade, Dougherty Valley High School), and Raymond Zhu (12th Grade, Monte Vista High School). Other winners at the 2012 CCCSEF went on to show their projects at Broadcom MASTERS and at the California State Science Fair. Aryo Sorayya, an 11th grade student at Monte Vista High School, displayed his project, "Overcoming the Cold Chain: Designing a Novel Freeze-Stable Vaccine," at CCCSEF and went on to be named the grand-prize winner last week at the 61st California State Science Fair.
Over the last several years, CCCSEF coordinators have watched the fair continue to grow, a trend celebrated and encouraged by support from the community, including organizations like Chevron and Bio-Rad Laboratories, both of which issue special awards at the fair. This year, Matthew Brewer and Brooke Parker, students at Acalanes High School, won Chevron Innovation and John Muir Health special awards for their team project, "Effectiveness of Acne Vulgaris Treatments Using EColi Bacteria." Tiffany Zhou, a student at Heritage High School, and a student mentor in the Science Buddies Ask an Expert forums, received a Chevron Innovation award for her project, "Investigating Biocontrol of Canker Diseases." Other winners of Chevron Innovation awards include: Nicholas Kaufman (NorthCreek Aacademy), Zidaan Dutta (Pine Valley Middle School), and Zachary Cannon (NorthCreek Academy).
Bio-Rad Laboratories special awards were presented to Raymond Zhu (Monte Vista High School) for his project, "Evaluating the interaction between LRRK2 and NMAP as a pathway to neuronal degeneration in Parkinson's Disease," and to Dhuvarakesh Karthikeyan (Iron Horse Middle School) for "MFCs-Step 1 to self-sufficient planet."
Explore Our Science Videos
Valentine's Day Candy Delivery Robot
Make Fake Snow - Craft Your Science Project
Colorful Melting Ice Ball Patterns - STEM Activity