Student Finds Success at First Science Fair with Bristlebot Project
Do you remember your first Science Fair project? What challenges did you face? Science Buddies knows how intimidating science fair can be, and we are here to help every step of the way!
By Lily Arendt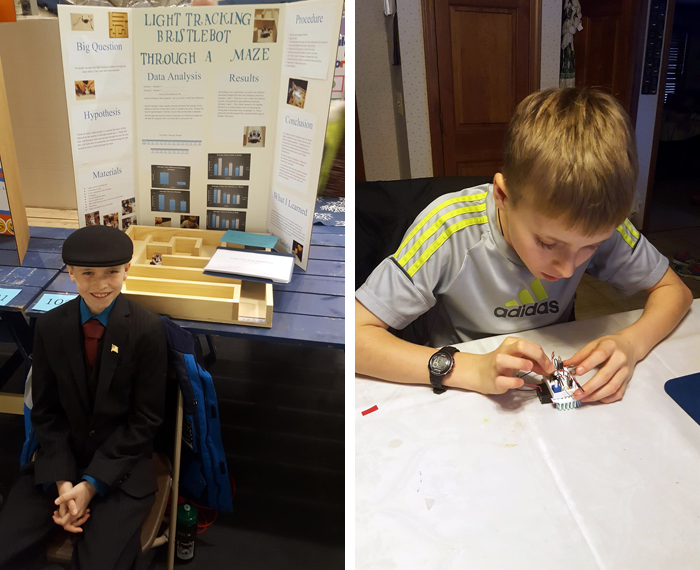 Choosing a Project
To some students, the hardest part of science fair is choosing a project! Bryce, a 4th grade student in Granger, IN, was stumped when he began searching for his first ever science fair project. "He loves to read, build and put LEGO together, and play soccer, golf, and taekwondo," said Bryce's mother. With so many interests, how could Bryce possibly decide on a science fair project?
Fortunately, he and his mother were introduced to the Science Buddies Topic Selection Wizard, which is a wonderful tool to help students start the process of finding a science project. After completing a short online questionnaire, the Topic Selection Wizard presented Bryce with project ideas specifically chosen to meet his interests. He quickly spotted the Build a Light-Tracking Bristlebot project. Bryce was introduced to robotics during past summer camps, and he was excited to try a robotics project on his own.
Finding the materials
The excitement continued for both Bryce and his mother when they realized that the activity Bryce picked corresponded with a Science Buddies project kit. Although not every Science Buddies project idea has a corresponding Science Buddies kit, a readymade kit is an excellent option for some projects. Being new to robotics, the Advanced Bristlebot Kit made it easy for Bryce to buy the electronics supplies he needed to do his science project and to explore this area of science.
Making the project unique to you
After choosing a project and finding the materials, it's important to make each science fair project your own. As Bryce continued his project, "he used other areas [on the Science Buddies website] that helped him form his question and hypothesis, and to make sure he was on the right track," his mother explained.
Presenting at the science fair
With his data collected and his project display board ready to go, Bryce took part in his first ever science fair. To his surprise, Bryce and his Light-Tracking Bristlebot project advanced to the Regional Science Fair at the University of Notre Dame! When asked about Bryce's overall experience using Science Buddies' resources for his first science fair, Bryce's mom shared that "he learned so much and had a blast."
"The kit was a great purchase, contained everything we needed, and was very reasonable in cost," said Bryce's mom.
Science Buddies congratulates Bryce on his hard work and first place ribbon at the Northern Indiana Regional Science and Engineering Fair!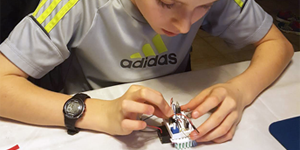 Categories:
You Might Also Enjoy These Related Posts:
Explore Our Science Videos
How to Build a Unicorn Art Bot
How Antibiotic Resistant Bacteria Take Over – STEM activity
What Do Enzymes in Pineapple Juice Do to Milk?