Fourth Annual Fluor Challenge Celebrates Engineering
Students around the world entered the 2018 Fluor Engineering Challenge. Fluor Corporation has announced the winners of ten thousand dollars in cash prizes to schools and organizations who took part in this year's Ball Launcher challenge.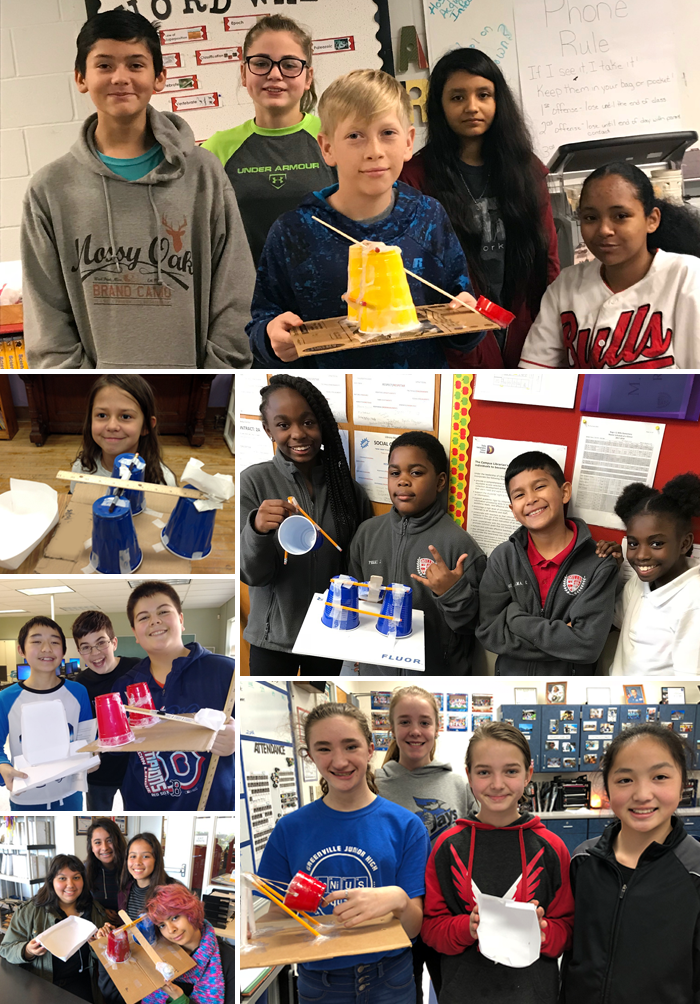 Above: Some of the students who entered the 2018 Fluor Challenge.
What can you learn about projectile motion, energy, engineering design, and physics with ordinary materials like plastic cups, pencils, rulers, and tape? Students who entered the 2018 Fluor Engineering Challenge can tell you that the answer is a great deal! Plus, you can have fun at the same time.
A Student Engineering Challenge
The 2018 Fluor Engineering Challenge was the fourth year of the annual engineering challenge for K-12 students hosted by Science Buddies and sponsored by Fluor Corporation. Inspired by Fluor's annual company-wide employee engineering challenge, the student challenge features a student-friendly adaptation of one of the company's previous challenges. The student challenge is different each year, and Science Buddies' senior staff scientists work to convert the adult challenge into something accessible and engaging for students and with materials that are readily available around the world.
Designed to inspire students to try engineering and to discover firsthand that engineering and the creative problem solving and design involved in brainstorming and testing a solution can be fun, the Challenge presents an engaging problem and asks students to come up with their best design using limited materials and a set of specified rules and constraints. The annual Fluor Challenge aligns with Engineers Week, making the hands-on activity an inviting fit for teachers looking to celebrate E-Week in the classroom. In some areas, Fluor volunteers also visit local classrooms and programs to inspire students in their communities about engineering and the Fluor Challenge.
To enable solutions to be compared, students use a scoring system that takes into account the materials used and the effectiveness of the design. A leader board is posted at the end of the Challenge to recognize students whose solutions excelled in scoring. The Fluor Challenge celebrates students who achieved high scores, but the spirit of the Fluor Challenge is in encouraging students to try a hands-on engineering activity. Fluor awards $10,000 USD in cash prizes to schools and organizations for winners selected in random drawings from all entries in specified locations.
As part of DiscoverE's Global Day of the Engineer (#GlobalEngineer), Fluor has announced all winners of the 2018 Fluor Challenge. You can view the winners and top scores on the Fluor Challenge page.
"My favorite part about the Fluor Challenge was the simplicity of it. I never knew that you could build a simple catapult using everyday materials. Next time I see everyday items, I will think about how I can engineer the item to become something better. Overall, this challenge let me bond with everyday items and engineering in a way that I have never seen before."
(Team Stir Fry)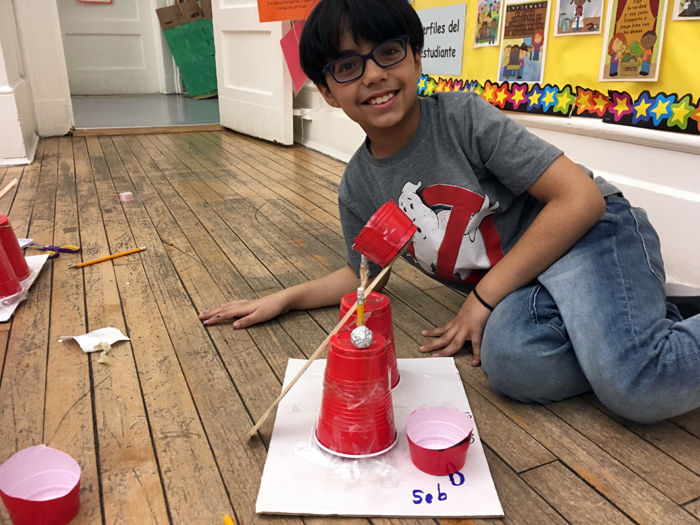 Above: A student who entered the 2018 Fluor Challenge.
The Ball Launcher Challenge
In previous years, students have built balloon-powered cars, marble sorters, and terraced water flow systems. The 2018 Fluor Challenge involved making a ball launcher and catcher. Whether students interpreted the design as a catapult system or as a model based on American football, the objective was clear: build a simple machine (from items like plastic cups, pencils, and rubber bands) that could launch an aluminum foil ball into a receiver. There were limitations for materials and rules regarding the design and operation of the machines (launcher and receiver), but as has been true with all previous Fluor Challenge activities, students proved to be up to the task!
"As a teacher of gifted students, I loved the activity because these students enjoy challenges. I especially love the fact that the girls enjoy it too. As a matter of fact, it was the girl that made the 23-foot shot! These are fourth graders, and my plan is to implement this challenge into my curriculum yearly."
(Teacher, Quest Elementary School, FL)
A Successful Global Challenge
The Fluor Challenge invites students to work alone or in teams of up to four students. There were more than 1,390 submissions for the 2018 Challenge from more than 3,800 students representing 219 schools and organizations around the world. Ball Launcher solutions were submitted from ten countries, and within the U.S., submissions were received from students in 40 states. Of the entries for the 2018 challenge, 47% were from girls, and entries were distributed among students between ages 6 and 18, with 775 entries coming from students ages 11-14.
For a STEM challenge in its fourth year, the growth of the Fluor Challenge is a clear indication that educators welcome these kinds of hands-on engineering activities—and the chance to win funds for their schools and organizations!
"It was a great year for the Fluor Challenge! I had dozens of students at any given time of the day in my hallway shooting off little aluminum balls every which way."
(Teacher, Bay Academy, NY)
Above: Some students got creative with all aspects of their Ball Launchers.
Materials, Performance, and Final Score
As an engineering challenge, the K-12 Fluor Challenge gives students an objective and a set of possible materials. Students are then tasked with coming up with and testing their designs to find the best solution for the challenge. An example is shown as a proof of concept in the project directions and overview video, but every year, students demonstrate their innovation and creative skills as they come up with their own unique approaches to building a solution and improving upon the example.
This year, one of the materials available to students was 16 oz. paper or plastic cups, a maximum of four. These cups were popular in student designs for both launchers and receivers, and as the submissions came in, we saw cups in all colors: red, orange, yellow, blue, green, purple, silver, orange, and turquoise. At 50 points each, many student found these cups to be central to their designs. Pencils and wooden rulers (or paint stirrers), too, made an appearance in many submissions. And tape? With a point value of 100 for using any portion of a role of tape, there were certainly some teams that went all out with the tape! Finding the best balance between available materials and total point values for a solution is an important part of the challenge and one that drives student innovation as teams try and come up with designs that trim down materials costs while still resulting in a working solution.
"My students acted very enthusiastically in regards to working with this project. They used the problem solving model and looked at how to create an item which could throw the ball and then once built went about making changes. I like how they had to consider accuracy of throw to the catcher and come up with alternative designs/positions to make it work."
(Teacher, Carbondale Attendance Center, KS)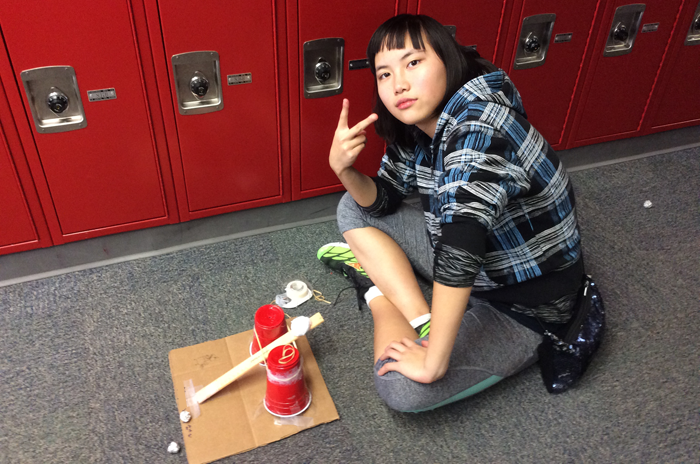 Above: A student who entered the 2018 Fluor Challenge.
Students (and Teachers) Enjoy the Challenge
Throughout the 2018 Fluor Challenge, teachers and educators shared videos and images at Twitter and Instagram showing their students involved in various stages of the engineering design process. In every case, we saw students at all grade levels excited about engineering, eager to test their solutions, determined to get a successful catch, and engaged in improving their designs for longer launches and catches.
"The group that won the competition screamed so loudly when they finally got their ball in the receiver that the principal came running up thinking that there was a major issue. She laughed that it was all just students doing neat stuff."
(Teacher, Kempner High School, TX)
The flexible nature of the challenge invites educators to use the activity in ways that work with their classrooms and lessons. Some students started out drawing designs on paper; others did their design work using Google Drawings. We saw teachers who used the challenge as a fun classroom warmup and teachers who turned scoring into an exercise in statistics. Young patrons of the Manheim Township Public Library were encouraged to explore the Fluor Challenge at the library, add to a white board of community responses to the challenge, and browse a display of children's books about engineering before or after their ball launcher session. After the Challenge ended, one school went on to demonstrate their #FluorChallenge solutions at a community Maker event.
As the submissions came in, students (and teachers) told us in their own words how much they enjoyed this year's Fluor Challenge and why. Here is a sampling of what they had to say:
"Our favorite part was creating something with simple objects and having to challenge ourselves. I feel this made us think outside the box and helped us improve as future engineers." (Team Tori Town)
"When we were doing this project we did some research on catapults, slingshots, and trebuchets. Our project ended up being a catapult. Our favorite part of this project was building the catapult. Even though our catapult's range didn't go that far, it was still a lot of fun." (Team The Fire Balls)
"Our favorite part of the 2018 Fluor Engineering Challenge was building a catapult. We enjoyed seeing our success working and launching the ball into the receiver. We found this challenge to be very fun and enjoyed every part of this challenge. This project took lots of patience but it all payed off in the end." (Team Spicy Gorillas)
"My favorite part about it was that we got to create our own design for this project from scratch and that our design is unlike anyone else's." (Team Aerospace Devils)
"My favorite part about the Engineering Challenge was planning what we were going to do and then getting to build it. I love to design things and planning this out and choosing our materials was fun. I also loved doing this because it was very interesting to watch how regular household items can be turned into a machine. This was awesome!" (Team Girly Eagles)
"Our favorite part was testing our launcher outside. We had to measure the distance our ball traveled. We were able to get the ball to land in the launcher, even though it wasn't as far as the other teams. We had fun and learned how to work well as a group." (Team Sky Launchers)
"The best was trying over and over again and not giving up. The feeling of finally making the ball into the receiver was awesome!" (Team Doan Dog)
"We started our project by doing the basic research on catapults, trebuchets, and slingshots. We decided on a simple trebuchet. We decided to switch out our pencils that were planned to hold up our design into two red cups. When we first tried our trebuchet, we were excited to see the distance exceed our expectations." (Team Elite Students)
"What I liked about this year's challenge was getting to see all the different things you could do with the cups, pencils, and paper. It was cool getting a tin foil ball from one place to another." (Team Matthew and Jaimon)
"Our favorite part was launching the aluminum ball during the 2018 Flour Challenge. As my teammates and I stared down the aluminum ball on its path to the receiver we waited anxiously. Sure the ball was only the air for a few short moments, however those short moments would determine if our trial and error, successes and failures, assembling, and hard work would lead to victory. And victoriously we watched as our aluminum ball flew into our receiver with smiles emblazoned across our faces." (Team Moderate Amount of Water)
"Our favorite part of the 2018 Flour Engineering Challenge is the ability to comprehend the process of designing, and the application of the engineering design process. We had fun launching the ball and I enjoyed that this was a process of trial and error, if we had one mistake we tried to improve it to make the ball launcher more efficient and easier to use." (Team Flores Twins)
"My favorite part of the Flour Engineering Challenge was being able to build and create a way to have a ball launch into a receiver and able to say that I was the one to build this! Knowing that I did this with my team brings me joy! Being able to be a part of a team and connect[ing] with others, especially girls, girls are able to engineer just like boys and this Challenge was a way to show that to all!" (Team Two Famous Girls)
"Our favorite part of the challenge was trying to design a catapult that didn't shoot 'backward!' It was funny and frustrating every time we shot our catapult and it went over our heads." (Team Little Lint)
"When the students discussed their favorite part, the students said that their favorite part was the actual testing of the launcher. They were ecstatic when they finally made the target." (Teacher, Singing River Academy, MS)
"My favorite part about the Fluor Challenge was that it required the students to use teamwork and creativity. Thinking outside the box was key to coming up with a design that consisted of as little materials as possible to get the most distance." (Teacher, Kennedy High School, CA)
"It was great to see the kids engaged and problem solving on their own. They really enjoyed building the launchers and how hands-on the Fluor Engineering Challenger was. Every day they eagerly asked me if they could work on their launchers again!" (Educator, Portland Tennis & Education, OR)
(Additional quotes from teachers and students can be viewed on the 2018 Fluor Challenge page.)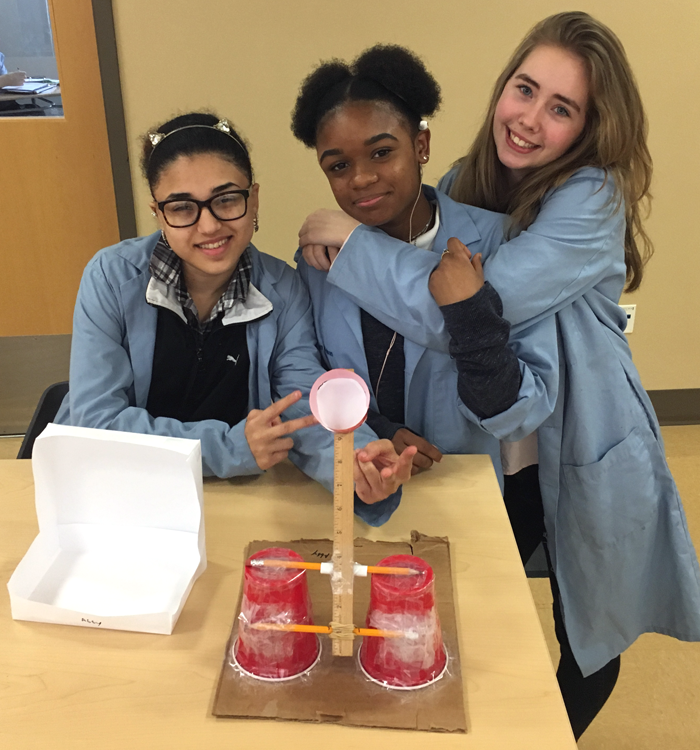 Above: Students who entered the 2018 Fluor Challenge
The 2018 Fluor Challenge Leader Board
Winners of the random drawings and top scoring teams for the 2018 Fluor Challenge have been posted on the Fluor Challenge page.
Thank you to all the teachers and educators who did the 2018 Fluor Engineering Challenge with their classes and then submitted entries on behalf of their students.
Categories:
You Might Also Enjoy These Related Posts:
Explore Our Science Videos
DIY Mini Drone Part 7: Automatic Balancing
Squishy Circuits Classroom Activity Part 1
Make a Lung Model – STEM activity