Frankenstorm Science: Hurricane Sandy
Students of all ages may be hearing and seeing news about Hurricane Sandy. Even in the aftermath of the storm, talking about hurricanes with your students helps them better understand the science involved.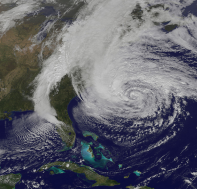 (Image: NASA GOES Project)
Students curious about hurricanes like Sandy—or interested in why this week's tropical storm was unusual and how it differed from past storms—can explore further in one of several science fair Project Ideas at Science Buddies.
Hurricane Sandy rose on the tail end of the typical hurricane season, just in time for Halloween, which quickly spawned the freakily apt moniker: Frankenstorm. Sandy uses the 'S' next in line for naming this season's tropical storms, but given the monstrous devastation caused by the storm, 'Frankenstorm' fits. Depending on where you hear it explained or contextualized, the Mary Shelley character allusion comes into play either as a virtue of timing with the one day of the year in which things dark, scary, and otherworldly roam
or
you may have heard the allusion in tribute to the fact that this storm was made up of different parts—part hurricane, part winter storm. Throw in the influence of the full moon on the 29th, and all the makings were there for an eerie storm of epic proportion. Similar to the storm of 1991, in the days leading up to Hurricane Sandy moving onshore, meteorologists were already predicting a 'perfect storm.'

Making Connections
In the wake of Hurricane Sandy's devastating passage through the northeast, images and stories of massive destruction in states like New Jersey tell a frightening tale. As cleanup and recovery efforts continue, classrooms and families watching from afar may find the following Project Ideas helpful as a way to talk more about hurricanes, about the ingredients of a storm, about historical storm cycles, and about questions related to climate change, an angle of the storm that has been raised in numerous articles and news reports in relation to Sandy:
Hurricanes and Climate: use historical data to evaluate and compare hurricane seasons.
Do Hurricanes Cool the Ocean?: use meteorological and hurricane track data to explore the relationship between a hurricane and the temperature of the surrounding waters.
Hurricanes *: Starting point for an independent research project.


A Closer Look
In a research project, John Nelson plotted tropical storms of record since 1851. Documenting 160 years of storms in a single image, the project yielded a fascinating image that shows the composite history and geographic occurrence of hurricanes in the timeframe and, at the same time, resembles a storm.
Explore Our Science Videos
Fun Physics with Your Cell Phone
Shrink a Potato with Osmosis – STEM activity