Green Engineering: National Environmental Education Week
From creating systems to desalinate water using solar energy to growing rooftop gardens to increase food supply and regulate building temperature, environmental engineers tackle all kinds of problems and innovate new solutions to help create a more sustainable world. Students and classes can explore environmental engineering with a range of hands-on science projects.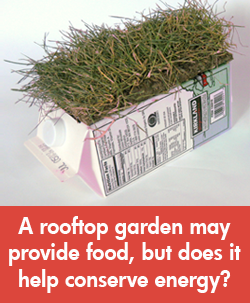 Talk with your students about environmental engineering and help them see how many different challenges there are that engineers can tackle by brainstorming and testing solutions. The engineering design process can help students visualize how to work on a project, step by step!
This week (April 13-19) is
National Environmental Education Week
(
EE Week
). Sponsored by Samsung, this year's EE Week celebrates the theme
Greening STEM: Engineering a Sustainable World
and encourages students in all grades to learn more about the ways in which engineering can be used to develop sustainable solutions.
On the EE Week website, teachers will find a plethora of resources and tools for use with students, all of which celebrate the ways in which environmental engineers tackle real-world challenges as they "make, move, and improve" the world around them. The downloadable Educator Toolkit: Engineering a Sustainable World highlights a collection of environmental engineering science projects from various online science, technology, engineering, and math (STEM) sites. Suggestions for environmental engineering projects in areas of Biomimicry, Sustainable Energy & Design, Recycling & Reusable Materials, and Environmental Conservation are listed by grade to make it easy for teachers to locate projects relevant to their classes.
Science Buddies is proud to have projects included in this resource to support and encourage teachers to integrate hands-on environmental engineering lessons and activities in the classroom. In addition to project summaries, the resource includes an infographic and an overview of games and apps related to environmental engineering.

Exploring Green Engineering
Students interested in environmental engineering, or teachers and parents looking to find projects that can be adapted for in-class or at-home science learning, can explore further in projects like these:
Explore Our Science Videos
How to Make a Seismograph - STEM Activity
Cricket Wicket Knockdown: 2020 Engineering Challenge
The First Cartoon: Make Your Own Thaumatrope!