A new website feature at Science Buddies, sponsored by the Cisco Foundation, brings science news to students. With the news feed, students can easily locate science news stories related to a project or an area of science interest.
Students will find links to related science news articles on the "Background" and "Learn More" tabs of Project Ideas at Science Buddies.
Read All About It! Read Science News at Science Buddies

Science Buddies continues to expand its resources and offerings and introduce exciting new features to make the website easier to use for the millions of students, teachers, and parents who turn to www.sciencebuddies.org each year for science project guidance and inspiration. The recent addition of a science news feed that pulls in science news articles from trusted science sources like Science News, Science News for Students, Scientific American, EurekAlert!, and NASA makes Science Buddies a single-stop destination for locating a great student science project or for reading science news on a topic of interest or related to a chosen project.
Students visiting the Science Buddies website will see science news articles in a variety of spots on the website. While viewing a project, students will see related news stories on the "Background" and "Learn More" tabs. (See the screenshot above to see how the news feed is integrated on the "Background" tab of a Project Idea.) While there may be times when the articles shown are not a perfect match for the science content of the project, in general, the articles will be relevant to the area of science or project. These related real-world science stories and science news articles can help students discover additional reading that may supplement their background research or may open up new angles of inquiry and interest related to what is happening in current science news.
When searching the Science Buddies site, students will see news stories mixed in with general search results. Science news-specific search results can also be viewed using the "News" tab. (When students need to hone in on a specific kind of search result, they can easily filter the search results by using the tabs to limit the results. For example, students can use the "Project Ideas" or "Project Resources" tabs to view only those types of results.)
How prevalent the ratio of news reports to science projects ideas (and other resources) is in a set of search results depends on the search terms entered. In the example shown below, searching on a relatively specific phrase, "diabetes pump," brings up a Science Buddies Project idea first, followed by a number of science news articles.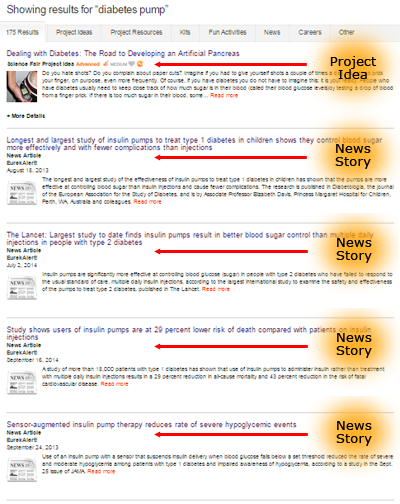 Above: science news articles now appear in search results when students search at Science Buddies. Students can access a "news-only" list of results by clicking the "News" tab.
Searching, instead, on a broad term like "robotics" brings up a large number of Science Buddies projects first. In the sample search shown below on the left, no science news articles appeared on the first screen of general results. Clicking the "News" tab shows science news articles that match the search terms.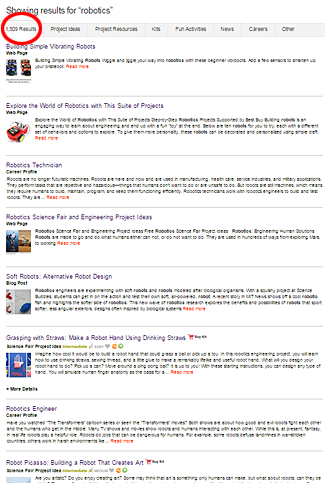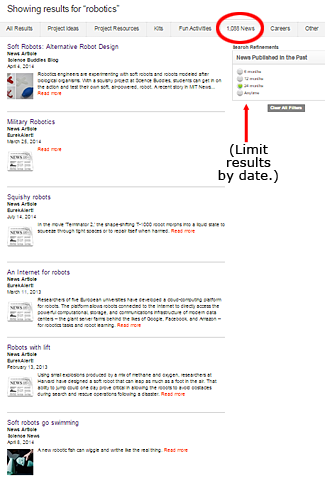 When students click on a news story, they are given a bit of additional information about the story, including the approximate reading level. When searching for news articles, students can filter their search results to limit or include results based on how recently an article was published. (See the "News published in the past..." filter box in the screenshot shown above on the right.)

Get Your Students Reading Science News!
If you require related reading for a project or encourage students to do additional reading in an area of interest, give the news feed a try. Try a fun "science news" assignment or in-class exercise and see what your students discover. Give your students an area of science and ten minutes at the computer, and have them each find a related article that they can share (at least by headline) with the class.
To read more about the vector space model used to set up the news feed, visit the Learn More About the News Feed page.
Support for the development and implementation of the news feed was provided by the Cisco Foundation.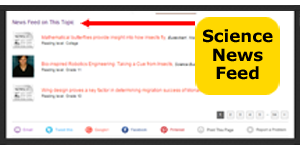 Categories:
You Might Also Enjoy These Related Posts:
Explore Our Science Videos
Gear Ratio for the Junior Solar Sprint
Make A Tissue Paper Parachute - STEM Activity
See Germs! Hand Washing Science Experiment