Kit Club Helps Level STEM Playing Field
Thanks to the Science Buddies Kit Club program and companies who want to support STEM education in their local communities, more students have access to quality science and engineering kits. To inspire STEM awareness, one New Jersey school district has turned its Kit Club grant award into a video challenge for area schools. Which school will receive science kits sponsored by the Allergan Foundation? The community will decide with their votes!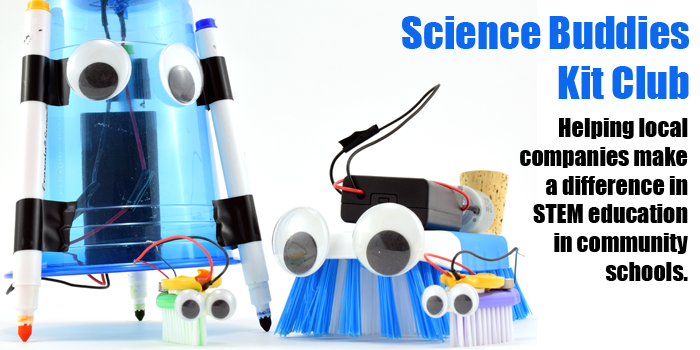 Science Buddies Kit Club: Helping local companies make a difference in STEM education in community schools.
In schools around the U.S., access to quality STEM resources and materials is often limited due to funding constraints. With current national and state science education standards emphasizing hands-on and applied science learning, teachers need, more than ever before, materials they can use with students to foster and support active learning, but finding funding to pay for supplemental classroom science materials can be difficult. Many educators struggle to pay for even basic classroom supplies. For teachers in many school districts, being able to buy a classroom's worth of science, technology, engineering, and math kits for student use may be impossible.
Science for All Students
With a mission of supporting science literacy for all students, Science Buddies offers more than 1,100 free science and engineering projects and activities that provide quality, scientist-authored experimental procedures. In addition, Science Buddies continues to develop classroom activities and lesson plans to make it easier for educators to lead standards-aligned, in-class STEM exploration. But Science Buddies realizes that teachers also need concrete support in the form of physical science materials that can be used for student projects, for classroom STEM experimentation and exploration, or to fuel the development of a school Maker Space. Teachers need supplies and materials to help give their students pivotal learning opportunities that can have a tremendous impact on how students perceive science and their own relation to STEM career paths.
Through the Science Buddies Kit Club program, Science Buddies is making a difference in science classrooms around the country.
Changing STEM Access at the Community Level
The Kit Club is a program that pairs companies interested in supporting STEM education with schools in their community. Through the Kit Club, companies fund a grant that covers science kits for local schools. Science Buddies contacts underserved schools in the community and works to identify recipient educators. Educators at beneficiary schools select kits from a catalog of Science Buddies Kits. Kits are then delivered directly to the schools or are delivered in person by volunteers from the sponsor company.
With grant recipient teachers able to select up to 30 science kits for their classroom use, a Kit Club Grant can make a dramatic difference in a single classroom—all thanks to a single Kit Club sponsor from the community.
Science Buddies is excited about the potential of the Kit Club program to connect local companies and schools with tangible STEM support. The first Kit Club grants were awarded mid-2016. To date, 20 classrooms in 20 schools have benefited from Science Buddies kits funded by grants from the VWR Foundation, the Carson Foundation, Boston Scientific, Southern California Edison, and the Charitable Foundation.
"The Kit Club grant program provides us with another way to fulfill our mission of leveling the playing field and inspiring all students to get excited about STEM," says Jayme Burke, VP of Development for Science Buddies. According to Burke, the Kit Club program helps bridge the gap between companies and local school systems, building awareness and enabling companies to do important charitable work close to home.
"When students receive classroom kits from the Kit Club program, they know that these kits were provided by a local STEM company that cares about students in the community."
Jersey City Public Schools: Inspiring STEM throughout the District
Thanks to a Kit Club grant from the Allergan Foundation, at least one lucky school in the Jersey City School District will receive science kits from the Science Buddies Store. The third largest school district in New Jersey, Jersey City Public Schools is home to more than 31 K-8 schools. Knowing that all of these schools would benefit from a classroom's worth of hands-on STEM materials, the district took an unusual and equitable approach. They opened up the Kit Club grant award to their K-8 schools by creating a video contest. Schools interested in receiving science kits were invited to submit a 1-minute video explaining why their school should receive the grant.
K-8 Science Supervisor for Jersey City Public Schools, the district opted to run a contest to underwrite the focus on equity and the current interest in the formation and support of school Maker Spaces. "Being one the largest districts in the state, we were looking to expand access to all of our students," said Dr. Carson. "Our motto in Jersey City is Envision Excellence and Equity Everywhere." With the video contest, the district gave all of its K-8 schools the chance to compete for the Kit Club award from the Allergan Foundation and, at the same time, created an exciting community-building project for individual schools.
The district publicized the video contest on their district website and then waited for the videos to come in. According to Dr. Carson, "This is the first time that we have ever done a contest of this nature. By creating a friendly competition, we hope to raise awareness about the importance of STEM."
With so much to do in a regular school day, that 14 schools created and submitted videos is a phenomenal response to the district's video challenge. Now that the video submission window has closed, voting is underway. The school video that has the most votes when the voting period ends on February 24, 2017 wins!
For Jersey City Public Schools teachers, hands-on STEM education is an important area of focus—but one that is often difficult to adequately fund. Dr. Carson believes the grant from the Allergan Foundation will make a big difference for the winning school. "With the adoption of NGSS, hands-on STEM initiatives have been one of our major focuses. Winning these kits will be a huge boost to the morale of the winning school. In many instances, the funding for STEM initiatives has been hard to find on a local level."
Help support these industrious students and teachers by watching their school videos and voting. These students did a fantastic job making their videos. Science Buddies was incredibly impressed with the students' videos and their creative capturing of what a difference these science kits might make in their science education.
Learn More about the Science Buddies Kit Club Grant Program
Companies interested in learning more about the Kit Club grant program and in potentially sponsoring schools in their own communities are encouraged to contact Tina Lanese at tina@sciencebuddies.org for more information.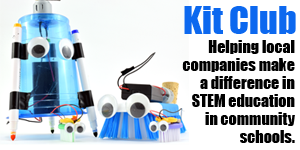 Categories:
You Might Also Enjoy These Related Posts:
Explore Our Science Videos
Test Different Pinwheel Designs
Marble Machine: 2016 Engineering Challenge
Hydroponics in a 2-Liter Soda Bottle – STEM activity.