Last Year on the Science Buddies Blog
Did you miss something? Check these highlights and favorite posts from last year on the Science Buddies Blog for great science project overviews, visual spreads that show hands-on science in action, student success stories, and real-world STEM connections to inspire and engage students, teachers, and families with science, technology, engineering, and math.
As a writer at Science Buddies, I really enjoy at the end of the year (or the start of the new year) looking back at the wide range of projects, activities, and science news connections I had the chance to experiment with and write about in the span of a year. As a writer and a parent, I greatly enjoy helping to highlight connections between the real world and the STEM projects that students might do as part of a science fair, for a class assignment, or just for fun on the weekends. I also very much enjoy the process of testing some of our science kits and science project procedures hands-on with my own students at home.
Here are a few of my favorite posts, especially the ones that really let you see the excitement hands-on science can encourage, from 2014:
I know exciting new projects and science kits are coming in 2015 from Science Buddies, and I can't wait to see what I get to try out and write about this calendar year as part of our mission to help encourage and support K-12 hands-on science, technology, engineering, and math (STEM) education.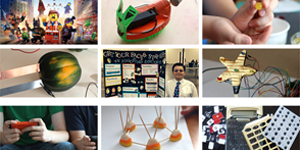 Categories:
You Might Also Enjoy These Related Posts:
Explore Our Science Videos
Leaf Chromatography: Explore the Colors of Fall
Make a Water Strider - STEM Activity