Meet Marc Church: Mechanical Engineer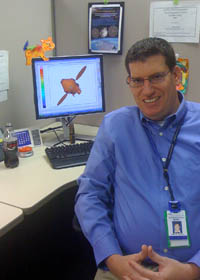 Marc Church, Senior Mechanical Engineer at Lockheed Martin, has always been a "builder" at heart. At age nine, he dreamed of being an architect and drew house plans for fun. A few years later, a retired railroad engineer moved in next door, and Marc's focus switched from architecture to engineering as he perused plans of railroad bridges and received mentoring from his neighbor.
Marc went on to study mechanical engineering at Louisiana State University. Then during the summer of his junior year, he interned with Lockheed Martin. As an intern, he worked on several projects, including the Space Shuttle External Fuel Tank and X-33, an early prototype of single-stage-to-orbit reusable launch vehicles (SSTO RLVs). At the end of the summer, Marc transferred to the University of New Orleans so that he could work part-time at Lockheed Martin.

A Career in Mechanical Engineering: Not too Hot; Not too Cold
Today, Marc has been working in the field for 11 years. Day to day, he works on thermal analysis of spacecraft components. "I have to make sure that parts of the spacecraft don't get too hot or too cold and that they fully function and do what they are supposed to do," explains Marc.
This kind of testing and analysis involves using computer design programs to build digital thermal analysis models of actual components. These models are then tested under a variety of simulated conditions. For example, a component that might be on the outside of a system could be affected by air friction during liftoff of the rocket into space, which would cause it to heat up. Alternately, spacecraft components also have to perform reliably in the extreme cold of space during orbit.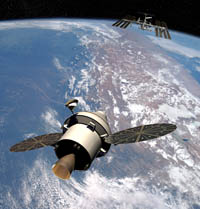 Additional information:

Science Buddies Science and Engineering Career Resources:
Science Buddies Project Ideas:
Strategically thinking through issues that might arise, Marc designs and runs his tests. "It's kind of like playing with Lego blocks," says Marc. "I'll build different components and integrate the parts into a model representation of the spacecraft. Then, I'll run through simulations with the spacecraft in different orientations."
Currently, Marc is working on Orion, a vehicle he describes as "the eventual replacement to the space shuttle that will take us back to the Moon and Mars and wherever else we want to go." Testing a new spacecraft can involve hundreds of simulations. According to Marc, it took 700 simulations just to be sure Orion won't get too hot or too cold when put into orbit. Design plans for the Orion met NASA requirements in August 2009, so Marc and his team are working on refinements to reduce the weight and increase the performance of the spacecraft, thus reducing the cost associated with the Orion's eventual flight and launch.
Once this wave of design optimizations is in place, the team will begin building and testing physical components (versus simulations and models) and Marc's job will shift from desk-based computer analysis to hands-on design and testing of production models.

Always Something New
For Marc, working at Lockheed Martin as a mechanical engineer requires a balance of math, physics, and structural engineering. It's a combination Marc enjoys. "I like designing something new and being creative," he says. "I like the challenge of the cutting-edge technology I'm working on."
Marc is also proud that his work for Lockheed Martin is on "projects that are for the betterment of the United States. It's American-made for the American people."
Marc didn't grow up to design houses as he'd imagined as a boy, but he stayed pretty close to his early ambitions. At age nine, when he did a science fair project titled "Why Do Tall Buildings Sway in the Wind?," he was simulating the impact of high-level winds and looking to see what changes in design would allow a building to "bend" rather than "break."
Little did he know then that he would grow up to perform similar testing and creative analysis in the design and development of spacecraft!

Ask Marc a Question
Questions about engineering? Questions about thermal testing? Curious about spacecraft of tomorrow?
Do you have questions for Marc? Marc has agreed to answer questions from students, teachers, and parents related to his career, including his work for Lockheed Martin, the space-related projects on which he has worked, and thermal testing.
Update: March answered all of the questions submitted. You can find his answers here.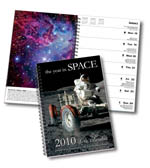 We'll pass along a selection of questions to Marc and post his answers here on the blog! This is a great opportunity for students to get an inside look at the world of mechanical engineering.
On April 12, we'll do a random drawing from everyone that submits a question and send out six 2010 The Year In Space calendars, courtesy of The Year in Space, to winning participants. Note: US only.
Categories:
You Might Also Enjoy These Related Posts:
Explore Our Science Videos
Build a Bird Feeder to Study Birds – STEM activity
Shrink a Potato with Osmosis – STEM activity
Measure Static Electricity With An Electroscope!