Philadelphia Classrooms Benefit from Science Buddies Kit Club Program
Four teachers in Philadelphia received free science kits for their classrooms thanks to support from Science Buddies and VWR Foundation.
The Science Buddies Kit Club program helps provide science kits to K-12 classrooms in need throughout the U.S. By matching companies with local schools, Science Buddies supports STEM education and helps promote community STEM awareness.
The Kit Club program launched during the 2016-2017 school year. With support from sponsor companies, including Allergan Foundation, Boston Scientific, Carson Foundation, Charitable Foundation, Southern California Edison, and VWR Foundation, more than 600 science kits were distributed to 16 schools across the country during the program's first year.
STEM in Philadelphia
Thanks to a grant from the VWR Foundation, teachers in four under-served schools in Philadelphia received classroom kits through the Science Buddies Kit Club. Kit Club recipients benefiting from support provided by VWR Foundation included a third grade teacher at Mayfair Elementary School, a K-5 teacher at Horatio B Hackett Elementary School, a fifth grade teacher at William Penn Charter School, and an eighth grade teacher at Feltonville School of Arts and Sciences.
Teachers receiving Kit Club grants have the opportunity to choose 30 kits from a curated selection of science and engineering kits from Science Buddies. By allowing teachers to select science kits that best meet their curriculum and student needs, the Kit Club program offers a custom solution for teachers struggling to provide hands-on materials.
Once selected by the teacher, Kit Club kits are shipped and delivered by Science Buddies, at no cost to the recipient teacher or school. In schools where access to supplies is extremely limited, this kind of support from Science Buddies and local companies can make a dramatic difference in student access to hands-on and experiential STEM learning.
Science Supplies for the Classroom
Sheryl Aurit, an eighth grade teacher at Feltonville School of Arts and Sciences, selected a mix of science kits for her classroom, including Crime Scene Chemistry, Candy Chromatography, the Ping Pong Catapult, the Sensors Kit, and Electrolyte Challenge. For Aurit, the support from Science Buddies and VWR Foundation fills an important need and makes possible a level of hands-on science inquiry that her students might otherwise not experience.
When applying for the Science Buddies Kit Club, Aurit wrote: "The major barriers to hands-on learning activities are the prohibitive cost of supplies. Most schools have no money in their budget for science supplies. Short of a bake sale there is no funding." The gift of science kits for her classroom provided Aurit with exciting materials and accompanying directions on the Science Buddies site to engage her students with science, technology, engineering, and math concepts and career opportunities.
Some of the science kits Aurit received were used by students for the annual school science fair. Other kits, Aurit selected to use and re-use in class with the more than 200 eighth grade students she teaches each week. With science kits and scientist-authored procedures from Science Buddies, Aurit's students had the chance to get hands-on with core science principles in ways that might not have been available otherwise.
According to Aurit, "Science Buddies Kit Club has given our students the opportunity to conduct meaningful investigations that are of real interest to them. The kits provided the materials to use which they might not have been able to acquire otherwise."
Make a Difference with Kit Club
Companies interested in learning more about the Kit Club grant program and in sponsoring schools in their own communities are encouraged to contact Tina Lanese at tina@sciencebuddies.org for more information.
To read more about the difference the Science Buddies Kit Club is making in local classrooms, see Kit Club Helps Level STEM Playing Field.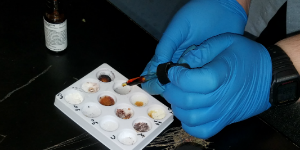 Categories:
You Might Also Enjoy These Related Posts:
Explore Our Science Videos
Sweet Earthquake Shake- STEM activity
The First Cartoon: Make Your Own Thaumatrope!