Samsung Inspires Students to Solve Community Challenges with STEM
Samsung knows that future success will depend upon innovative and empowered use of science, technology, engineering, and math (STEM). The Samsung Solve for Tomorrow Contest challenges teachers and students to brainstorm ways that STEM could be applied to solve a real-world challenge or problem in their community. Teachers who enter their classes in the contest can use the challenge as way to teach and explore hands-on STEM. Plus, they have a chance to win a share of $2 million in technology products.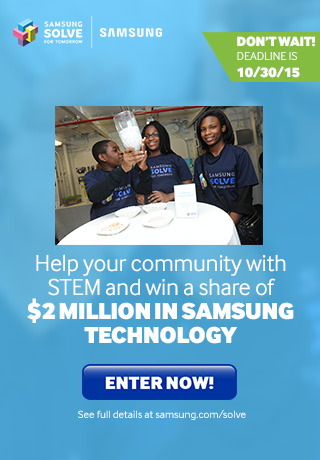 What problem in your community do you most wish you could solve? How could you use science, technology, engineering, and math (STEM) to help? Teachers of students in grades 6-12 who work with their classes to answer those questions—to pinpoint a problem and brainstorm possible STEM-based solutions—are invited to enter the Samsung Solve for Tomorrow Contest to give themselves and their US schools a chance at a share of $2 million dollars worth of technology from Samsung to support implementation of the students' vision of a STEM solution.
To get started with the Samsung Solve for Tomorrow Contest, teachers and their students are asked to look around—look at their own community. What is wrong? What could be improved? What could be made better? What challenges rise to the top as "big" ones? With a problem in mind, the next step is to think creatively and collaboratively brainstorm how science, technology, engineering, and math (STEM) could be used to help solve the problem.
Brainstorming is the first step in the Samsung Solve for Tomorrow Contest. Later phases of the contest require more concrete development of a plan. In the end, winners may win the technology and tools they need to make their solutions real.

Last Year's Winners



DOWNTOWN COLLEGE PREP: students at Downtown College Prep (CA) are tackling CA's drought head-on with a plan for both a gray water system and a rain water storage system to help reduce water consumption in their local community.


NWPA COLLEGIATE ACADEMY: students at Northwest Pennsylvania Collegiate Academy (PA) are addressing limited access to fresh fruit and vegetables, and the space required to plant and maintain sustainable gardens, by engineering a way to grow fresh produce using vertical gardens that take up less space and may be more practical in urban environments.


HUDSON'S BAY HIGH SCHOOL: students at Hudson's Bay High School (WA) are exploring an advanced form of recycling that uses paper waste for mycoremediation using mushroom mycelia.


NICHOLSON ELEMENTARY: students at Nicholson Elementary (MS) teamed up with a local high school robotics team to develop robots that can help explore local drainage system in an effort to pinpoint problems and solutions to prevent and reduce flooding and improve community water control.


GALENA HIGH SCHOOL: students at Galena High School (NV) are engineering new solutions for adaptive equipment to help classmates who use wheel chairs.


For more stories of innovative classroom solutions from the Samsung Solve for Tomorrow Contest, see: Students and Schools Applying Science, Technology, Engineering, and Math to Solve Local Problems.

Entering the Contest
To enter the multiphase Samsung Solve for Tomorrow competition, which runs September 1-May 1, 2015, teachers need to fill out an online application form, clearly identifying the community challenge and the way STEM could be used to help. The deadline for entry is October 30, 2015.
Use the Samsung Solve for Tomorrow Contest to excite and inspire your students to really dig in and explore what is possible with STEM and how STEM can make a different right there in your own community.
The Samsung SOLVE for Tomorrow education contest is open to public school teachers, grades 6-12, in U.S. states and Washington, D.C. The deadline for entry is Friday, October 30, 2015. To view the complete official rules, please visit: http://www.samsung.com/us/solvefortomorrow/assets/pdfs/2016/samsung-sft-2016.pdf
Categories:
You Might Also Enjoy These Related Posts:
Explore Our Science Videos
Build a Simple Electric Motor
Sweet Earthquake Shake- STEM activity