Science Buddies Annual Report: Supporting STEM Education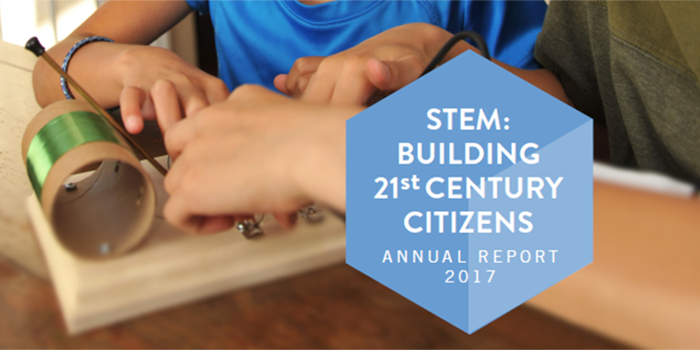 STEM: Building 21st Century Citizens. Annual Report 2017
"Some Things are Elemental."
These words, words that echo principles of physics, the periodic table, and the idea of building blocks, are central to Science Buddies' mission and core values. Science Buddies wants to ensure that all students have the opportunity to succeed with STEM, regardless of geographic location or income. This mission has underwitten Science Buddies' programs and offerings since its founding and remains a guiding directive for the non-profit organization today. Steps Science Buddies took in 2017 to continue to expand and reach more teachers and students with quality, scientist- and engineer-authored resources, and the continued growth of Science Buddies, are documented in the 2017 Annual Report, STEM: BUILDING 21st CENTURY CITIZENS 2017 Annual Report.
The annual report updates current and future Sponsors and Partners about Science Buddies' activities, growth, and impact on K-12 science literacy in 2017 and highlights the continued importance and value of science, technology, engineering, and math (STEM) education—and the invaluable role Science Buddies is making in science education for more than sixteen million students, teachers, and parents each year.

Image of a quote that reads: "Our impact is built on the fundamental building blocks of universal accessibility, the thrill of scientific discovery, skill-building that lasts a lifetime, and practical career development. With these elements in place, we're equipping the next generation of students with the skills and knowledge required to become truly engaged citizens of this 21st century."
Making a Difference in STEM Education—One Student at a Time
For both individuals and corporations, the 2017 Annual Report brings the vital role Science Buddies plays in STEM education to life with stories of students who have found at Science Buddies support, tools, and resources that made a difference in their science project experience. In the pages of the Annual Report, you will meet students like Naima Raza, who got hooked on science but was roadblocked by lack of access to either a lab or local mentors who could nurture her interest in science, Jennifer Metu, whose science path started with a potato chip experiment from the library of Project Ideas at Science Buddies, and Kathryn Daniels, who found early inspiration and support for science inquiry at Science Buddies and is now working at Edwards Lifesciences. (To view more student and teacher success stories, see Science Buddies in Action and Science Buddies' Success Stories Archives.)
Through compelling real-world stories of students who use Science Buddies and data that shows Science Buddies' reach across lines of location, gender, and ethnicity, the 2017 Annual Report highlights core premises upon which Science Buddies was built, operates, and succeeds, foundational elements that Science Buddies views as core building blocks of STEM success: Accessibility, Discovery, Skill Building, and Career Development. Block by block, these principles snap together to create a STEM program and solution.

Image of a quote that reads: "Science Buddies makes it super easy for my students to pick a topic for a project and stay with it. Angela McDaniel, Winner, 2011 Presidential Award for Excellence in Teaching"
With changes and improvements in 2017, Science Buddies continues to grow its repository of free STEM resources to meet student, teacher, and parent needs in the classroom, for science fair, and at home.
In 2017, Science Buddies:
Science Buddies in Every School
Despite reaching more than 16.7 million in 2017, there are still teachers and schools around the world that are struggling to incorporate hands-on science and to engage students in STEM inquiry—teachers who may not yet know about Science Buddies.

Image of a quote that reads: "While we celebrate our accomplishments thus far, we look forward to an even stronger, more sustainable Science Buddies that brings the critical elements of STEM literacy to millions more students, teachers, and parents around the world."
To continue expanding, developing, and reaching an even wider audience, Science Buddies relies on the continued support of current sponsors and partners like Cisco, Symantec Corporation, Motorola Solutions Foundation, Fluor Corporation, Google, and the Broadcom Foundation. Science Buddies' resources remain free to use thanks to support from companies, organizations, and individual donors who join us in our mission to bring science literacy to everyone—regardless of who they are and where they live.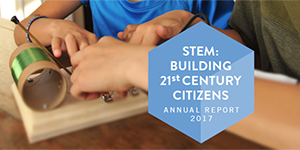 Categories:
You Might Also Enjoy These Related Posts:
Explore Our Science Videos
DIY Rubber Band Paddle Boat
How to Make Edible Rice Paper