Scientist's Pick: Pinwheel Animation with Scratch and the PicoBoard
Note: This month's "Scientist's Pick" is from Science Buddies' staff scientist, Michelle Maranowski. ~ Science Buddies' Editorial Staff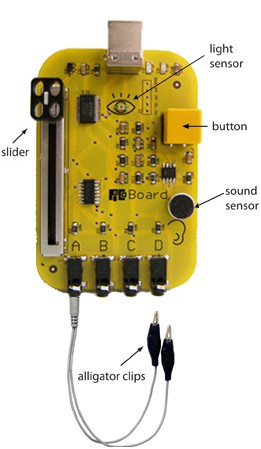 Project:
Pinwheel Magic: Take a Spin with Animation
Scientist: Michelle Maranowski
Science Buddies' Difficulty Level: 5

I have wanted to write a computer science project for Science Buddies for a while. But I didn't want to focus on a conventional project where you investigate clock speeds or learn to write applications with a particular computer language, although those projects can be a lot of fun, too. I wanted to do a project that highlighted the fun of computer science and programming—something where you didn't have to learn a complicated language before being able to do something really cool.
I was really excited when I found out about MIT's free Scratch programming environment. Scratch is easy to learn, and I started programming with it pretty much right after I went through the tutorial examples.
I should confess that I am the kind of person that loves to push buttons to see what happens. At the local science museum, I am always first in line at an interactive exhibition. I really enjoy seeing new information pop up on the exhibition's computer screen by pushing a button or moving a slider. Knowing that there was a sensor board that could be used with Scratch was a big attraction for me when I started thinking about projects. I couldn't wait to get my hands on a PicoBoard!
A PicoBoard is a collection of sensors that allow me to interact directly with my Scratch program. At a push of a button or a puff of air into the PicoBoard's microphone, I can make all kinds of things happen on the computer screen! What's not to love?
Using Scratch with a PicoBoard was fun, and when I started thinking about using real-word input to control my Scratch programs, all kinds of new ideas became possible, from simple things like changing colors of characters by using the slider sensor to making characters on the screen dance in response to music playing in my room.
I was looking for a fun computer science project, and I could tell that combining Scratch and the PicoBoard had potential. The idea of a spinning pinwheel came from the fact that I like to do things outside, and blowing on a pinwheel is a fun thing to do outside.
I am still not done playing with Scratch and the PicoBoard. I am currently working on a project where you can make an on-screen instrument. Stay tuned for more!
~ Michelle
---

For similar project ideas, explore this list of Scratch project ideas or browse the Computer Science interest area, sponsored by Symantec, in the Science Buddies Project Directory.
Explore Our Science Videos
Stretchy Balloons! Fun STEM Activity
Make a Lemon Volcano - Fun Science Experiment
How Train Wheels Stay On Track - STEM activity