Spark Creative STEM All Summer Long with Science Buddies Summer Camp
Put science on the summer calendar! Enroll your students in Science Buddies Summer STEM Camp for an engaging robotics and computer programming experience! Camp is open. Campers can come for a week or all summer long, through August 5, 2016.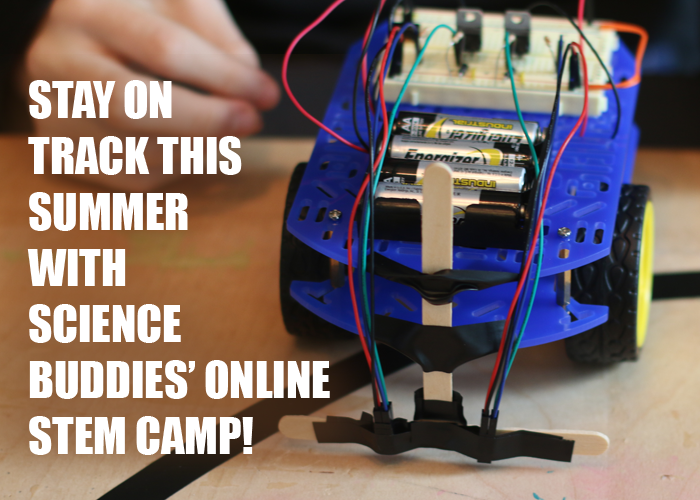 Creative Learning in a Flexible Online Camp
Science Buddies' flexible
Online Summer Camp
provides weekly activities for students, support and encouragement from a team of enthusiastic science experts, additional robotics and computer programming challenges, and real-world connections that help students see how the projects they are doing and making relate to STEM in the real world.
When enrolling in the Science Buddies Summer STEM Camp, Campers choose a camp track by selecting the BlueBot: 4-in-1 Robotics Kit or the Raspberry Pi Projects Kit. Do you have a really enthusiastic Camper? Choose both! Campers can choose to use both kits for a summer full of exciting robotics, electronics, and programming.
Add this flexible, convenient, online camp to your summer mix for creative robotics, electronics, and programming fun all summer long!
Virtual Camp Convenience
Camp is open now and runs through August 5, 2016.
Enrollments are accepted throughout the summer, so kids can start camp whenever is most convenient in the summer schedule.
Enroll early to give your students plenty of time to work through camp activities and maximum opportunity to work with our camp team of science experts and enthusiasts. (
Camp enrollment fee is a flat rate, regardless of the enrollment date.
)
Once enrolled, campers can log in at any time and as frequently as they want, making it easy to fit Camp in, regardless of other summer plans.
Sign Up Today!
Find out more in the
Science Buddies Store
.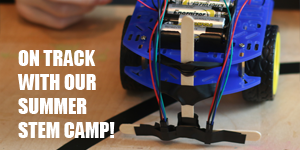 Categories:
You Might Also Enjoy These Related Posts:
Explore Our Science Videos
Making False-Color X-ray Images with NASA Files from the Chandra Observatory
Line-Tracking Robot: BlueBot Project #3