Student Journal Spreads Science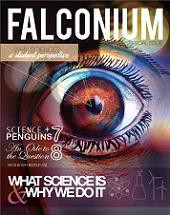 A student-run journal being put out by students at Torrey Pines High School in Encinitas, CA is giving science students a rare opportunity—the chance to publish their work for a widespread peer audience. While literary journals are common fare in many schools, student science journals are less common. There's opportunity here for emerging scientists to share their research and ideas and to learn important lessons about the process of communicating scientific research to a community of readers. There's opportunity, in other words, to talk science but also to practice the art of conveying science to a general audience.
Student scientists in grades 9-12 are invited to submit their articles on a rolling basis for Falconium, typically published four times a year. Submissions are accepted in the following categories: original research, reviews, and op-eds. In addition to science material, Falconium invites the submission of student art, which is used throughout the journal.
According to Falconium president Alice Fang, Falconium is distributed in hard-copy in the San Diego area to local schools and libraries, but each issue is made available online in both HTML and PDF formats. Falconium also produced a teacher's guide to supplement each issue and to facilitate the use of Falconium materials in class. The Falconium staff hopes teachers will support the science journal by encouraging students to submit their work.
For Fang, working with Falconium has been a well-rounded and rewarding experience. "Falconium, I think, has really developed both my knowledge of science and my leadership skills," says Fang. She notes that the process of developing, researching, and writing for Falconium has both supported and extended her in-class education.
"It helps a lot in tying together the terms and concepts I learn in class, and it's quite fun because I'm learning about something I want to find out more about," says Fang.
To find out more about Falconium, to view the submission guidelines, and to browse the current and back issues, visit: http://www.falconium.org/.
Submissions are accepted year-round, but the cut-off date for submissions for the next issue is May 1, 2010.
Explore Our Science Videos
Investigate Alien Genetics
How to Make Popping Boba: The Science of Spherification
Follow the Flow: 2017 Engineering Challenge