Two Students Win Outstanding Mentor Awards
Annual Science Buddies award recognizes outstanding student mentor contributions in the Ask an Expert forums. Two high school students from New York receive this year's honors.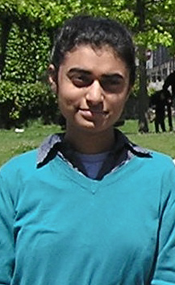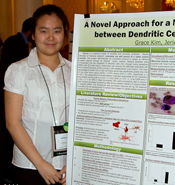 Reshma Mir (top) and Grace Kim (bottom) received first and second place Craig Sander Outstanding Mentor awards for their help in the Ask an Expert forums this year.



Ask an Expert: A Community of Volunteers Helping with K-12 Science Questions
Ask an Expert is a free online forum that enables students and families to get assistance with science projects. Our team of volunteer "Experts" is comprised of adults from science and engineering fields and top high school students. These Experts work together to help troubleshoot experimental procedures, guide students who are having difficulty finding or narrowing a topic, and assist with questions about data and results. At any step of the scientific method or engineering design process, students can post a question at Ask an Expert and receive quality help from our team of adult professionals and student mentors.
We will begin scheduling and recruiting volunteers for the 2012-2013 season of Ask an Expert in August. If you are interested, please contact volunteer@sciencebuddies.org. For additional information about Science Buddies' volunteer opportunities, including short-term activities in our Micro-Volunteer program, visit sciencebuddies.org/volunteer.

Reshma Mir and Grace Kim, both eleventh grade students in New York, have been named this year's top student mentors in the Science Buddies Ask an Expert volunteer program.The Craig Sander Outstanding Mentor Award, established in honor of Science Buddies' advisory board member Craig Sander, recognizes superior student contribution in the
Ask an Expert
forums. Both Reshma and Grace demonstrated impressive skills in assisting with a range of student science questions at Ask an Expert during the 2011-2012 school year. As first and second-place recipients of the award, Reshma and Grace each received a cash scholarship.
Reshma Mir


Reshma, a junior at Bronx High School of Science, first used Science Buddies to locate Project Ideas in middle school. Her awareness of Science Buddies and the impact the organization has on K-12 science grew when she later spotted Ask an Expert forum threads while reviewing Google search results. "I was drawn in by how students and Experts could interact easily and demystify a project by building on each other's responses," says Reshma. Excited by the prospect of working alongside, and learning from, adult Experts while helping other students with their science questions, she signed up as a student mentor.

Reshma says she takes seriously these words by Steve Jobs: "The only way to do great work is to love what you do. If you haven't found it yet, keep looking. Don't settle. As with all matters of the heart, you'll know when you find it." For Reshma, volunteering at Ask an Expert has given her an opportunity to do "great work" helping a wide range of students succeed with science projects. "I was really taken by the thrill of helping a student who might have been miles and miles away, or simply right next door," she explains.

"Being an Expert on the forums made me realize my ability to share my knowledge in a way that I could not have imagined before," says Reshma, adding that seeing students suddenly understand what had at first been confusing was both a reward and a motivating factor. Reshma assisted with questions in both the Physical Sciences and Math forums and says, "I was absolutely psyched that I was able to aid other kids by turning a process that may at first have been frustrating or befuddling into something exhilarating and intriguing."

Reshma has presented science projects at her school's yearly science exposition and is currently working on an extended science research project which she hopes to enter in advanced competitions next year. For the last two year, she has participated in the Mathematical Association of America's (MAA's) Greater Metropolitan New York Math Fair, winning a silver medal as a sophomore and a gold medal this year. Reshma also writes poetry and was awarded a Knopf Prize this year.


Grace Kim

Grace, a junior at Jericho High School, first learned about Science Buddies while helping another student research possible science project topics. In addition to being impressed with the wide range of offerings at Science Buddies, Grace notes, "I was fascinated by the Ask an Expert program, which provides online mentoring and thoughtful responses to a variety of questions."

At Ask an Expert, Grace found an opportunity to both share and expand her own science knowledge. "I was grateful for the opportunity to learn and research new topics in order to respond to questions," says Grace. "The variety of research topics the students [asked about] involved many intriguing and innovative aspects. Overall, working with Ask an Expert program gave me the satisfaction of helping and [encouraging] students to grow as successful and bright young scientists." The program is one Grace definitely recommends to other top science students. Volunteering as a student Ask an Expert mentor "is an invaluable experience to help other students to achieve their scientific aspirations, and, in turn, to broaden your own scientific perspective," she says.

Grace has participated in several years of science competition. Her many successes and recognitions include being a semifinalist in the Siemens Competition 2011, a two- year U.S National BioGENEius Competition Finalist, Grand Award winner at New York Science and Engineering Fair 2011, and MIT Think Competition 2011 semifinalist. In addition to conducting her own science research and volunteering with Science Buddies, Grace is co-president of her school's peer tutoring club, an activity that parallels her work with Science Buddies and speaks to her passion for helping other students. "I embrace the virtues of educational outreach," says Grace. "It is important for students to realize that mentoring is one of the truly valuable approaches towards empowering other students and communities."

Grace is also the founder and president of the East African Youth Empowerment Summit (EAYES), an organization inspired by her research on malaria. She also volunteers at a local hospital and works as a camp counselor for autistic children.


A Rewarding Experience
Students who volunteer at Ask an Expert earn official community service credit, but many student mentors find the program—and the help they offer students—a rewarding way to encourage and support science literacy. As mentors, these students become part of the larger science community and have the opportunity to share what they know, interact with professional scientists and engineers, and be part of an award-winning nonprofit organization dedicated to supporting K-12 science education. The Ask an Expert mentor program challenges these high-achieving students to articulate science concepts to K-12 students in ways that are encouraging, supportive, and easy to understand. This hands-on experience making science information accessible to students and parents who may have no previous experience can be important in helping student mentors better articulate, share, and explain their own research and projects.
Congratulations to both of this year's Craig Sander Outstanding Mentor Award recipients!
Categories:
You Might Also Enjoy These Related Posts:
Explore Our Science Videos
How Antibiotic Resistant Bacteria Take Over – STEM activity
Build a Mobile Sculpture – STEM activity