Success Story: Family Health History Sparks Student Project
By Kim Mullin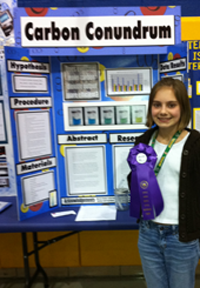 Devon won a blue ribbon with her 7th-grade science investigation of the relationship between CO2 output and exercise. To read about other inspiring student and teacher science project successes, visit the Science Buddies in Action page!
Science Buddies in Action
Science Buddies' Topic Selection Wizard zeroes in on the perfect project for a student curious about the pulmonary illness affecting her family. While completing her project, this student gained hands-on experience in life sciences and a better understanding of how exercise can keep lungs healthy.
Student's Family Health History Sparks Scientific Exploration
Devon Lejman had an interest in health and life sciences and, thanks to an older brother, knew exactly where to turn when she needed a 7th grade science fair project—Science Buddies!
After feeding her interests to the Topic Selection Wizard, she was excited to see the Effects of Exercise: Changes in Carbon Dioxide Output health and human biology Project Idea among the Wizard's recommendations. This topic interested Devon because her family has been affected by chronic obstructive pulmonary disease, or COPD. As the respiratory system becomes increasingly damaged, people with this disease find it harder and harder to breathe. As Devon explains, "when a person's lungs cannot effectively remove carbon dioxide (CO2) from the body, the CO2 becomes a large buildup, almost like a blockage."
The Effects of Exercise project gave Devon a way to visualize a person's CO2 output. Using a simple, homemade respirometer, Devon was able to evaluate the amount of CO2 in a person's exhalations by seeing how long it took an indicator to change colors (in response to the presence of CO2). After running the experiment on herself, Devon decided to try the experiment on other people as well. "I wanted a wide variety of test subjects, all with different ages, backgrounds, and amounts of weekly exercise," she notes. Devon successfully garnered several participants, ranging from a triathlete to a 60-year-old with a pacemaker!
Once Devon's subjects completed their tests, she enjoyed comparing their outcomes. "It was interesting to see how different the results were, and how age, average activity, and background affected how long it took for measurable amounts of CO2 to be output." She was also glad to see that her hypothesis was correct: she learned that both exercise and being fit increase the efficiency of CO2 output.
With a helpful recommendation from the Topic Selection Wizard, Devon found an exciting science project that gave her insight into her family's health history and the importance of exercise. On top of that, she won her science fair's Health & Medicine award and the overall award for the 7th grade. For Devon, learning more about human biology and exercise physiology through her science project was a win-win!
(For another first-person student account of this project, see Carbon Dioxide Output You Can See.)
Categories:
You Might Also Enjoy These Related Posts:
Explore Our Science Videos
Paper Roller Coasters - Fun STEM Activity!
Aluminum Foil Boat Design - STEM Lesson Plan
Solubility Science – STEM Activity