Success Story: Student Has Science Fair Success All Wrapped Up
Sixth-grader explores the ancient Egyptian science of mummification and learns that history and science make a winning pair!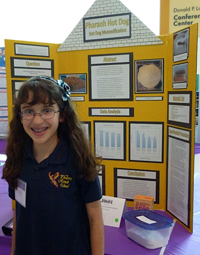 For her sixth grade science project, Emily Aguilar (pictured above) learned more about Egyptian history by mummifying a hot dog. Emily's science fair experience also underscores the value of a well-designed project display board. For more information about creating a winning display board, see "Perfecting the Project Display Board" and "Science Fair Project Display Boards."

Read about other student science successes in the Science Buddies in Action area.

Mind Your Mummy
Last September, Emily Aguilar was a sixth-grade history enthusiast in search of a science fair project. On the advice of her teacher, she visited the Science Buddies web site and used the Topic Selection Wizard to narrow down her choices. Enticed by the idea of learning more about ancient Egypt, she selected the "Minding Your Mummies: The Science of Mummification" project.
Luckily, this unique human biology project didn't require a trip to the Pyramids of Giza. Instead, Emily created her own modern-day mummy using a hot dog! She weighed and measured the hot dog at the beginning of the experiment, carefully recording the information in her lab notebook. Then, taking on the role of embalmer, she prepared the hot dog using baking soda to simulate the process of mummification. On days seven and ten of the process, she weighed and measured the hot dog again to see what changes had taken place. Through her project, Emily saw firsthand how mummification dessicates, or dries, a body, a step Egyptians took, using Natron salt, before wrapping and placing a dead body in a sarcophagus. "I also learned that mummified hot dogs smell pretty bad!" exclaims Emily.
When Emily was ready to make her display board, she returned to Science Buddies for ideas and guidance. A final step in the science project process, a student's project display board lets the student share the entire experience with an audience. "The Project Display Board page helped me plan the layout of my board," she says. "My board turned out so organized and neat." With her mummified hot dogs on display alongside the board, Emily's project generated a lot of interest!
Emily won second place at her school science fair and enjoyed the experience so much that she volunteered to go to the Ventura County Science Fair. At that fair, she also took second place in the "Product Science - Biological" division, which qualified her for the California State Science Fair. Of her trip to the state science fair, Emily says, "I had a lot of fun explaining my project to the public and joking around with the other kids. The judges thought my project was fun and original, but I was really surprised when the announcer called my name for an Honorable Mention the night of the award ceremony."
Now that her mummification project is all wrapped up, what does Emily have to say? "I can't wait to do it again next year!"
Categories:
You Might Also Enjoy These Related Posts:
Explore Our Science Videos
Make a Miniature Water Cycle Model
Balloon Car: 2015 Engineering Challenge