Explore STEM at USASEF this April
The 2018 USA Science and Engineering Festival may be the largest national STEM event ever. Register to attend the free event and be a part of the STEM celebration!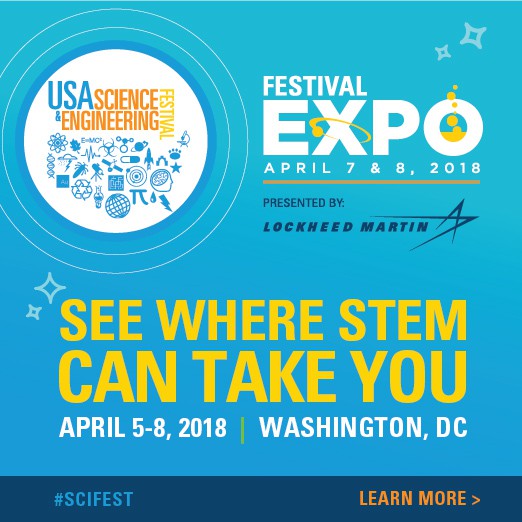 Festival Expo: April 7 & 8, 2018. Presented by Lockheed Martin. See Where STEM Can Take You. April 5-8, 2018: Washington, DC.
Where Can STEM Take You
The USA Science and Engineering Festival (USASEF) is happening soon! The 2018 USASEF will take place in Washington, D.C., April 5-8. The theme for this year's Festival is "See Where STEM Can Take You." Where can STEM take you? This is a great question for students of all ages to contemplate.
Throughout the four-day celebration, which culminates in a massive two-day Expo, USASEF attendees will have plenty of exciting and inspiring opportunities to explore where STEM can take them. In advance of the Festival, educators can download and print the Where Will STEM Take You USASEF poster (shown below) to get students talking about all the places STEM can take them. The poster highlights space, the ocean, nature, the human body, and cyberspace and offers fun statistics to spark discussion as well as highlights STEM careers in each area. Printable bookmarks are also available (from this page) for each of the featured STEM areas.
Tip! Match careers from the poster to Science Career Profiles on the Science Buddies website to learn more about careers of interest.
Celebrating STEM
The following events are scheduled place as part of the 2018 USASEF:
All events at USASEF are free, but registration is required.
Follow the Excitement
Follow along in social media with
#scifest
for updates as the 2018 USASEF draws near and to share in the excitement during the 2018 Festival.
Science Buddies is proud to be a sponsor of the USA Science and Engineering Festival.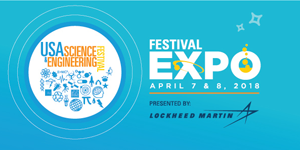 Explore Our Science Videos
Flying Helicopters on Mars - Paper Models