Young Naturalist Wins Bio-Rad Essay Contest
In an essay she wrote as part of a competition for a science scholarship offered by Bio-Rad Laboratories, this recent high school graduate and aspiring wildlife biologist evokes the spirit of John Muir as she describes her own passion for hands-on science and fieldwork.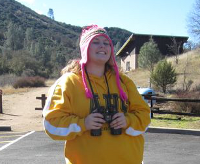 Above: Ashley Baughman, recipient of the Ron Mardigian scholarship, awarded by Bio-Rad Laboratories, on a trip to Pinnacles National Monument where she and classmates studied the endangered California Condor.
For Ashley Baughman, doing and learning science means much more than sitting behind a school desk or even following a set of procedural steps to do a hands-on science experiment in the lab. For Ashley, doing science means being outdoors, in nature, and watching and documenting the natural world as it unfolds around her.
Ashley, a recent graduate of New Leaf: A Sustainable Living Collaborative, an alternative high school program in Martinez CA, described the evolution of her passion for environmental science and wildlife biology in an essay she wrote for an annual scholarship awarded by Bio-Rad Laboratories. Her essay, a poignant and compelling capturing of the value of getting immersively involved in science, won this year's Ron Mardigian Memorial Scholarship.
Today, Ashley is an advocate for hands-on science, but her level of interest and commitment—and her plans to continue her science studies in college—were really brought to life in high school. As a student at New Leaf, Ashley was exposed to new ways of viewing science and of conceptualizing her own involvement in science.
"I've always enjoyed being in nature, but science didn't peak my interest until I began going to school at New Leaf," says Ashley. At New Leaf, students get involved, right away. "My first outdoor science activity was actually my first day at school. We learned about a healthy, biodiverse creek vs. creeks crawling with invasive plants. That same afternoon my entire school went into the creek down the street from school, and with the help of the city and community members, we removed a huge patch of invasive Arundo."
For Ashley, that first lesson and time at the local creek was the beginning of a new and exciting journey. "I've done projects like planting native plants and removing invasive ones; created a bench of clay, sand, straw and water; and created a school garden." She also served as a student leader for both a rain water harvesting project and a wildlife biology internship.
In her essay, Ashley writes of her admiration for John Muir. "Muir is one of my main inspirations because of all the roles he played in one lifetime—a scientist, a naturalist, a botanist, a writer, an explorer," she says, noting that Muir not only did all those things but did many of them very well. As a student at New Leaf, Ashley had the opportunity to work with the John Muir National Historic Site in Martinez on a weekly basis.
To students who are interested in science and nature but not sure how to get involved beyond the classroom, Ashley offers this advice: "Use the internet to find places in your community that do those things, go there, and see if they take eager-to-learn volunteers. If they don't, don't get discouraged. Ask that same place if they know of others who would take volunteers."
Here is the text of Ashley's award-winning essay:
I look at science through an experiential lens. Last week I went into the hills of Fernandez Ranch, a publicly owned open space. Strapping our camera trap to the tree was electrifying. I've been learning to take note of the smaller odd details you wouldn't normally think twice about unless you were a biologist. Today i was paying attention to the tiny holes in the tree opposite of our camera that showed evidence of a Sap Sucker. The scat I noticed on the ground proved to be coyote because I've learned their diagnostic cues. Their scat is twisted at the end, and Coyotes use long trails to mark their territory. Hiking through the property, I can see how the amazing woodland, riparian, and chaparral ecosystems support a variety of wildlife. I've seen pictures from our camera traps from this spot before but I can't wait to be back there next week to see what else is connected. I believe real life experiences are needed to create interest and participation in science.
The life and legacy of John Muir also inspires my participation in science. I appreciate how he inspired the next generation of scientists and other professionals to care about the world around them. Even though the world has changed and we lost some of our green space the next generation of citizen scientists like me can still use the resources at our National Parks as places for scientific inquiry. In order to interest others, social media can be used to inform the world about the fun of applying science in real life.
John Muir is one of my heroes. He went from reading about science to immersing himself in it when he settled in Yosemite for six years. Observing nature through an experiential lens, Muir fell in love with Biology. While he was working in Yosemite he'd stuff his pockets with bits of nature like moss and bark to study in the evening. He liked to observe sprouting seeds through his hand lens (Wadsworth). Muir created drawings and took intricate notes of his observations. Muir published some of his notes in the New York Tribune December 1871 in an article entitled "Yosemite Glaciers" (Wadsworth). This was the first time he shared observations in a public forum. There would be many to follow. Muir generated enough interest in his studies that President Roosevelt wanted to experience first hand what Muir observed. In May of 1903, John Muir and President Roosevelt met in Yosemite, during Muir spoke about the critical need to protect the land (Wadsworth). As a result of Roosevelt and Muir's exploration, Roosevelt was convinced Yosemite needed to be protected, thus the National Park System was born. Currently there are a total of 518 places in the United States protected by the National Park Service (Park List). It is because of Muir's scientific passion and writing that my curiosity for science has grown and I believe that if more people knew about his life and legacy they would also be inspired to become citizen scientists. I now can enjoy science without being in a room with four walls. Of course, we can't all be John Muir, but we can follow in his footsteps finding ways to experience science in the natural world and innovatively share it with others.
President Obama's Americas Great Outdoors Initiative has encouraged the National Park Service to bring young people into the outdoors. Because of this initiative, my school has a special relationship with the John Muir National Historic Site. My teachers and park ranger's work together to help me learn from these open and historical spaces. At school I've climbed up mountains and boulders, gone through caves that are the result of an ancient volcano, seen evidence of tidal erosion, and watched a bobcat cross the road. All these experiences keep me motivated to learn and study more about how life is connected. I even have friends that study the affects of the climate change on plant species with a Phenologist as part of their school day. Their interest was a direct result of a hands-on experience with science.
Considering we are surrounded by science, finding real life applications for it is key to stimulating curiosity. For example, Kindergarten teachers can act as citizen scientists in the school garden by counting birds with students. Exploring the hill side near school and discovering a butterfly cocoon in a tree can begin a lesson on metamorphosis. Students can check the cocoon daily, have discussions, and see how it applies to their own body development! Students can observe pollinators and discuss how that leads to plant fertilization and plant germination. If young children can see that science is all around us, then it sparks interests.
I've experienced first hand that working with professional scientists can also spark interest for older students. I have been working for two years with a Wildlife Biologist every Friday. I've found that whether I'm on 702 acres of preserved land or in my backyard, all kinds of life is encompassed around me. His mentorship which encouraged me to become a citizen scientist has inspired me to go to college. Through this hands-on experience, I've learned the basics of Wildlife Biology. Now I am seriously considering it as a career. Utilizing professionals that are willing to give back and support a younger generation will link students with real life science in ways that will inspire. Linking youth and professional mentors together is crucial because it brings science to life and takes it out of a text book.
It's also crucial to use social media as a pathway to encourage people to share their stories and observations so more people may develop an interest in science. As of December 2012, there are more than a billion monthly users of Facebook. Through social media you can find people with common interests, have group discussions, and post photos and updates. Professionals on the other side of the world can be involved in or informed about a science experiment at any moment. The beauty of this information being online is that participants don't feel rushed and can have more satisfying and creative input. For example, individuals can post photos or videos capturing how science has applied to their real life and help people think differently about scientific investigation. Videos would need to be interesting, display passionate people, and clearly communicate the application of the study and how other individuals can apply it in their lives. It is important to put the video in the right place and participation will undoubtedly be built. For example, I am helping to lead a hike at Fernandez Ranch on Saturday May 18th as part of my Wildlife Biology internship. I will be able to show the group hiking all about our camera trap sites, and explain the data we've collected. Furthermore I could show how I've learned more about where I live by studying the wildlife in the surrounding area. I could post this on Pinterest.com, Instagram, Facebook, and Youtube. People can also learn about the hike on the Muir Heritage Land Trust Facebook page and website. Broadening the scope of outreach will assist more citizens in finding ways to utilize and enjoy science more.
Weaving science into real life experiences provides the necessary elements to develop interest and participation in it. John Muir's life and legacy is there to inspire scientists just as it did me. Utilizing the open space at our National Parks as living laboratories will broaden people's outlook on scientific investigation creating more participation. Social media can be an effective tool to increase interest in science. All these factors generated my interest and participation in science.


Making Connections
Interested in how you and your family can get involved with outdoor science and how you can inspire and encourage your students to find the same fulfillment from being in nature that Ashley has discovered? See our recent post, "Calling Naturalists of All Ages: Citizen Science Projects for the Whole Family."

Science Buddies thanks Ashley for allowing us to share her essay on the Science Buddies website. We extend our congratulations to her, and we look forward to hearing about the path her continuing studies and work in wildlife biology takes!
Categories:
You Might Also Enjoy These Related Posts:
Explore Our Science Videos
Build A River Model – STEM Activity