Advanced Display Board Design and Tips
If you are working on a complex or very involved project you may need not only our normal Science Fair Project Display Boards guide, but also some of the advanced tips below.
A reminder: Read the rules for your event to make sure that your ideas for a display board, as well as our suggestions below, are allowed.
What To Do
Emphasize Your Most Important Points
Use subheadings to emphasize your key points. A subtitle in a large font might also be effective.
You can also have a separate summary section (not the same as an abstract) in a prominent spot on your display board. Use bullet points and large fonts, rather than long paragraphs, to concisely make your points.
Consider putting your summary section on a 'buddy board'. This is a small, but separate board. It should be no larger than 9" x 12 ".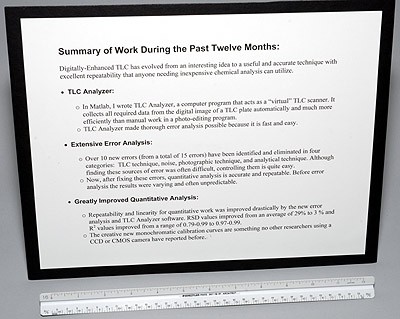 Photo a project summary posted on a buddy board (a 9 inch by 12 inch display that can be placed in front of a display board). The example summary uses spacing and bold text to highlight important facts about the summary and project.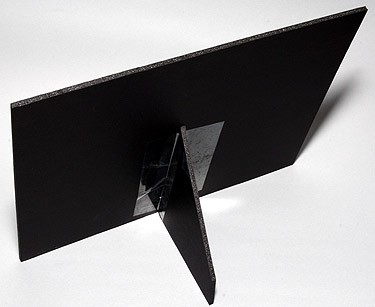 Another way to emphasize information is to use a "buddy board." This is a small, but separate board.
Focus on Professionals
At the high school level projects are likely to be judged by professionals in each particular area of science. The judges will expect your display to resemble a scientific journal.

Number your graphs and figures, and give each a caption.
Make sure you properly cite all your sources.

Use the jargon (terms and vocabulary) specific to the field of science you are researching.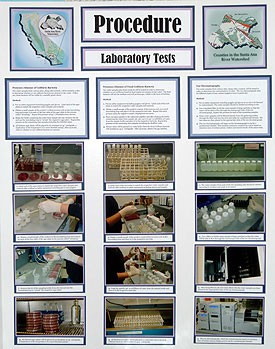 Figures and graphs should be captioned similarly to a scientific journal.
Help the Layman
If you have a complex project, a prominently located layman's summary will be appreciated by many people at your event.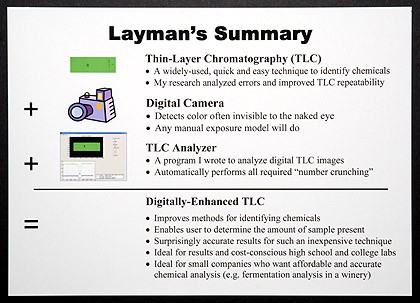 Photo of a Layman's summary posted on a buddy board (a 9 inch by 12 inch display that can be placed in front of a display board). The Layman's summary uses pictures and descriptions to explain complex scientific terms used in the accompanying project.
A layman's summary, like this one, can be placed directly on your project display board or housed on a buddy board.
What Not To Do
Beware of Shadowing
If you use a separate title board at the top of your display, do not mount it out more than a few centimeters from the back of your board. Title boards mounted too far forward will cast a shadow on the main board, making it hard to read. If you want to use a title board, try a ready-made header card. They are easy to mount and will not cast shadows.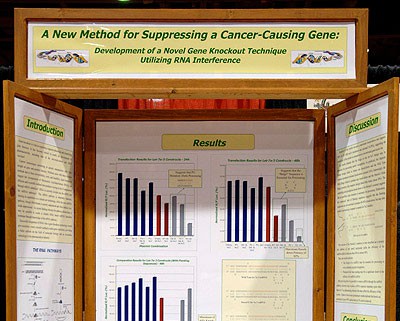 The title on this display board casts a shadow on the main information, making it hard to read.
Don't Build Your Display Like a Closet
You want your display board to invite people in for a closer look at your project. If you make your display too deep and/or make the sides perpendicular to the back of the display, a person has to twist his or her neck to see your information.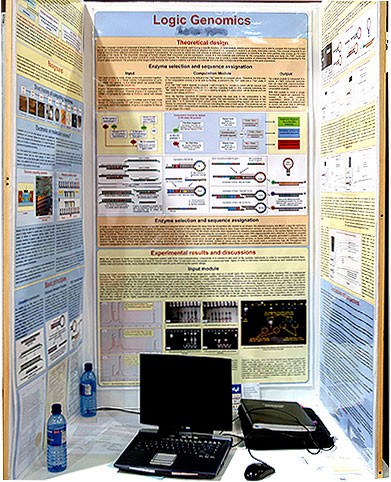 The side panels on this display are too deep and too perpendicular to the back board.
Don't Make Your Display Board Too Tall
Generally, people want to read at a height close to eye level. For boards standing on a typical table, we recommend that you keep your board to a height of about 48" (1.2 m), not counting the table. A little taller than that is OK if you must have the room, but if your board gets too high, people have to crane their necks, which is something you don't want them to do. Additionally, the farther they are from the text, the smaller it appears, making it hard to read.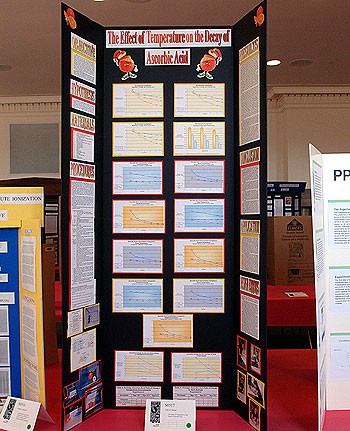 This display board towers over people's heads and is too tall to read the top sections.
Don't Make Your Display Board Too Low
Many fairs allow floor-standing displays. These make sense if you have a large apparatus that you want to display. However, don't put text below table height. People aren't going to sit on the floor to read it, and if they cannot read it, don't bother putting it there.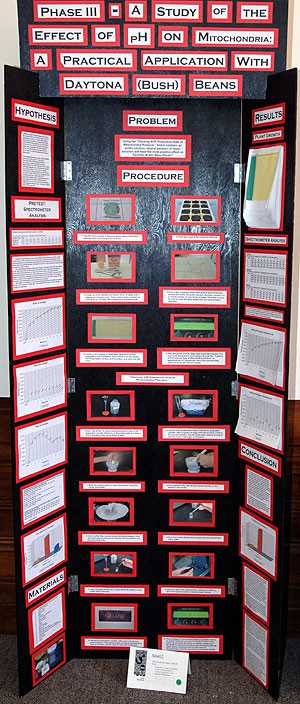 The photos and text at the bottom of this display board are too low to the ground for anyone to read comfortably.
Resources
For more information on how to make good science fair project display boards consult these resources:
Explore Our Science Videos
Delayed Release Pill Challenge
Two-Stage Balloon Rocket Lesson Plan
How Train Wheels Stay On Track - STEM activity