Make a "Whirlybird" from Paper
419 reviews
Abstract
Have you ever seen a helicopter flying through the sky? It can be difficult to do a science project with a real helicopter, so in this project we will show you how to make a miniature paper helicopter called a
whirlybird.
Will your whirlybird be able to stay in the air as you add paper clips as weights? Try this project to find out!
Summary
Areas of Science
Difficulty
Time Required
Very Short (≤ 1 day)
Prerequisites
None
Material Availability
Readily available
Cost
Very Low (under $20)
Safety
Adult supervision is required when dropping your whirlybird from a high place (like a second story window).
Credits
Ben Finio, PhD, Science Buddies
This project was adapted from the NASA Explores Program:
NASA. (n.d.). Rotor Motor Washington, D.C.: National Aeronautics and Space Administration. Retrieved June 26, 2015.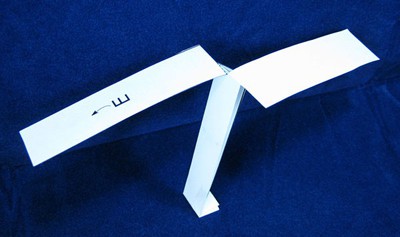 Objective
Build a paper "whirlybird" and see if adding weights makes it fall faster.
Introduction
Have you ever seen a helicopter flying through the sky? How do they stay up in the air? Helicopters have to overcome gravity, which pulls them down toward Earth. They do this with spinning blades that generate lift, which helps keep them up in the air. As the blades spin, they have to overcome drag, or air resistance, which tries to slow them down.
Real helicopters have motors that make the blades spin. In this project, you will build a miniature paper helicopter, called a whirlybird, like the one in Figure 1. The whirlybird does not have a motor, but because of its special shape, its blades will still spin when it falls. This helps generate lift and slows the whirlybird down. Do you think adding more weights (paper clips) to the whirlybird will make it fall faster? Try this project to find out!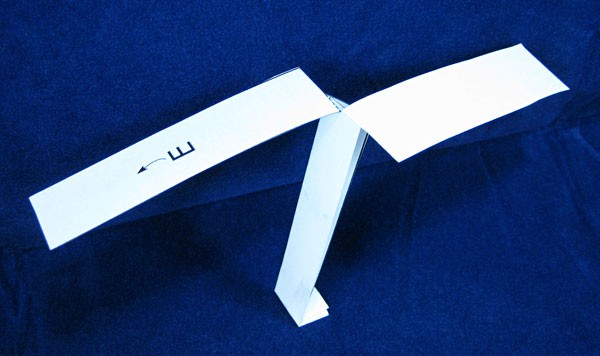 Figure 1.
A paper whirlybird.
Terms and Concepts
Questions
How do helicopters stay up in the air?
Will adding weights to your whirlybird make it fall faster?
Bibliography
For help creating graphs, try this website:
National Center for Education Statistics, (n.d.). Create a Graph. Retrieved June 25, 2020.
Materials and Equipment
Computer with access to a printer to print the whirlybird template

Optional: If you do not have access to a printer, you can use a ruler and a piece of paper to draw your own whirlybird based on the online template

Printer paper
Scissors
Paper clips (at least 3)
Stopwatch
Volunteer
High place from which to drop the whirlybirds. For example, you could get an adult to stand on a chair or a ladder. If possible, you can drop the whirlybirds from a second floor window or balcony (on a calm day without too much wind), but only do this with adult supervision.
Lab notebook
Experimental Procedure
Download the whirlybird template.
Print out the whirlybird template on a piece of printer paper. If you do not have access to a printer, use a pencil and ruler to draw the template outline on a blank piece of paper. Dimensions are given in the template file.
Follow the instructions on the template to cut out and fold your whirlybird. The finished whirlybird should look like the one from Figure 1 in the Introduction.
Draw a table like Table 1 in your lab notebook so you can use it to record your data.
Fall Time (seconds)
# of Paper Clips
Trial 1
Trial 2
Trial 3
Average
0
1
2
3
4
Table 1.
Data table for recording your results.
Get your stopwatch and volunteer helper ready.

One person should be in charge of dropping the whirlybird, and the other person should use the stopwatch. You will need to start the stopwatch as soon as the whirlybird is dropped, and stop it as soon as it hits the ground.
You should drop the whirlybird from a high place. If possible, drop it from a second story window or balcony (but not on a windy day), or have an adult stand on a chair or ladder. Make sure you drop the whirlybird from the exact same height each time.

Drop the whirlybird and use the stopwatch to time how long it takes to hit the ground. Record this value in Table 1, in the box for "Trial 1" next to "0" paper clips.
Repeat step 6 two more times for your second and third trials. Record these values in your data table.
Now, add a paper clip to the bottom of your whirlybird, as shown in Figure 2.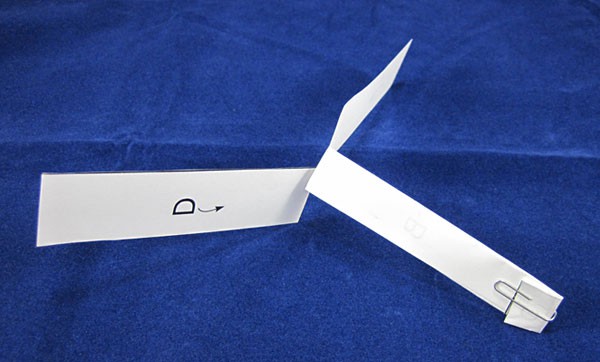 Figure 2.
A paper clip attached to the bottom of the whirlybird to add weight.
Repeat steps 6–7 with one paper clip. Remember to record your results in your data table, in the row for "1" paper clip.
Repeat steps 6–7 for two, three, and four paper clips. Make sure you record all of your results in the correct row in your data table. You should have three trials for each number of paper clips.
Ask an adult to help you calculate the average fall time for each number of paper clips. Record this value in the "Average" column in your data table.

If you want to calculate the average yourself, you need to add up the values for each trial and then divide by three. For example, if your fall times for 0 paperclips were 6.0, 5.5, and 5.9 seconds, the average would be (6.0 + 5.5 + 5.9) ÷ 3 = 5.8 seconds.

Make a line graph with the number of paper clips on the x-axis (horizontal line) and the fall time in seconds on the y-axis (vertical line). Ask an adult or use the Create a Graph website if you need help making a graph.
Analyze your results. Did the whirlybird fall faster, slower, or stay the same as you added more paper clips? Is this what you thought would happen?

Ask an Expert
Do you have specific questions about your science project? Our team of volunteer scientists can help. Our Experts won't do the work for you, but they will make suggestions, offer guidance, and help you troubleshoot.
Variations
Look up aerodynamic terms like angle of attack, aspect ratio, and chord length. What happens if you change these properties on the whirlybird design? Do an experiment where you change one of these variables and measure how it affects the fall time.
What happens if you compare whirlybirds made from different types of paper, such as thin notebook paper versus thicker cardstock?
Try an engineering project where you design your own whirlybird, with the goal of making a whirlybird that falls as slowly as possible. Think about it like you are designing a tree seed—you want it to stay in the air as long as possible so it can be carried farther away by the wind. Look online for design ideas from tree seeds that have "wings" (search for "winged seed" or "autorotating seed").
Careers
If you like this project, you might enjoy exploring these related careers:
Related Links
Cite This Page
General citation information is provided here. Be sure to check the formatting, including capitalization, for the method you are using and update your citation, as needed.
MLA Style
Finio, Ben. "Make a "Whirlybird" from Paper." Science Buddies, 8 July 2020, https://www.sciencebuddies.org/science-fair-projects/project-ideas/Aero_p015/aerodynamics-hydrodynamics/make-a-whirly-bird-from-paper. Accessed 28 Nov. 2023.
APA Style
Finio, B. (2020, July 8). Make a "Whirlybird" from Paper. Retrieved from https://www.sciencebuddies.org/science-fair-projects/project-ideas/Aero_p015/aerodynamics-hydrodynamics/make-a-whirly-bird-from-paper
Last edit date: 2020-07-08
Explore Our Science Videos
How to Make Magnetic Slime
Write and Read Braille – STEM activity
Make a Whirlybird from Paper