Engineer a Cell Phone Stand
Summary
Areas of Science
Difficulty
Time Required
Very Short (≤ 1 day)
Credits
Ben Finio, PhD, Science Buddies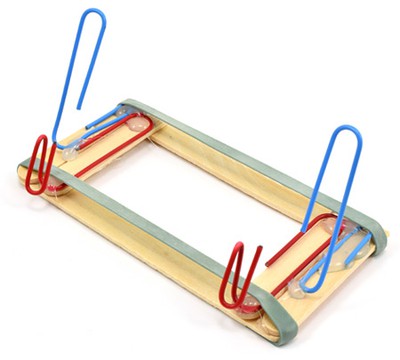 *Note:
For this science project you will need to develop your own experimental procedure. Use the information in the summary tab as a starting place. If you would like to discuss your ideas or need help troubleshooting, use the
Ask An Expert
forum. Our Experts won't do the work for you, but they will make suggestions and offer guidance if you come to them with specific questions.
If you want a Project Idea with full instructions, please pick one without an asterisk (*) at the end of the title.
Abstract
Look around you. What types of objects do you see in the room? Furniture, lights, a computer, a fan, pencils, books, etc.? Where did they come from? Odds are you did not build them yourself. You or your parents probably bought them at a store. Before that, they were built in a factory somewhere. And even before that, they were probably designed by engineers. You might think of engineers when you think of complex machines like rockets or huge structures like bridges, but engineers also design many of the everyday objects that we use all the time and take for granted. If engineers do their jobs well, you might never notice, but you would certainly notice if the chair you are sitting in collapsed or your TV stopped working!
A cell phone stand is one product that might seem very simple, but a lot of thought needs to go into designing one, making it a great engineering design project. You can build a prototype out of craft/office supplies (Figure 1), or even use a 3D printer or laser cutter if you have access to them. Design, build, and test a cell phone stand for your engineering design project. Consider the following questions to get started:
Where will your stand be used? Is it a tabletop stand designed to use a tablet to watch movies, or a car dashboard mount so you can use a phone for GPS?
What other types of cell phone stands/holders already exist? What purposes do they serve? How could you modify or improve on their designs?
Will certain buttons or ports on the phone need to be accessible while it is in the stand, like the charging port?
What size(s)/brand(s) of phones will the stand accommodate? Will it be adjustable, or will it only be designed for one specific phone?
How sturdy does the stand need to be? What if someone drops it or steps on it?
What materials will you use to make the stand?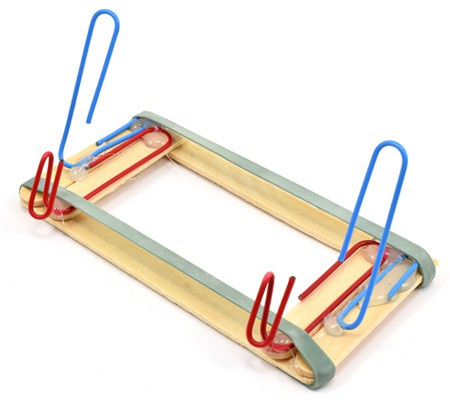 Figure 1.
An example phone stand made from wooden craft sticks, rubber bands, and paper clips.

Ask an Expert
Do you have specific questions about your science project? Our team of volunteer scientists can help. Our Experts won't do the work for you, but they will make suggestions, offer guidance, and help you troubleshoot.
Careers
If you like this project, you might enjoy exploring these related careers:
Related Links
Cite This Page
General citation information is provided here. Be sure to check the formatting, including capitalization, for the method you are using and update your citation, as needed.
MLA Style
Finio, Ben. "Engineer a Cell Phone Stand." Science Buddies, 20 Nov. 2020, https://www.sciencebuddies.org/science-fair-projects/project-ideas/ApMech_p053/mechanical-engineering/engineer-cell-phone-stand. Accessed 3 Oct. 2022.
APA Style
Finio, B. (2020, November 20). Engineer a Cell Phone Stand. Retrieved from https://www.sciencebuddies.org/science-fair-projects/project-ideas/ApMech_p053/mechanical-engineering/engineer-cell-phone-stand
Last edit date: 2020-11-20
Explore Our Science Videos
Paper Rockets - STEM Activity
Lift Ice with Yarn STEM activity