A Model of Gravity in Our Solar System
380 reviews
Summary
Areas of Science
Difficulty
Time Required
Short (2-5 days)
Credits
Ben Finio, PhD, Science Buddies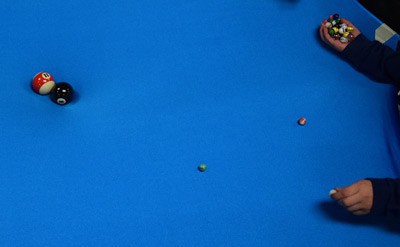 *Note:
For this science project you will need to develop your own experimental procedure. Use the information in the summary tab as a starting place. If you would like to discuss your ideas or need help troubleshooting, use the
Ask An Expert
forum. Our Experts won't do the work for you, but they will make suggestions and offer guidance if you come to them with specific questions.
If you want a Project Idea with full instructions, please pick one without an asterisk (*) at the end of the title.
Abstract
Why do the planets orbit the sun without flying off into space? Do they move in perfect circles or do their orbits take a different shape? And how could you possibly do a science project about any of this—you can't do an experiment with the planets! However, you can build a model of our solar system that demonstrates the concept of gravity, using balls of different sizes to represent the sun and planets. Watch this video for an excellent introduction to the model:
Think about how you could turn this into a science project. How do the masses of the balls affect their behavior? What about their initial velocity and trajectory relative to the "sun"? If you cannot get your hands on a giant sheet of stretchy fabric, try building a smaller model using a stretchy t-shirt.

Ask an Expert
Do you have specific questions about your science project? Our team of volunteer scientists can help. Our Experts won't do the work for you, but they will make suggestions, offer guidance, and help you troubleshoot.
Careers
If you like this project, you might enjoy exploring these related careers:
Related Links
Cite This Page
General citation information is provided here. Be sure to check the formatting, including capitalization, for the method you are using and update your citation, as needed.
MLA Style
Finio, Ben. "A Model of Gravity in Our Solar System." Science Buddies, 20 Nov. 2020, https://www.sciencebuddies.org/science-fair-projects/project-ideas/Astro_p043/astronomy/model-gravity-solar-system. Accessed 6 Dec. 2023.
APA Style
Finio, B. (2020, November 20). A Model of Gravity in Our Solar System. Retrieved from https://www.sciencebuddies.org/science-fair-projects/project-ideas/Astro_p043/astronomy/model-gravity-solar-system
Last edit date: 2020-11-20
Explore Our Science Videos
DIY Mini Drone Part 4: Program Drone Steering with Arduino
Robotics Engineering Project: Use the Force! Push and Pull LEGO® Mindstorms® Robots