Transforming Bacteria to Make Colored Pigments
318 reviews
Summary
Areas of Science
Difficulty
Time Required
Long (2-4 weeks)
Prerequisites
A basic understanding of molecular biology and access to a laboratory where bacteria can be grown are required for this project.
Material Availability
The kit required for this project can only be purchased through a school or educational business.
Cost
High ($100 - $150)
Safety
Adult supervision is required in the laboratory facility.
Credits
Sandra Slutz, PhD, Science Buddies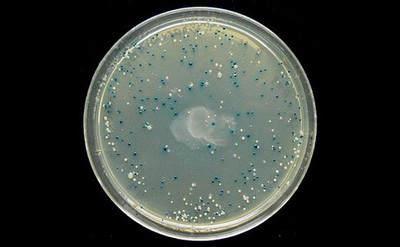 *Note:
For this science project you will need to develop your own experimental procedure. Use the information in the summary tab as a starting place. If you would like to discuss your ideas or need help troubleshooting, use the
Ask An Expert
forum. Our Experts won't do the work for you, but they will make suggestions and offer guidance if you come to them with specific questions.
If you want a Project Idea with full instructions, please pick one without an asterisk (*) at the end of the title.
Abstract
Can bacteria be altered to produce life-saving insulin for diabetics? Or change color to indicate the presence of a harmful toxin? Yes, it can! Using biotechnology, scientists work daily on problems like these. It starts with selecting a gene you want bacteria to produce and creating a sequence of DNA that has that gene and a promoter that will help express it at the right time and at the right levels. The next hurdle is actually getting this engineered DNA into the bacteria and functional. One way of doing that is a method called bacterial transformation. In bacterial transformation, bacteria are treated in a manner which induces some of them to take up a plasmid of DNA and express it. It doesn't work for every bacterial cell though.
Just how is bacterial transformation done? How efficient is it? Does the efficiency change if you use different strains of bacteria? If the bacteria do take up the engineered DNA, is the level of expression always the same? You explore these questions as well as many others about bacterial transformation and the expression of engineered DNA using the BioBuilder What a Colorful World Kit from our partners at Carolina Biological.
The kit contains materials to do several transformations of two different strains of E. coli. The plasmids included have a pigment inducing gene under the regulation of different promoters. With the kit and access to a laboratory with bacteria growing equipment like incubators and shakers, you'll be ready to explore some interesting and real-world biotechnology.

Ask an Expert
Do you have specific questions about your science project? Our team of volunteer scientists can help. Our Experts won't do the work for you, but they will make suggestions, offer guidance, and help you troubleshoot.
Careers
If you like this project, you might enjoy exploring these related careers:
Related Links
Cite This Page
General citation information is provided here. Be sure to check the formatting, including capitalization, for the method you are using and update your citation, as needed.
MLA Style
Slutz, Sandra. "Transforming Bacteria to Make Colored Pigments." Science Buddies, 20 Nov. 2020, https://www.sciencebuddies.org/science-fair-projects/project-ideas/BioChem_p013/biotechnology-techniques/bacterial-transformation-efficiency?from=Home. Accessed 20 Mar. 2023.
APA Style
Slutz, S. (2020, November 20). Transforming Bacteria to Make Colored Pigments. Retrieved from https://www.sciencebuddies.org/science-fair-projects/project-ideas/BioChem_p013/biotechnology-techniques/bacterial-transformation-efficiency?from=Home
Last edit date: 2020-11-20
Explore Our Science Videos
Junkbots Lesson Plan Introduction
How to Build a Toy Car - Science Project