Summary
Areas of Science
Difficulty
Time Required
Average (6-10 days)
Prerequisites
A basic understanding of molecular biology and access to a laboratory where bacteria can be grown are required for this project.
Material Availability
The kit required for this project can only be purchased through a school or educational business.
Cost
High ($100 - $150)
Safety
Adult supervision is required in the laboratory facility. Use sterile technique. Read the
Microorganisms Safety Guide
before starting any experiments.
Credits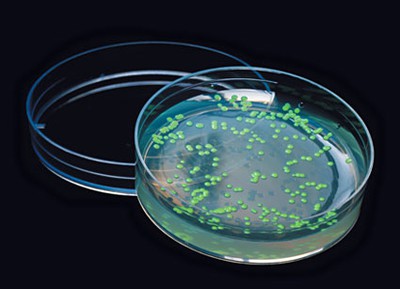 *Note:
For this science project you will need to develop your own experimental procedure. Use the information in the summary tab as a starting place. If you would like to discuss your ideas or need help troubleshooting, use the
Ask An Expert
forum. Our Experts won't do the work for you, but they will make suggestions and offer guidance if you come to them with specific questions.
If you want a Project Idea with full instructions, please pick one without an asterisk (*) at the end of the title.
Abstract
What is expression cloning and how is it used in the biotechnology industry? How are plasmids constructed for use in a bacterial expression system? You can investigate these questions and more using bacterial expression kits meant for high school classes. You will need a laboratory space equipped to grow bacteria and carry out simple molecular biology. A kit with plasmids and bacterial cells to transform are also needed. Here are two possibilities:
BioBuilder What a Colorful World Kit from Carolina: this kit lets you explore how different pigments can be produced by bacteria. With two different strains of E. coli you can explore some of the choices scientists have to make when choosing where and how to express the DNA they engineer and the repercussions of those choices.
Glow-in-the-Dark Transformation Kit from Carolina: this kit has supplies needed to make bacteria express green fluorescent protein (GFP), as shown in Figure 1. This kit is a bit simpler to use and has fewer combinations to explore.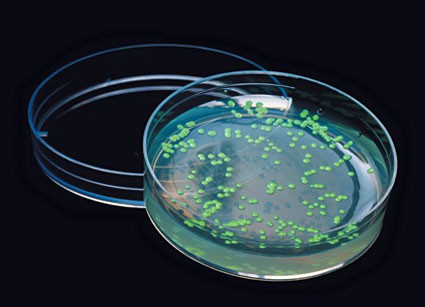 Figure 1.
Using biotechnology techniques like expression cloning, bacteria can be engineered to express many different proteins like the green florescent protein, GFP, which make these bacteria glow green. (Photo courtesy of Bio-Rad Laboratories, Inc.)

Ask an Expert
Do you have specific questions about your science project? Our team of volunteer scientists can help. Our Experts won't do the work for you, but they will make suggestions, offer guidance, and help you troubleshoot.
Careers
If you like this project, you might enjoy exploring these related careers:
Related Links
Cite This Page
General citation information is provided here. Be sure to check the formatting, including capitalization, for the method you are using and update your citation, as needed.
MLA Style
Science Buddies Staff. "Expression Cloning." Science Buddies, 20 Nov. 2020, https://www.sciencebuddies.org/science-fair-projects/project-ideas/BioChem_p024/biotechnology-techniques/expression-cloning. Accessed 22 May 2022.
APA Style
Science Buddies Staff. (2020, November 20). Expression Cloning. Retrieved from https://www.sciencebuddies.org/science-fair-projects/project-ideas/BioChem_p024/biotechnology-techniques/expression-cloning
Last edit date: 2020-11-20
Explore Our Science Videos
Investigate Alien Genetics
Harvest Water from Fog Science Project
DIY Rubber Band Paddle Boat