Genetically Modified Foods
308 reviews
Summary
Areas of Science
Difficulty
Time Required
Long (2-4 weeks)
Prerequisites
A basic understanding of molecular biology and access to a research laboratory with PCR and gel electrophoresis equipment are required for this project.
Material Availability
The kit required for this project can only be purchased through a school or educational business.
Cost
Very High (over $150)
Safety
Adult supervision is required in the laboratory facility.
Credits
Sandra Slutz, PhD, Science Buddies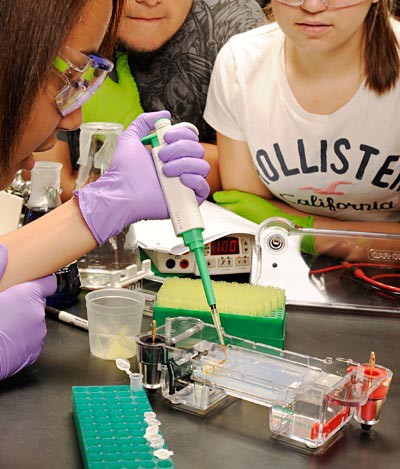 *Note:
For this science project you will need to develop your own experimental procedure. Use the information in the summary tab as a starting place. If you would like to discuss your ideas or need help troubleshooting, use the
Ask An Expert
forum. Our Experts won't do the work for you, but they will make suggestions and offer guidance if you come to them with specific questions.
If you want a Project Idea with full instructions, please pick one without an asterisk (*) at the end of the title.
Abstract
Genetically modified organisms (GMOs) are organisms whose DNA have been manipulated to give them new traits. In genetically modified (GM) food crops traits like resistance to drought or pesticide might be added, or the crop may have been made more nutritious, or the taste may be altered to give you something like the
impossible burger
. Are there GMOs in your favorite foods? Many countries have implemented or are in the process of implementing GMO labeling on foods, but with a little bit of molecular biology know-how you can test your favorite foods yourself! Start out by researching how and why GMOs are made as well as their safety record. Then pick a few foods to test and use the
GM Food and Amplification Kit
from our partners at Carolina Biological to do your own testing. You will need access to a laboratory with equipment to carry out PCR (polymerase chain reactions) and gel electrophoresis. Which foods do you think use GMOs and why do they do it?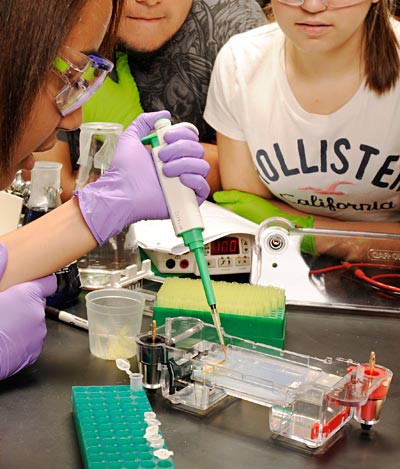 Figure 1.
You can perform PCR and DNA electrophoresis, which is shown here (a gel is being loaded with DNA), to test for GMO-products. (Photo courtesy of Bio-Rad Laboratories, Inc.)

Ask an Expert
Do you have specific questions about your science project? Our team of volunteer scientists can help. Our Experts won't do the work for you, but they will make suggestions, offer guidance, and help you troubleshoot.
Careers
If you like this project, you might enjoy exploring these related careers:
Related Links
Cite This Page
General citation information is provided here. Be sure to check the formatting, including capitalization, for the method you are using and update your citation, as needed.
MLA Style
Slutz, Sandra. "Genetically Modified Foods." Science Buddies, 20 Nov. 2020, https://www.sciencebuddies.org/science-fair-projects/project-ideas/BioChem_p025/biotechnology-techniques/genetically-modified-foods. Accessed 27 May 2023.
APA Style
Slutz, S. (2020, November 20). Genetically Modified Foods. Retrieved from https://www.sciencebuddies.org/science-fair-projects/project-ideas/BioChem_p025/biotechnology-techniques/genetically-modified-foods
Last edit date: 2020-11-20
Explore Our Science Videos
Volleyball Machine: 2019 Engineering Challenge
Colorful Melting Ice Ball Patterns - STEM Activity
Write and Read Braille – STEM activity