Delayed Release Pill Challenge: Getting Medicine to the Right Place at the Right Time
Abstract
A lot of medication comes in the form of pills that you need to swallow. But not all pills are the same! Some look like little capsules, others are made of pressed powder. Why are there different types of pills? Different types of pills release their active ingredients in different ways. Some release their active ingredient right after initial administration. Others release their active ingredient much later. Such drugs are called delayed-release drugs. These kinds of pills have to be manufactured in a special way—usually with some kind of coating—so that the active ingredient is protected up to the point when it is released. In this project, you will be challenged to design and build such a delayed-release tablet from colored bath tablets and water-soluble plastics. Can you make a pill that releases three different colors at three different times?
Summary
Areas of Science
Difficulty
Time Required
Very Short (≤ 1 day)
Prerequisites
None
Material Availability
This project requires special materials. See the
materials
list for details.
Cost
Average ($50 - $100)
Safety
No issues
Credits
Svenja Lohner, PhD, Science Buddies
Objective
To make a delayed-release pill from colored bath tablets and water-soluble plastics, that releases three different colors at three different times.
Introduction
Medication comes in many forms, including liquids, capsules, tablets, creams, drops, sprays, and injections (Figure 1). The main purpose of medication is to treat, cure, or prevent a disease in an individual. This is achieved by a chemical inside the drug, called the active ingredient, which interacts with the drug's target inside the body. For a drug to be effective, it has to be at the site of action inside the body at the correct time and for the right duration. For example, a drug that is injected goes directly into the bloodstream, whereas oral tablets pass through the digestive system and the active ingredient is then absorbed into the bloodstream. The active ingredient not only has to be at the right place at the right time, but it also has to be the right dosage. If the dosage of the drug is too low, it will not have the desired effect. If the dosage is too high, it could have harmful consequences and even be fatal!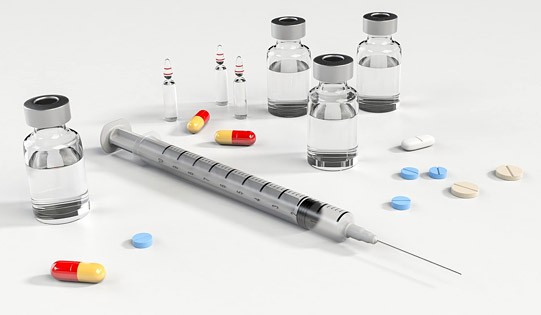 Figure 1.
Medicine can take many forms, including capsules, tablets, or injections.
This is where drug delivery systems come in. A drug delivery system is a specific form of medication or a medical device that is able to control the rate, time, and place at which a drug is introduced into the body. A drug delivery system is required to specifically target where and when a drug is released inside the body. Many different drug delivery techniques have been developed. Among these are controlled-release drugs. These types of drugs release their active ingredient at a prespecified time.
One specific type of controlled-release drug is a delayed-release drug. Delayed-release drugs are medications, such as capsules or tablets, that do not immediately disintegrate when taken. Because of this, the active ingredient is released at a later time, rather than immediately after being administered. This includes, for example, enteric-coated drugs that are designed to delay the release of the medication until the tablet has passed through the stomach. A special coating prevents the active ingredient from being destroyed or inactivated by stomach fluids. The delayed release of the active ingredient is often achieved by coating or encapsulating the active ingredient in a polymer film that gradually dissolves over time, as shown in Figure 2.

Figure 2.
Delayed-release drugs are often encapsulated in polymers that dissolve over time.
Choosing the right encapsulation polymers with the right physical and chemical properties is crucial for designing delayed-release drugs. Polymers, which are large chains of many repeating subunits, can have very different properties depending on their molecular composition. This is why their properties have to be carefully tested, including not only the way in which the polymers dissolve in different solutions, but also their toxicity in the human body and their interaction with the active drug ingredient.
In this project, you will be challenged to design and build a delayed-release tablet, which will be made from three different-colored bath tablets and a variety of water-soluble plastics. Your task will be to create a tablet that releases each color from the bath tablets at a pre-determined time after it has been submerged in water. Before you make your tablet, you will need to test all the materials you have been given so you know how they dissolve in water. Can you make a pill that meets all the specifications?
Terms and Concepts
Medication
Capsule
Tablet
Active ingredient
Drug delivery system
Controlled-release drug
Delayed-release drug
Enteric coating
Encapsulation polymer
Questions
Why are there different types of pills?
How can you delay the release of an active ingredient within a pill?
Why would you want to release an active ingredient at some point later after administration?
What are some examples of delayed-release medications?
Materials and Equipment
Transparent plastic cups, 16 oz. (at least 3)
A gallon-sized resealable baggie
A small resealable baggie
Color My Bath Color Changing Bath Tablets or Steve Spangler Science Color Fizzing Tablets, 10 small tablets of each color
Various water-soluble and water-insoluble plastic materials. Some suggestions are listed below:
Scissors
Stopwatch
Plastic heat sealer; one suggestion is listed below:
Thermometer
Paper towels
Water
Access to a sink
Experimental Procedure
Note:
This engineering project is best described by the
engineering design process,
as opposed to the
scientific method.
You might want to ask your teacher whether it's acceptable to follow the engineering design process for your project before you begin. You can learn more about the engineering design process in the Science Buddies
Engineering Design Process Guide
.
Overview
The objective of this project is to use the Engineering Design Process to design and build a delayed-release tablet that releases its "active ingredients" at predetermined time points. Different-colored bath tablets represent the active ingredients of the pill. Each of the three colors (yellow, red, blue) represents a different active ingredient and has to be released at a specific time point. The delayed-release pill's coating or encapsulation is simulated with water-soluble plastic wrappings. To test each color tablet pill, you will submerge it in water. This mimics the moment an actual pill is swallowed. Once the pill is in the water, the individual color-release times are monitored, and the pill will be assessed and scored based on its performance.
You can watch the pill design challenge video for an introduction and overview of the pill challenge. The video will also provide some tips for how you can build your pill.
Design Requirements
Your delayed-release pill needs to meet the following design requirements for this challenge. You can add your own design requirements to the list if you would like.
Use one bath tablet of each color (yellow, red, and blue) to make the pill. The bath tablets cannot be modified in any way.
The final delayed-release pill has to be a single unit (made out of the three different color tablets) and needs to be fully enclosed.
When submerged in water, your pill has to release each one of the colors at a specific target time. The target times are given in Table 1, below.
All colors need to be released within 5 minutes after the pill has been submerged in water.
Yellow
Red
Blue
m:ss
seconds
m:ss
seconds
m:ss
seconds
0:30
30
1:30
90
3:00
180
Table 1.
Color-release target times for your delayed release pill.
Making Your Pill
Here are some tips for making your pill.
Before you start designing or building your pill, make sure you understand the materials that you are working with. It might be helpful to test the characteristics and properties of the different materials, specifically the water-soluble plastics. For example, characteristics that will matter for your pill include their stability or water solubility behavior.
Once you have an idea of how each material behaves, think about how you want to assemble your pill. How will you separate the three different-colored tablets? How can you make sure they do not all dissolve at the same time? Which material works best for which purpose?
When you have decided how to build your pill, start making your first pill prototype. You can also start with only wrapping one tablet at a time. When making your pill, keep the following things in mind:

Keep your hands and your workspace dry.
Keep all water-soluble materials in the plastic bag or away from potential water spills.

Remember that you have several options for sealing the pills: a heat bag sealer, water-soluble tape, regular tape, or "gluing" layers together with water. You can also come up with your own methods of course!
Finally, test your pills often! Instructions on how to do the test are given in the Testing Your Pill section below. However, keep at least one bath tablet of each color, along with enough plastic materials for your final pill design.
Testing Your Pill
When making your delayed-release pill, you can test and modify your design as many times as you would like. You can always re-test it and try again to increase the performance or score of your pill. When you are ready to test your pill, follow these steps.
Fill a plastic cup with tap water. Make sure you keep the water temperature roughly the same for all your experiments. Can you think of a reason why this is important?
Then drop your pill into the water. When testing your color-release times, start your timer as soon as the pill hits the water surface.
The time of color release is defined as the first moment at which you can see the color leaking out of the pill wrapping and into the surrounding water (if the pill starts dissolving inside the wrapping it does NOT count yet). Make sure you also check the water surface if your pill is floating. Any tiny bit of color release counts!
Record your observations and measured color-release times in a table such as Table 2, below. You can calculate your pill score using the scoring information in the Scoring Your Pill section below.
After testing your pill, discard the water in the sink and rinse your cup so you can reuse it.
Test #
Design Description
Release Time:
Yellow
Release Time:
Red
Release Time:
Blue
Calculated Pill Score
1
2
3
4
5
Table 2.
Data table to record color-release times for different pill designs.
Scoring Your Pill
You can evaluate each of your pill designs by calculating a pill score. The scoring system is explained below.
Points will depend on how close each color was released to its target time.
Every pill will start with a total score of 700 points.
The absolute value of the difference of the target time (in seconds) and the color release time (in seconds) for each color is subtracted from your initial pill score. An example calculation for one pill is shown in Table 3, below.
Yellow
Red
Blue
Yellow releases at 0:40 (40 s).

Target time - actual time:
|30 s - 40 s| = |-10|

This means that 10 points are subtracted from your score.
Red releases at 0:10 (10 s).

Target time - actual time:
|90 s - 10 s| = |80|

This means that 80 points are subtracted from your score.
Blue releases at 4:00 (240 s).

Target time - actual time:
|180 s - 240 s| = |-60|

This means that 60 points are subtracted from your score.
Total tablet score: 700 - 10 - 80 - 60 = 550 points
Table 3.
Example calculation to determine the pill score.
Each color that is not released within the maximum 5-minute (300 s) time frame results in a 225-point subtraction. Another example calculation is shown in Table 4, below.
Yellow
Red
Blue
Yellow releases at 0:30 (30 s).

Target time - actual time:
|30 s - 30 s| = |0|

This means that 0 points are subtracted from your score.
Red releases at 4:30 (270 s).

Target time - actual time:
|90 s - 270 s| = |-180|

This means that 180 points are subtracted from your score.
Blue does not release within 5 min.



This means that 225 points are subtracted from your score.
Total tablet score: 700 - 0 - 180 - 225 = 295 points
Table 4.
Another example calculation to determine the pill score.
Tips for the Engineering Design Process
This pill design challenge is a good chance for you to learn about or practice the engineering design process. To use the engineering design process for this project, follow these steps:
Define the problem: What is the problem you are trying to solve, or what objective are you trying to meet with this project? (Hint: The objective is clearly defined for your in the "Overview" section).
Do background research: Read the information in the "Background" section, check out the references in the Bibliography, and do some additional research on your own.
Specify requirements: Are there any specific requirements your delayed-release pill must meet (Hint: See the "Design Requirements" section)? Are there any additional requirements you want to define? For example, "the pill should use a minimal amount of materials" or "the pill should be below a certain size." Write down all the requirements you can think of for your pill.
Brainstorm, evaluate, and choose a solution.

Brainstorm: Think of different possible pill designs that you could build. Make sketches of the different designs and make a list of materials that will be required to build them. Try to come up with at least three different pill designs.
Evaluate: Compare your different pill designs. Which one do you think will satisfy your requirements the best?
Choose a solution: Pick one pill design based on your evaluation.

Develop and prototype the solution: Build a prototype of your pill design, testing it out as you build. At this point, the engineering design process becomes iterative. That means you might need to go back to a previous step and start over from a certain point. For example, you might realize as you build your pill that your coating dissolves way too fast. This means you might need to change your design or use different materials. It is okay if your delayed release pill does not work as intended on the first try. This happens all the time in real engineering.
Test the solution: When you think your pill design is ready, do an official test run by following the steps in the "Testing Your Pill" section. Calculate your score using the "Scoring Your Pill" section.
Communicate results: If you are doing this project as part of a class, camp, or club, then you can prepare a brief presentation or demonstration to show the rest of the class how you made your delayed-release pill.

Ask an Expert
Do you have specific questions about your science project? Our team of volunteer scientists can help. Our Experts won't do the work for you, but they will make suggestions, offer guidance, and help you troubleshoot.
Variations
Take more time to investigate the water-soluble polymers that you used to build your pills. Aren't they fascinating? Investigate their physical and chemical properties in more detail. You could, for example, set up experiments to evaluate their tear strength, scratch resistance, or different water solubility properties.
Careers
If you like this project, you might enjoy exploring these related careers:
Related Links
Cite This Page
General citation information is provided here. Be sure to check the formatting, including capitalization, for the method you are using and update your citation, as needed.
MLA Style
Lohner, Svenja. "Delayed Release Pill Challenge: Getting Medicine to the Right Place at the Right Time." Science Buddies, 28 Jan. 2022, https://www.sciencebuddies.org/science-fair-projects/project-ideas/BioMed_p018/medical-biotechnology/delayed-release-pill-challenge. Accessed 20 May 2022.
APA Style
Lohner, S. (2022, January 28). Delayed Release Pill Challenge: Getting Medicine to the Right Place at the Right Time. Retrieved from https://www.sciencebuddies.org/science-fair-projects/project-ideas/BioMed_p018/medical-biotechnology/delayed-release-pill-challenge
Last edit date: 2022-01-28
Explore Our Science Videos
DIY Mini Drone Part 8: Free Flight
Explore Enzyme Activity with Toothpicks
Jumping Candle Flame Experiments – STEM activity