Squirrel Obstacle Course: How Far Can Squirrels Jump?
24 reviews
Summary
Areas of Science
Difficulty
Time Required
Long (2-4 weeks)
Credits
Ben Finio, PhD, Science Buddies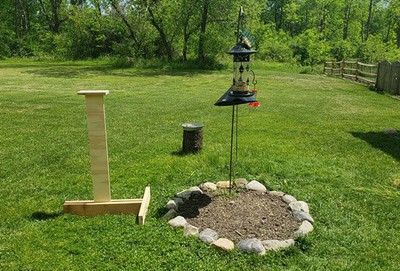 *Note:
For this science project you will need to develop your own experimental procedure. Use the information in the summary tab as a starting place. If you would like to discuss your ideas or need help troubleshooting, use the
Ask An Expert
forum. Our Experts won't do the work for you, but they will make suggestions and offer guidance if you come to them with specific questions.
If you want a Project Idea with full instructions, please pick one without an asterisk (*) at the end of the title.
Abstract
This project idea is inspired by former NASA engineer Mark Rober's "Squirrel Ninja Obstacle Course":
You do not need to build a full obstacle course as intricate as Mark's (although you certainly can if you want to!) to make this into a fun science project. For example, how far can squirrels jump? You could test this question by building a mobile post and placing it next to a bird feeder. The bird feeder in Figure 1 is mounted on a metal pole. The pole is protected by a squirrel baffle, a device designed to prevent squirrels from climbing the pole directly. In order to reach the feeder, squirrels must jump from the wooden post. By gradually moving the post farther away, you could measure how far the squirrels can jump.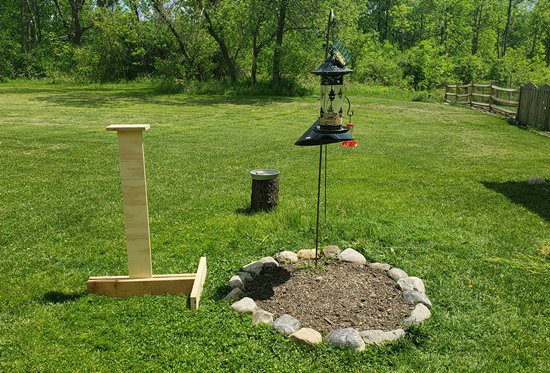 Figure 1.
A post made from scrap wood placed next to a bird feeder.
Depending on the number of squirrels in your area and how shy they are, you may need a quiet, hidden place to observe your feeder so you do not scare them away. You could also set up a wildlife camera or a "trail cam"—a motion-activated camera that only records photos or video when it detects movement.
You could also make a more advanced obstacle course to test squirrels' ability to climb, navigate a maze, or solve puzzles. Whatever you do, make sure your obstacles are safe and will not harm the squirrels or other wildlife.

Ask an Expert
Do you have specific questions about your science project? Our team of volunteer scientists can help. Our Experts won't do the work for you, but they will make suggestions, offer guidance, and help you troubleshoot.
Careers
If you like this project, you might enjoy exploring these related careers:
Related Links
Cite This Page
General citation information is provided here. Be sure to check the formatting, including capitalization, for the method you are using and update your citation, as needed.
MLA Style
Finio, Ben. "Squirrel Obstacle Course: How Far Can Squirrels Jump?" Science Buddies, 8 July 2021, https://www.sciencebuddies.org/science-fair-projects/project-ideas/CE_p026/civil-engineering/squirrel-obstacle-course. Accessed 28 Nov. 2023.
APA Style
Finio, B. (2021, July 8). Squirrel Obstacle Course: How Far Can Squirrels Jump? Retrieved from https://www.sciencebuddies.org/science-fair-projects/project-ideas/CE_p026/civil-engineering/squirrel-obstacle-course
Last edit date: 2021-07-08
Explore Our Science Videos
How to Make Magnetic Slime
Write and Read Braille – STEM activity
Make a Whirlybird from Paper